Weekly dose of joy
Stay connected!
Subscribe to our "Picture of the Week".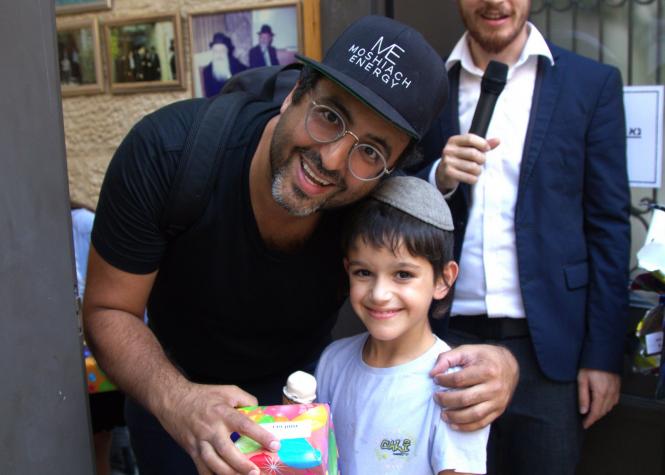 Wanting to provide the Zion children and youth with a joyful experience, a very generous family visiting from New York provided pizza, large ice cream cones and distributed an assortment of quality gift-wrapped gifts. The event was a "win win", as both the Zion kids and the visiting family had a wonderful time.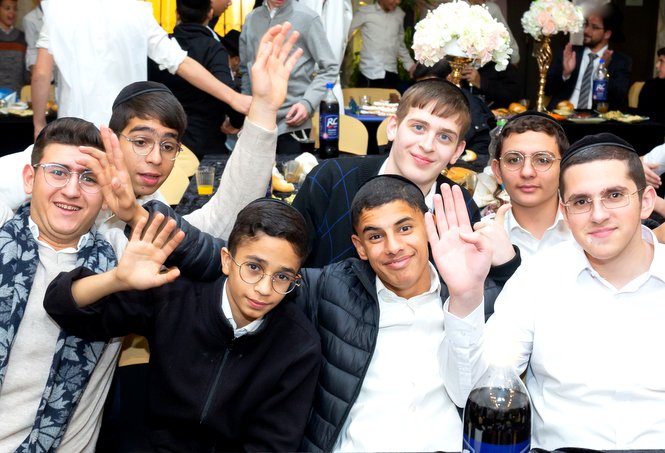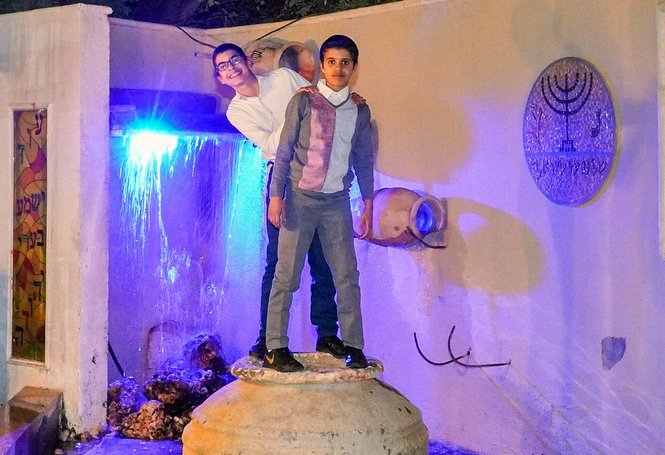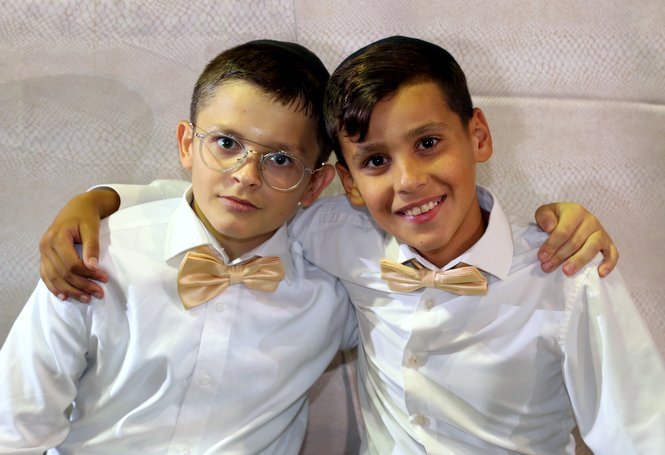 The Zion boys are always excited about this time of year in the Jewish calendar. During the month of Tishrei occurs Rosh Hashana, Yom Kippur, Succot, Shmini Atzeret and Simchat Torah. Following the two days celebrating the beginning of the new year begins the building of succot (huts) and the purchase of arba minim (four species:lulov, etrog, haddasim and arrovot), while mentally preparing for the fast day of atonement. Then follows the greatest community celebrations of the year.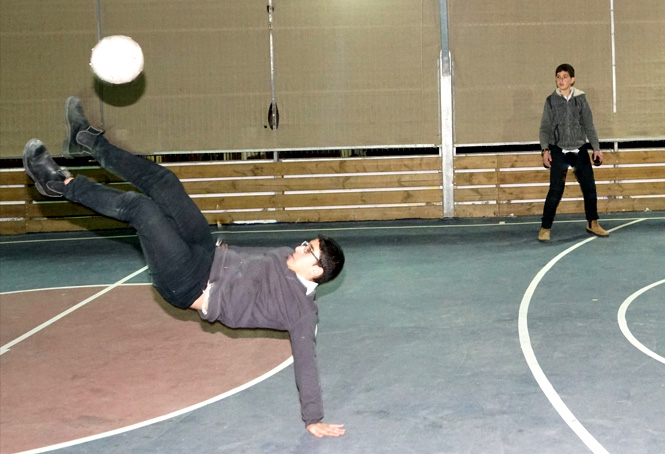 The Zion boys are full of healthy energy. Summer or winter, day or night, our new rooftop Sports Center provides protection from the elements and space for the boys to enjoy a variety of athletics including soccer, basketball, volleyball, gymnastics and more.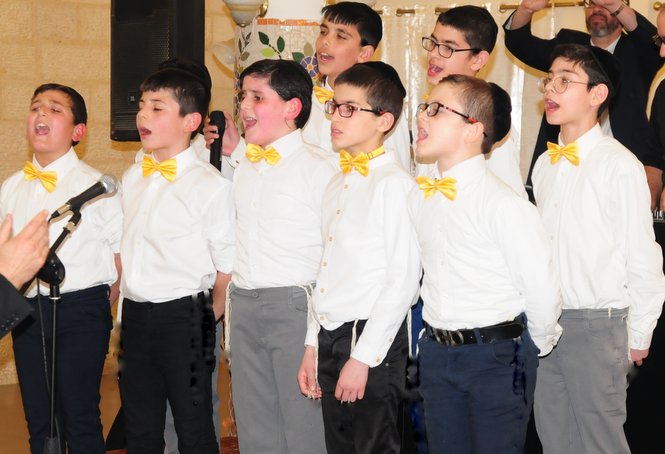 This week two Zion boys enjoyed their exceptionally extravagant Bar Mitzvah celebrations. This time the setting was at a hall in the Judean Desert overlooking The Dead Sea. Performing at the joyous event was the Zion Choir.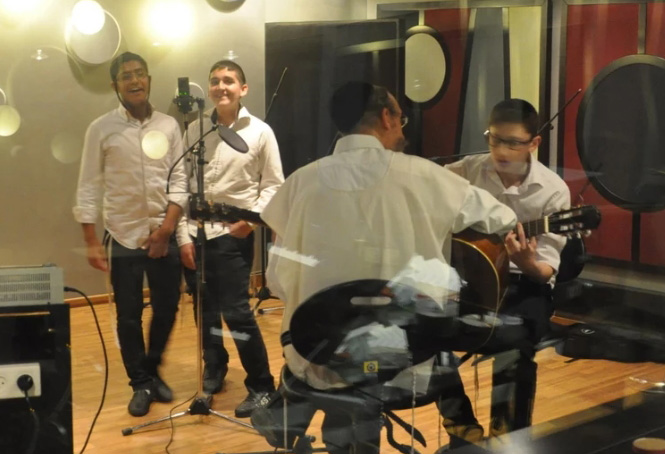 Boys from our Zion Band and Choir recently spent many hours in a professional recording studio in Jerusalem, producing a new CD. Pictured here, as viewed through the studio glass booth, Zion boys focus intently on their recording session.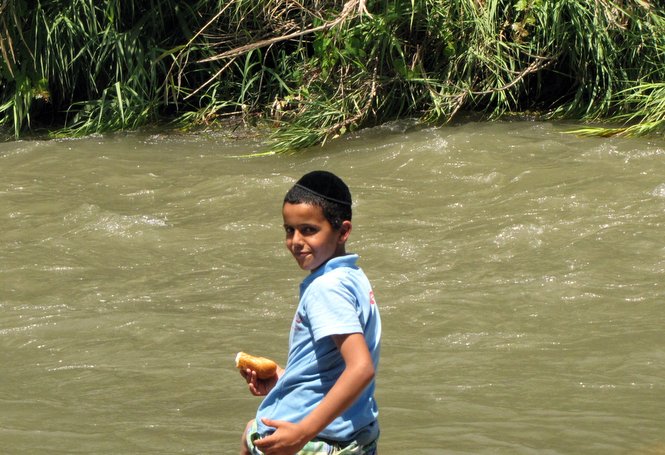 Today there are 180 children and youth ages 8-22 living 24/7 in Zion Orphanage. Last week the older boys enjoyed a full day field trip to Northern Israel. This week it was the younger boys turn to enjoy the outing which included canoeing and swimming in the Jordan River, pictured.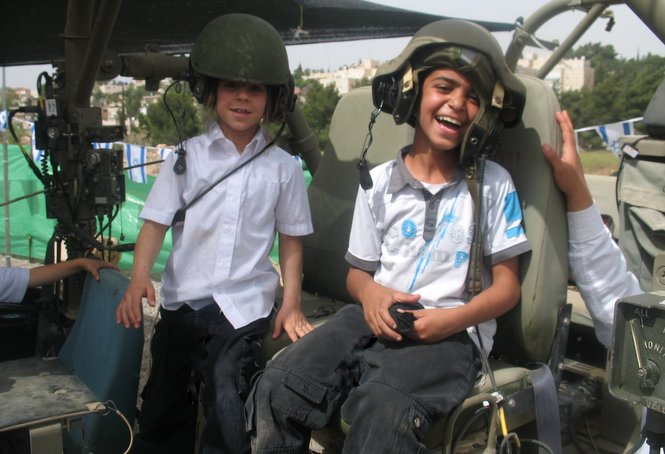 The Zion boys really enjoyed a visit to an Israeli Army base. Besides trying on equipment and getting a taste of army life, they asked the soldiers lots of questions.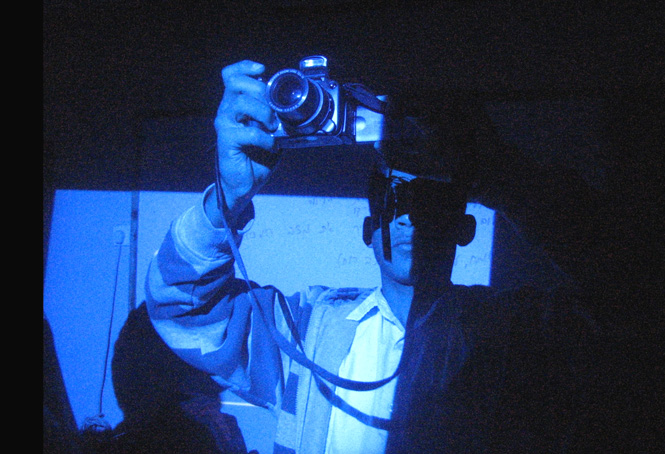 Our ZO photography course provides new perspectives and appreciation for the world around them. The blue affect in this photo, taken by one of the Zion boys, is the result of a black light used to light up the room.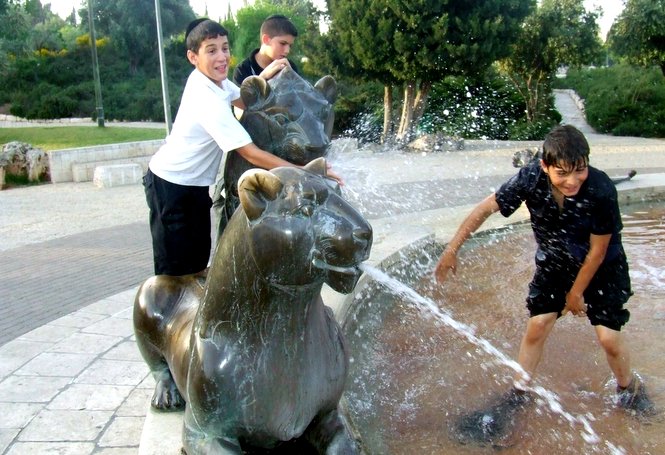 With deep feelings of gratitude, the Zion boys are able to reap the benefits of living in the democratically run independent State of Israel.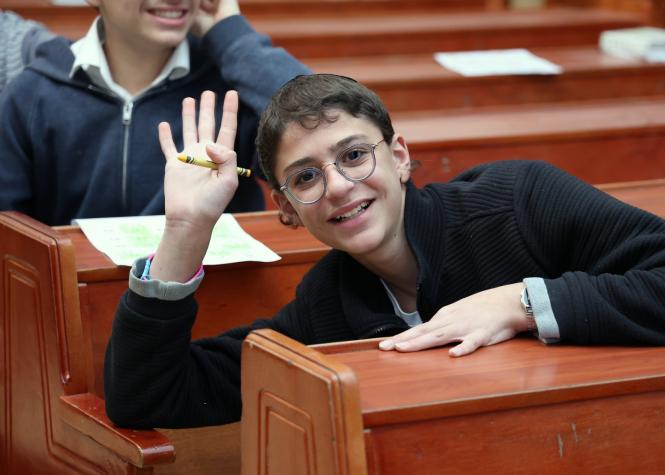 Students of our photography course enjoyed a trip to the forest on the outskirts of Jerusalem. Following each photography session the Zion boys edit their own pictures. Some create collages while others prepare pictures for magnets and so on.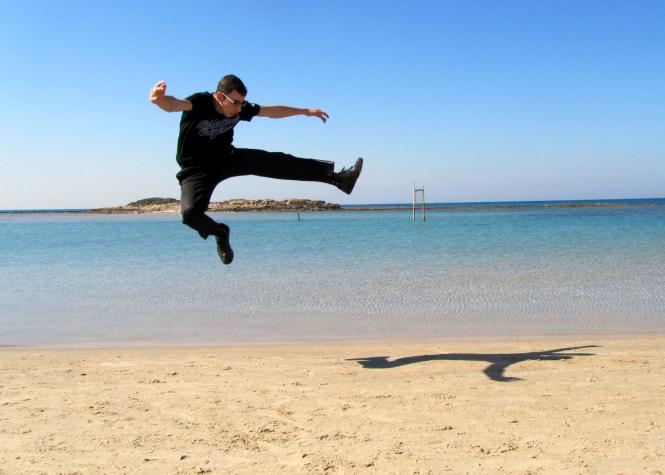 Our high school age Zion boys returned home at 12:30 am after spending the day in the Israel beach town of Netanya. It was a memorable experience as they enjoyed Laser Tag, soccer, indoor swimming and a delicious barbeque on the beach.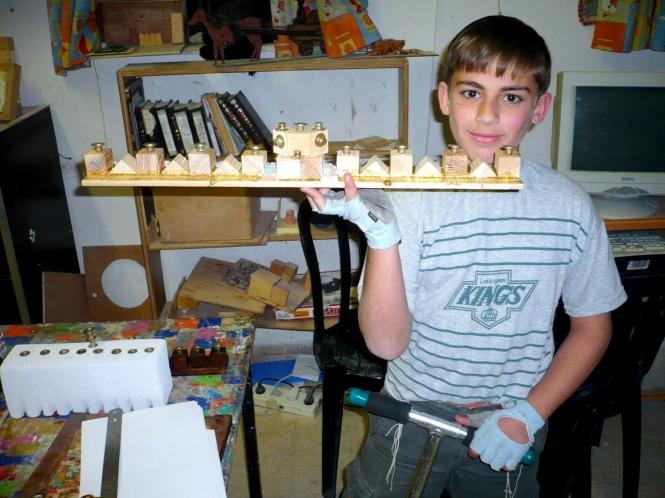 The Zion boys are eagerly awaiting the eight day festival of lights called Hanukkah which will begin in less than three weeks.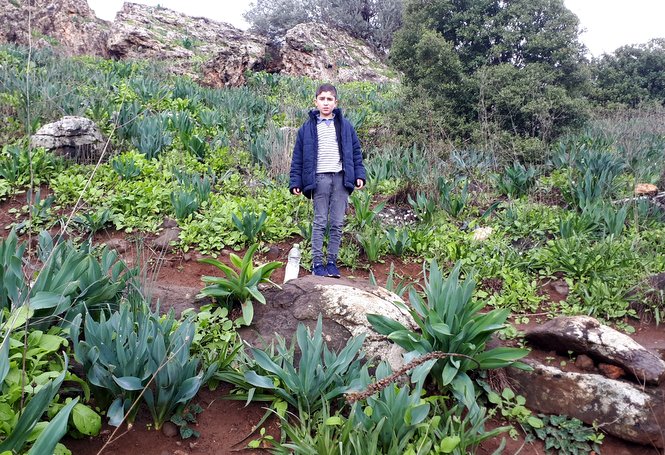 Following the coat campaign the Zion boys enjoyed a field trip to chilly but beautiful Northern Israel. For those who participated in providing the much needed jackets, THANK YOU!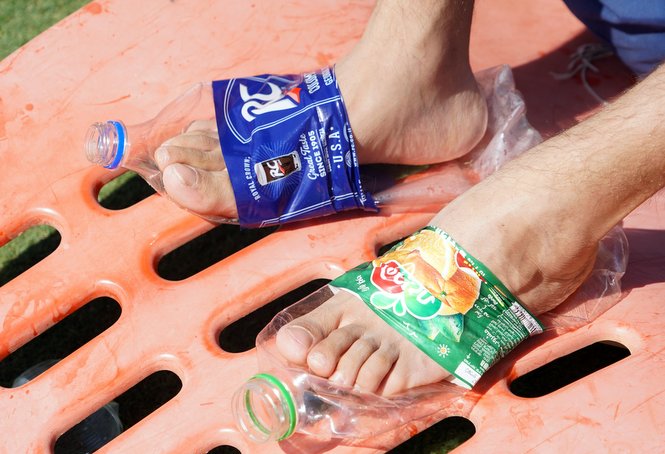 During a recent visit to a local park one of the Zion boys wanted to enjoy the comport of wearing sandals. The problem was that none were available. Thinking "out of the box" he then came up with a very creative solution.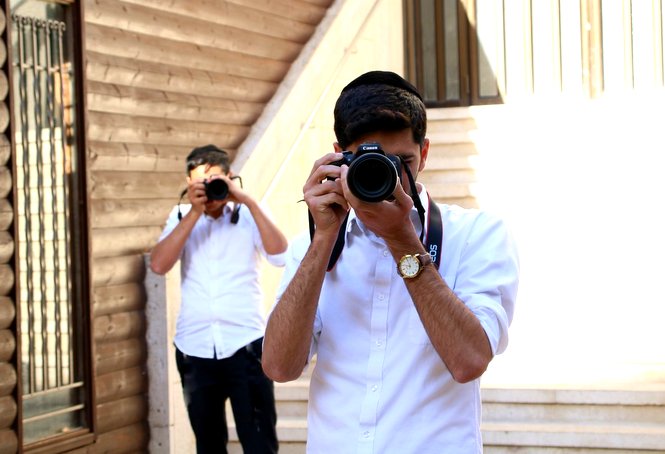 Blossoming photographers in our Zion photography program are captured during practice on campus.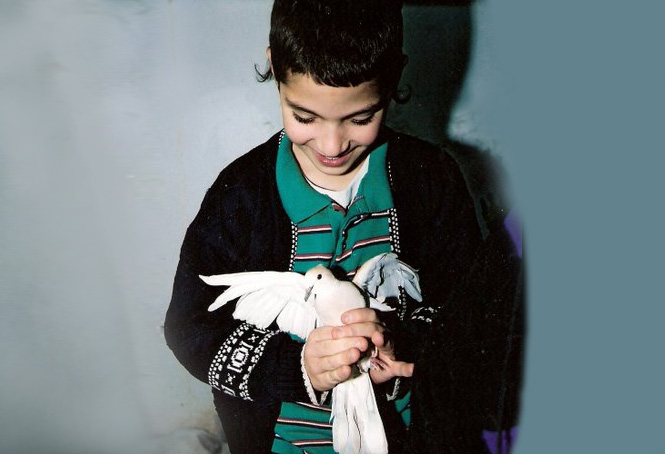 When you enter the courtyard of Zion Orphanage, you can hear sounds usually heard only in a zoo or the wilderness. Our on-campus "mini-zoo" houses raccoons, hamsters, rabbits, talking parrots, birds, a snake, flying squirrels, a tarantula, fish and more. These comprise the foundation of our acclaimed animal-assisted therapy program.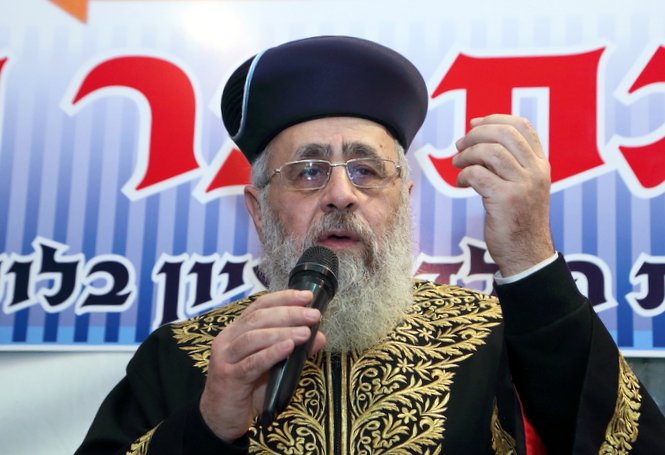 On Tuesday evening Israel Chief Rabbi Yitzchok Yosef graced our latest festive Bar Mitzvah celebration. Rabbi Yosef, an outstanding orator and huge Talmudic scholar, spoke warmly of his family's long-standing history with Zion Orphanage which began when his father, Rabbi Ovadia Yosef, was the Chief Rabbi of Israel close to 50 years ago. His father frequently joined Bar Mitzvah celebrations of Zion boys on campus.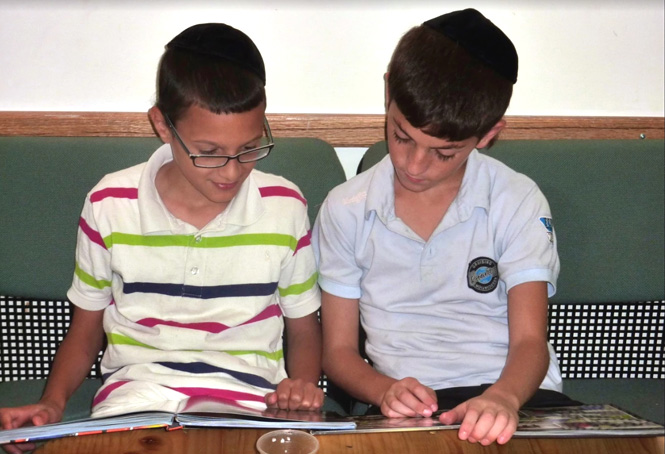 At Zion Orphanage, we emphasize our Jewish heritage as the "People of the Book." Our full-stocked reading library provides hours of enriching activity for the Zion boys.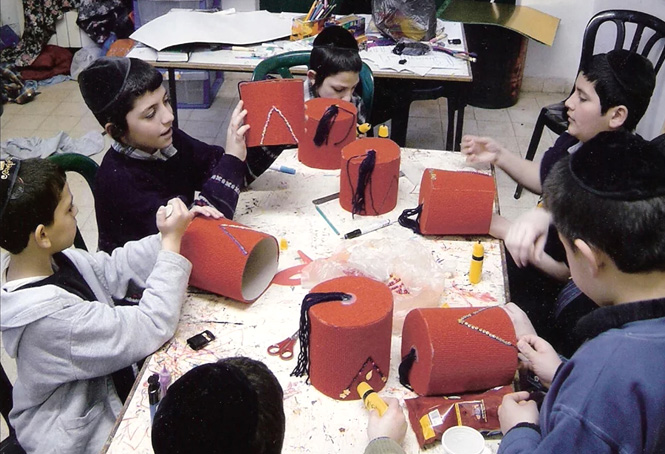 One of the most enjoyable activities for Zion boys is making their own Purim costumes. Nothing quite matches the pleasure of working hard on a project, then personally benefiting from it and sharing it with others.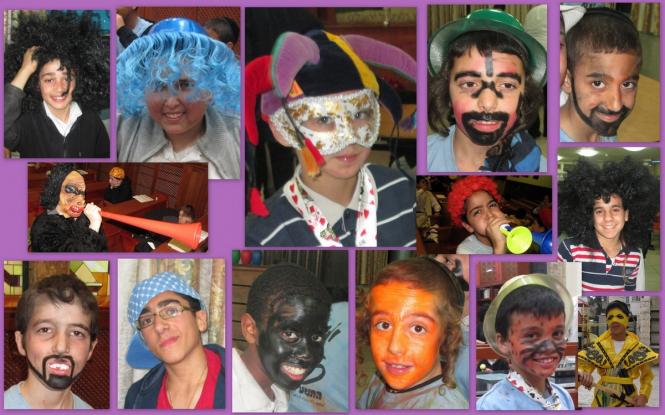 Now that we are in the month of Adar during which the festive holiday of Purim occurs, the Zion boys are busy working on their costumes. Here are a few Zion faces from a past Purim party.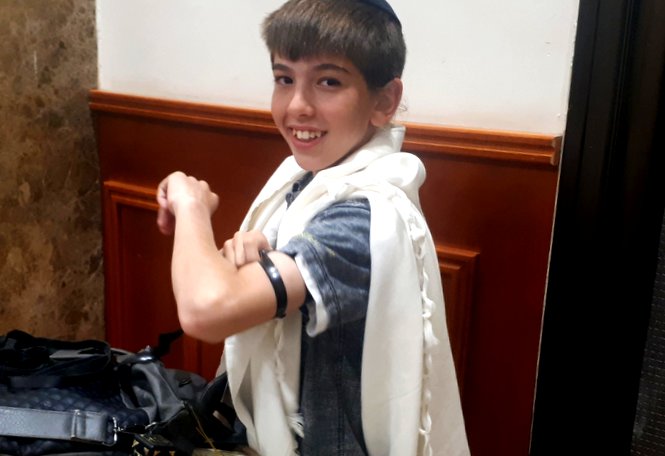 Along with the many new obligations of a Bar Mitzvah boy is wearing tefillin. The mitzvah of wearing tefillin is once a day on the head and on an arm. Of the many ideas behind wearing tefillin, one is to work towards using the mind and body in perfect harmony.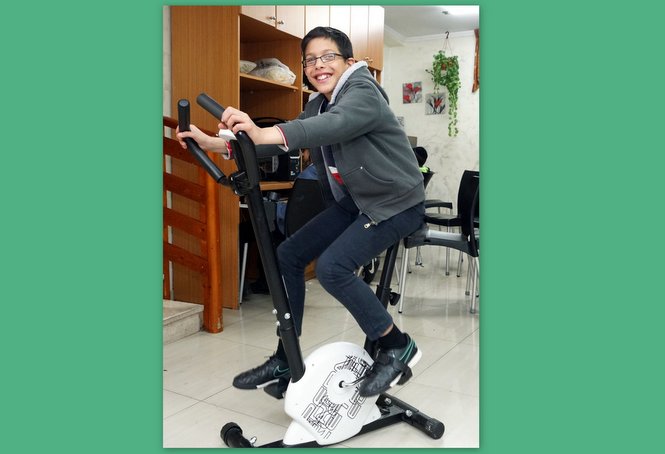 With lots of energy needing an outlet, the Zion boys are using creative ways to exercise. In addition to our rooftop sports center, the Zion boys have turned to "indoor exercise" activities to persevere, burn calories and reduce stress.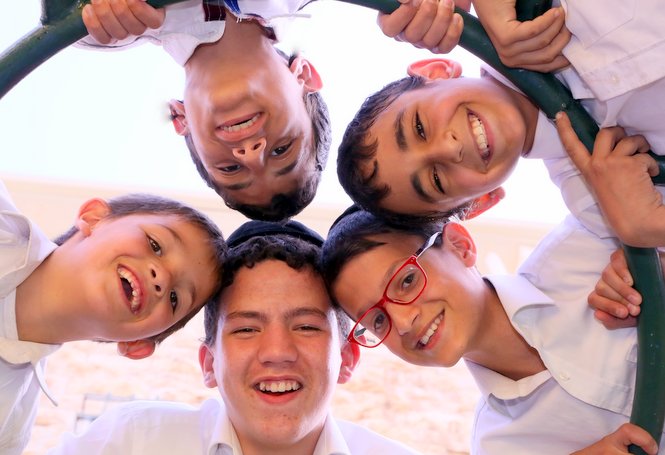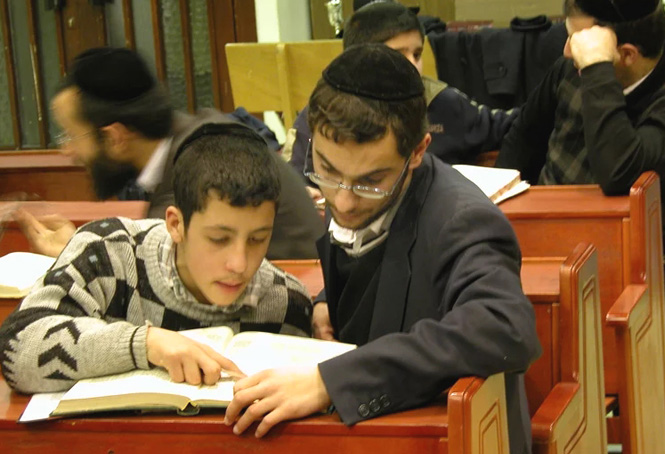 Our Big Brother program is a crucial component of the Zion boys' development. With all the caring and friendly teachers, house parents and therapists, none compares to the feeling of closeness and openness with a "big brother." Armed with great patience and outstanding listening skills, they walk together, go out for a bite together, study together and share life stories.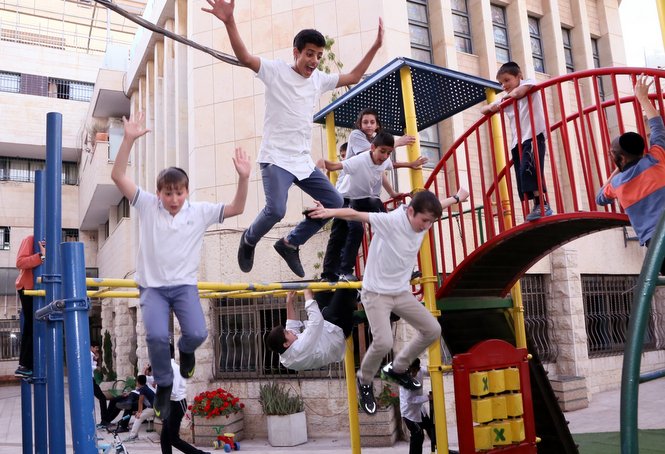 Now that the beautiful springtime weather in Israel has arrived the Zion boys are wasting no time in taking advantage of it. Pictured are the kids jumping from the campus playground.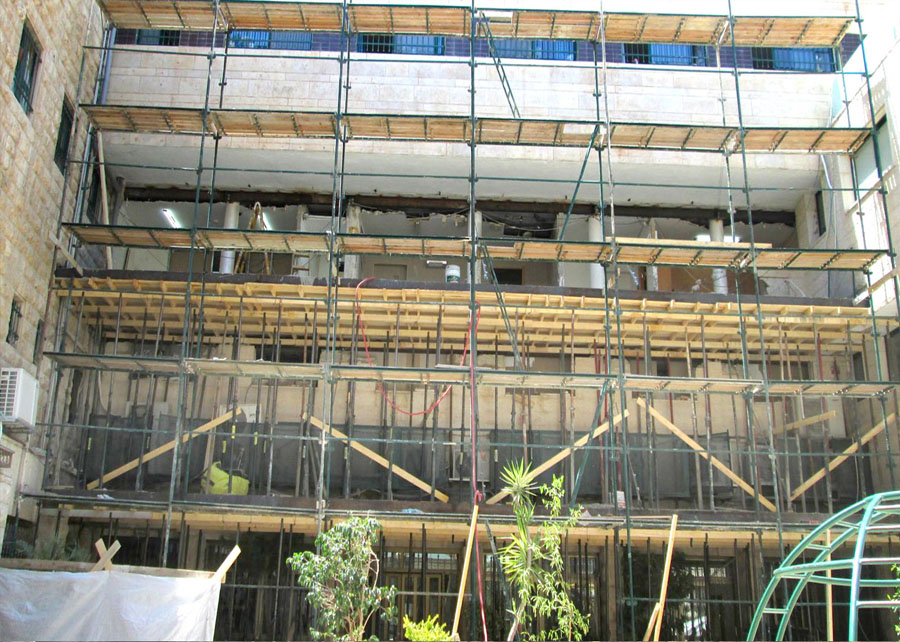 This week, we are turning to you, our most dedicated supporters. Zion Orphanage recently received a notice of new government regulations, requiring major construction to expand our living facilities – at a cost of $1.3 million USD. ZO runs on a tight budget and does not have extra funds to meet the new criteria while continuing to provide high-level 24/7 care for 130 Zion boys. We greatly need your help in this one-time emergency campaign. Rabbi Baruch Rakovsky, CEO of Zion Orphanage, and Rabbi Gershon Unger, Director of Development, will be in the U.S. from November 10-20 seeking to secure the funds for this emergency campaign.. The Zion boys thank you. Your contribution will make a real difference in saving lives.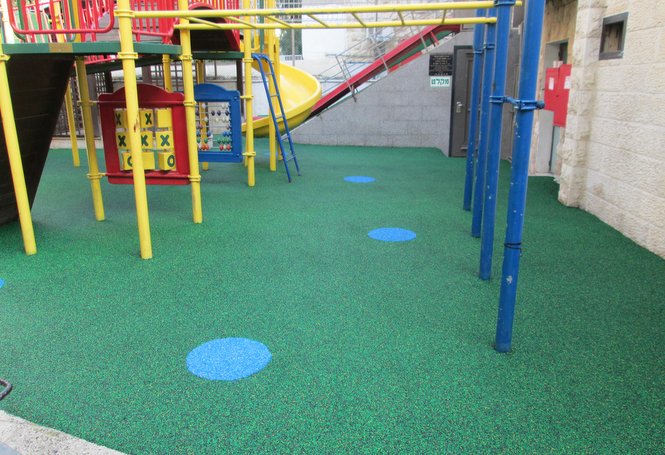 This week the Zion boys are enjoying the newly installed cushioned playground floor thanks to the generosity of some Zion Orphanage supporters. Thank you!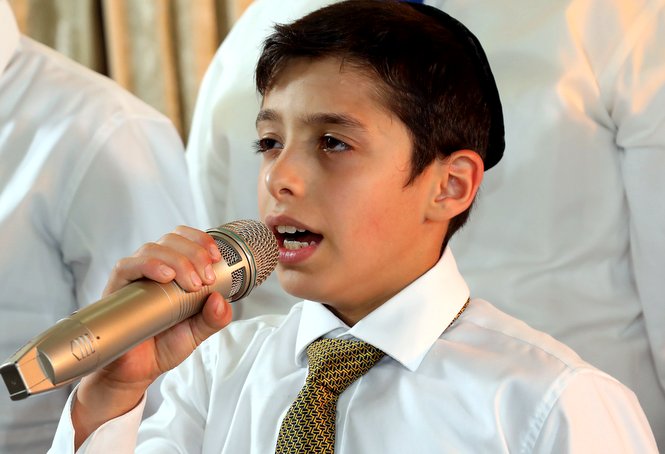 A Zion boy, whose beautiful voice was discovered by our choir instructor, is seen here singing a solo at a recent Zion Orphanage event.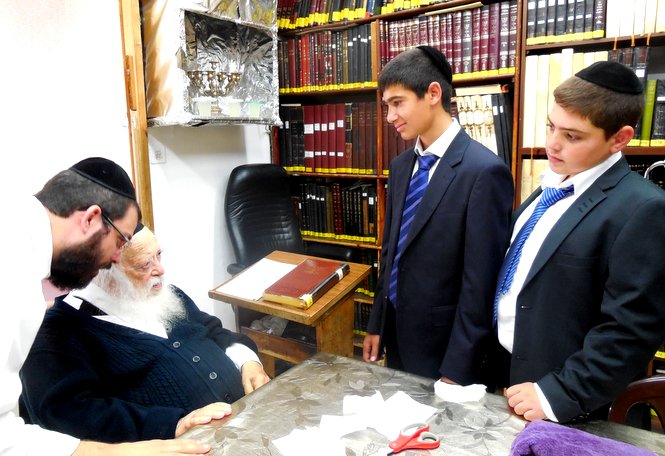 Pictured are two Zion Orphanage Bar Mitzvah boys visiting the towering Torah scholar of our generation who just passed away. Most of the Zion children and youth merited to participate, along with close to a million people, in Rabbi Chaim Kanievsky's funeral in Bnei Brak on Sunday.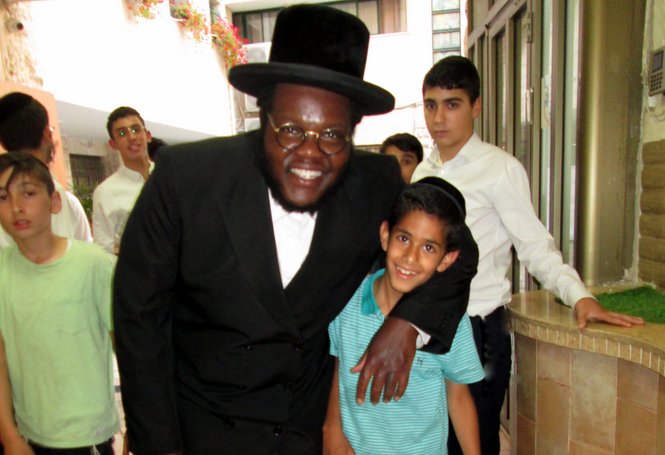 Zion Orphanage was abuzz this week with a visit by popular rap artist (and observant Jew) Nissim Black. Having grown up in a challenging family situation in Seattle, Nissim found common ground with the Zion boys -- and expressed his desire to become more involved with the Orphanage.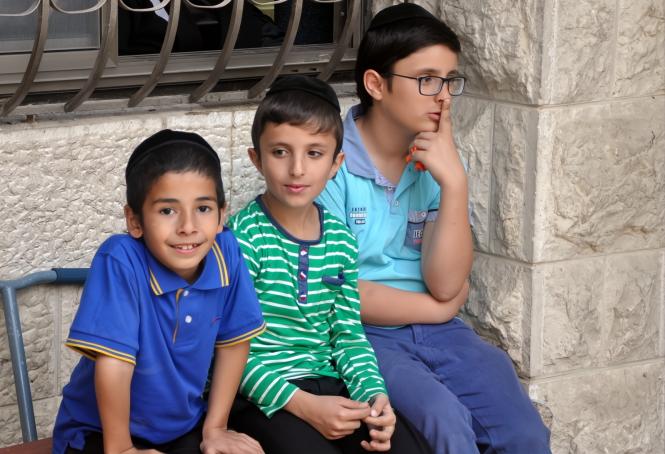 Some Zion boys relaxing on a bench in our campus courtyard.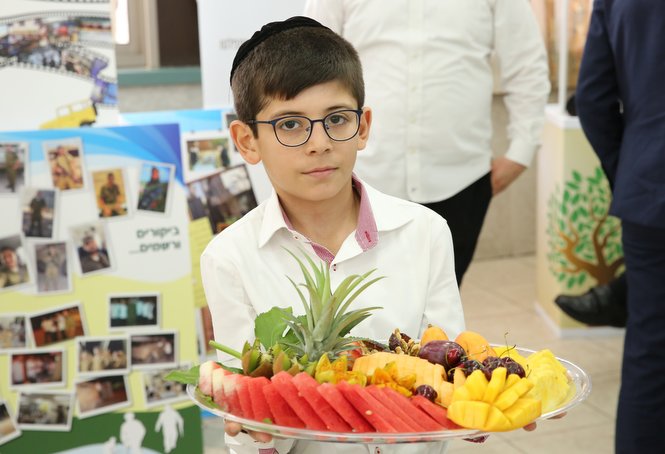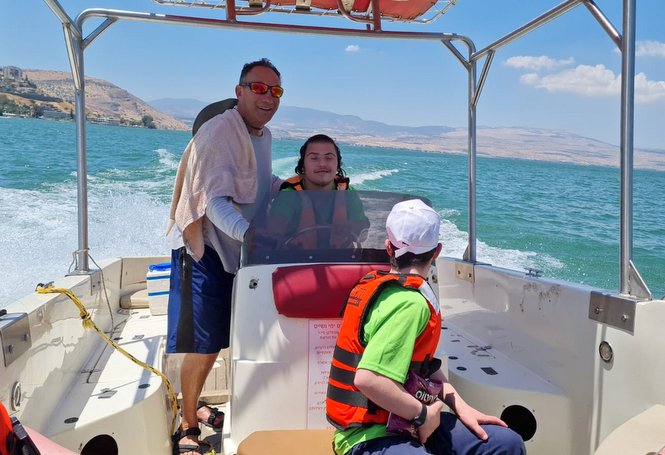 The Zion special education high school age program enjoyed a two-day trip in beautiful Northern Israel. Pictured is a down syndrome boy temporarily driving the speedboat on the 64 square mile fresh water Sea of Galilee, known in Israel as the Kinneret.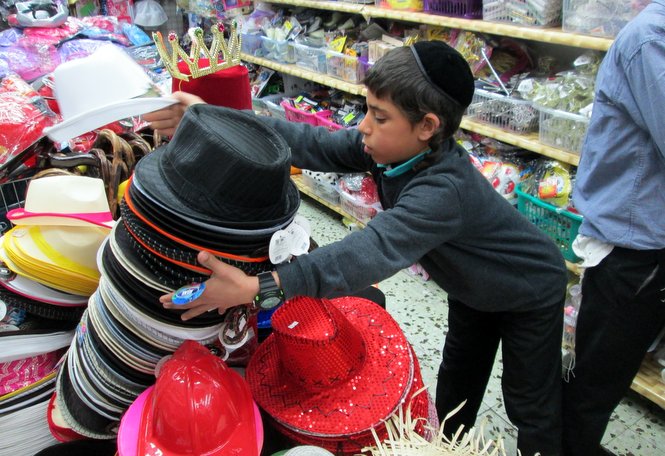 As the Zion boys are doing their final costume shopping they are gearing up for one of the most exciting days of the year. When most locations in the world begin the festive holiday of Purim Wednesday evening, in Jerusalem we begin Thursday evening.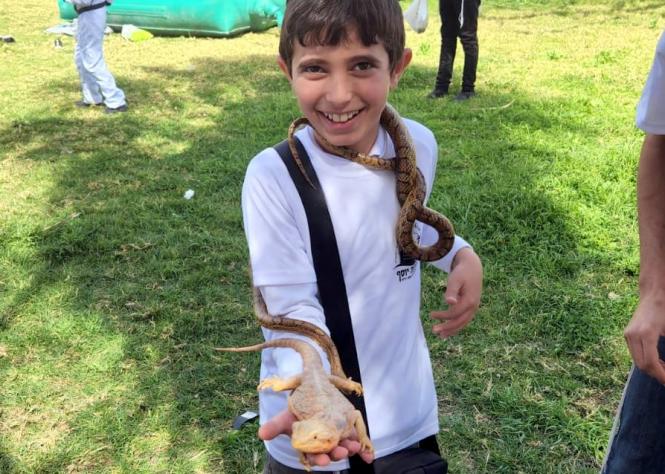 During a recent amusement park visit, the Zion boys enjoyed an array of outdoor activities including interacting with some interesting creatures.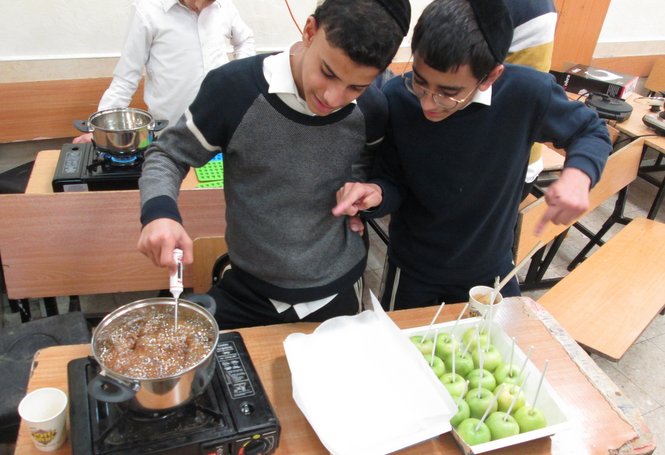 During this week's cooking course the Zion boys enjoyed making their own tasty caramel coated apples. In order to properly coat each apple the temperature of the caramel needs to reach 240°F or 116°C.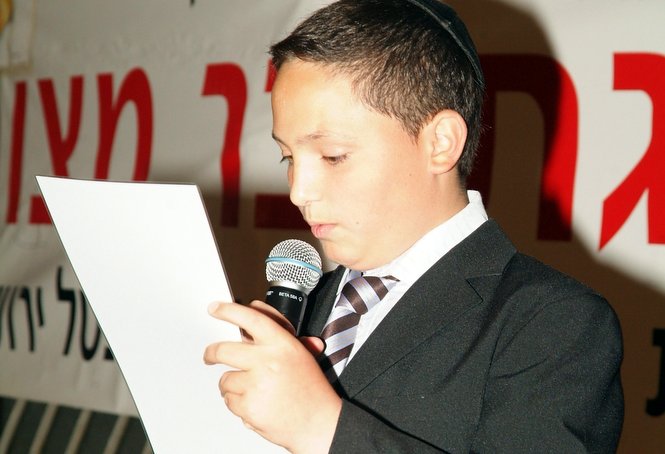 This week another Zion boy enjoyed his festive Bar Mitzvah celebration on our campus.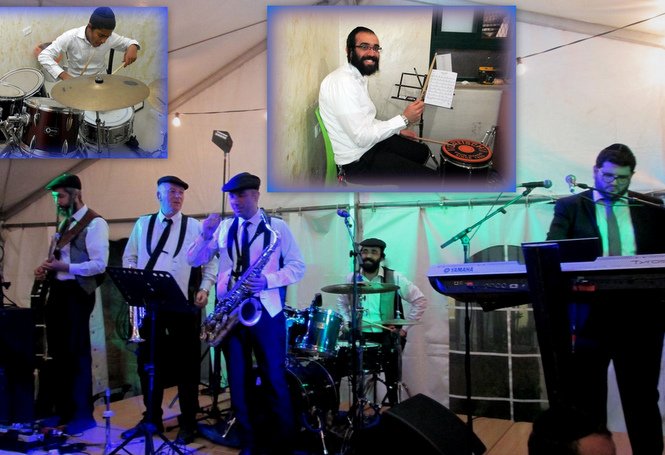 Nachman Porat, the outstanding drumming instructor in Zion Orphanage, performs professionally with the popular Israeli band Minagnim. Pictured is Nachman performing for the Zion boys along with his full band during a recent celebration. Also pictured is a Zion boy practicing drumming.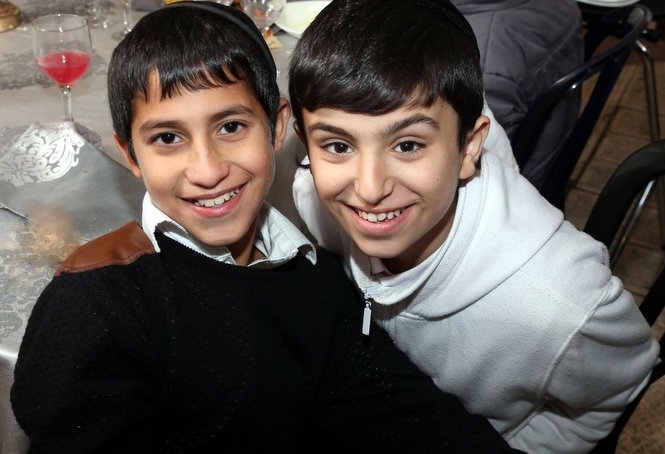 Wishing you a very happy and meaningful Pesach, the festival of freedom from bondage, from all the Zion boys and staff here in Jerusalem.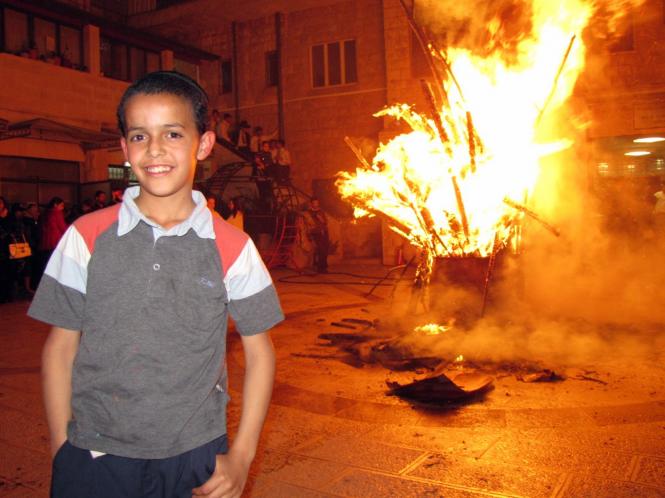 Pictured is one of the Zion boys enjoying our annual festive Lag B'Omer bonfire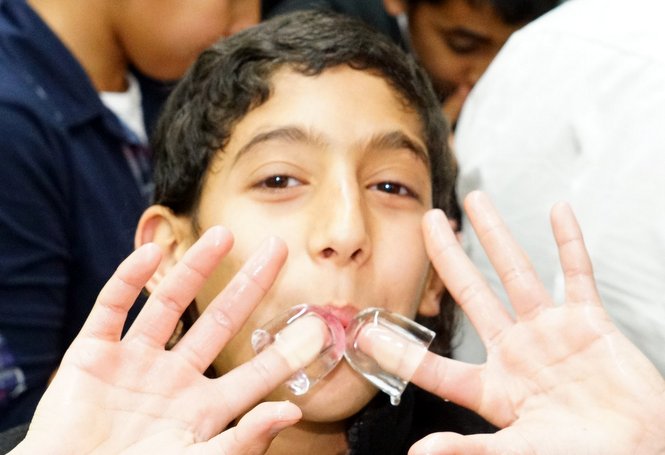 Interesting enough, even during the colder days of winter most of the Zion children enjoy playing with ice cubes and placing them in their drinks. When asked how this makes sense the Zion boy responded, "I do not understand the question!"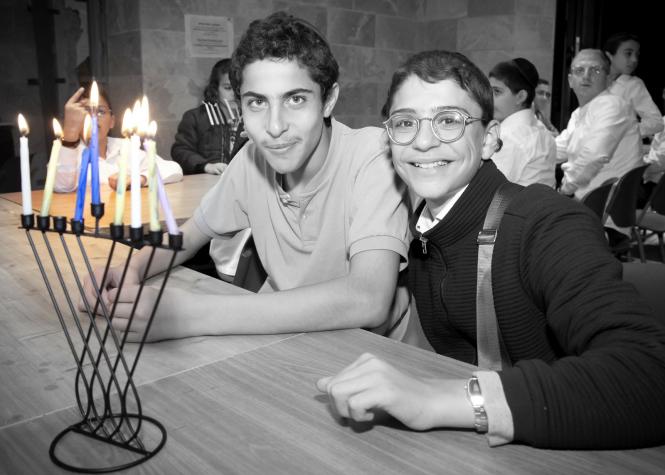 The Zion Orphanage boys and staff want to take this opportunity in advance to wish you an exceptionally enlightening and joyous Hanukkah, and to thank you for your generous past support over this past year. During each of the eight days of Hanukkah there will be unique "Keeping the Fire Burning" clips available on our Facebook account.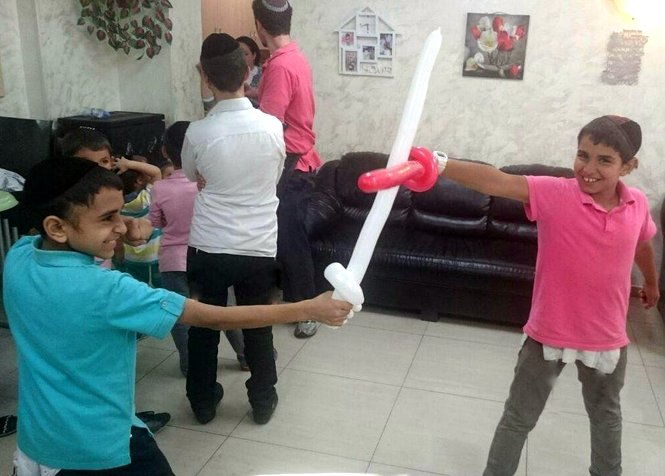 The Zion boys having some creative in-house balloon fun.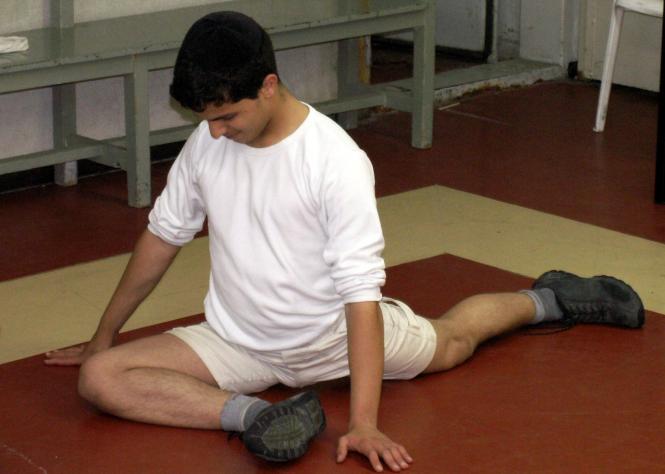 In anticipation of an intensive workout in our martial arts program, the Zion boys routinely spend a nice amount of time stretching.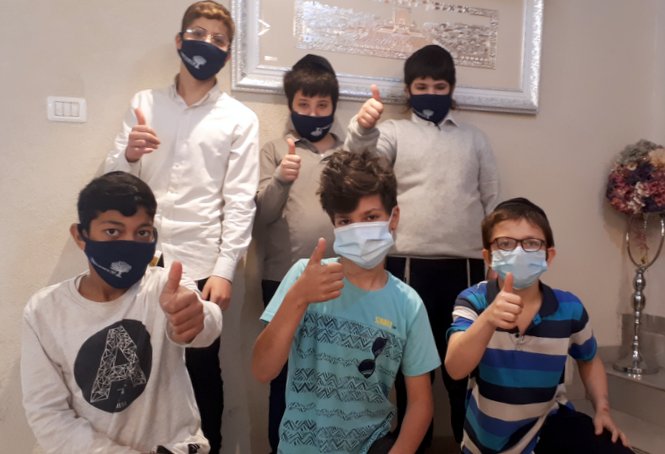 Life goes on in Zion Orphanage. Extreme care is being taken to follow Health Ministry guidelines which change on a regular basis. "Social distancing" has not been necessary within each of our "family units," similar to any other family. Distancing between different family units on campus is necessary. Body temperatures are taken of the kids and staff on a daily basis. Anyone entering our campus, including staff and guests, are also tested.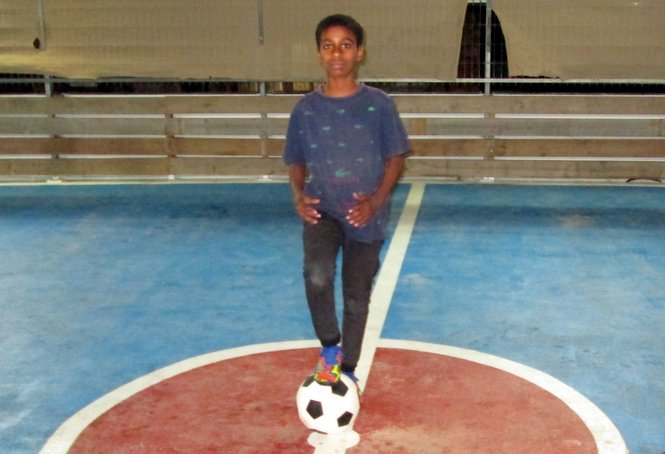 A Zion boy prepares to begin a soccer match with some friends on our campus rooftop soccer field.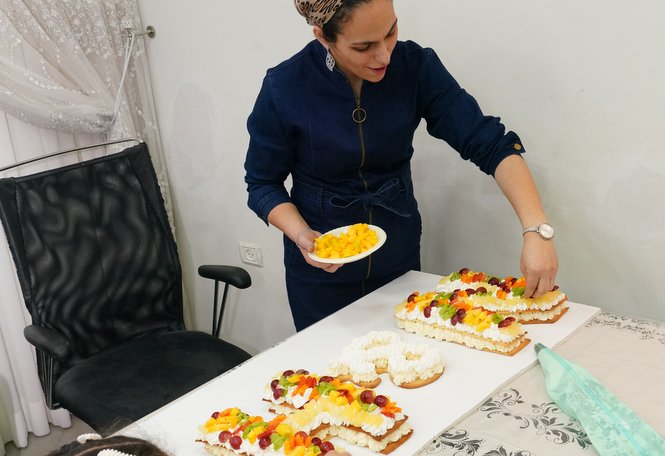 One of our many house mothers prepares a delicious birthday cake for one of the Zion boys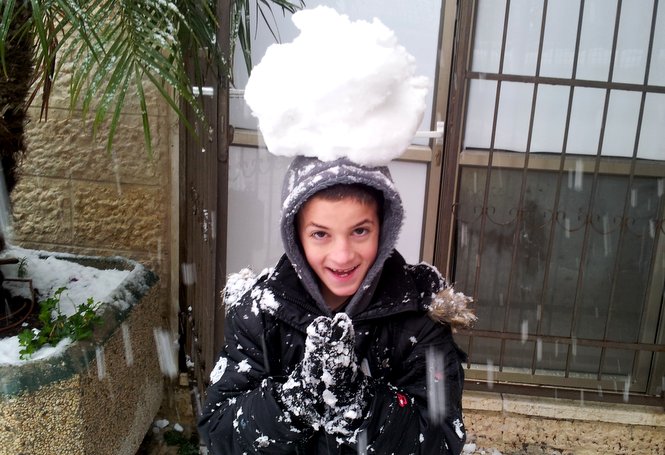 Although it's now been a couple of weeks since the day on which Jerusalem became a winter wonderland, we found this beautiful picture taken by one of our aspiring Zion photographers and wanted to share it with you.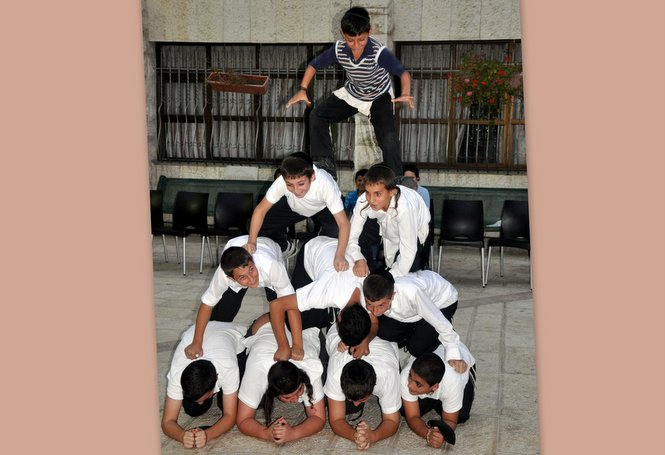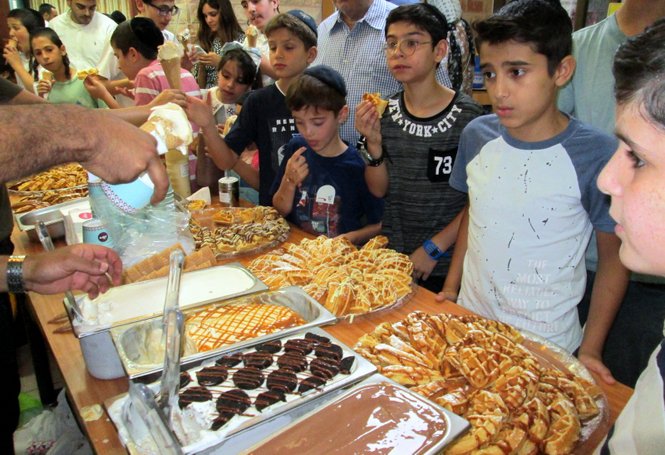 Today a generous family from New York treated the Zion kids to an ice cream party. The activity was playing with large exercise balls. All participants really enjoyed themselves.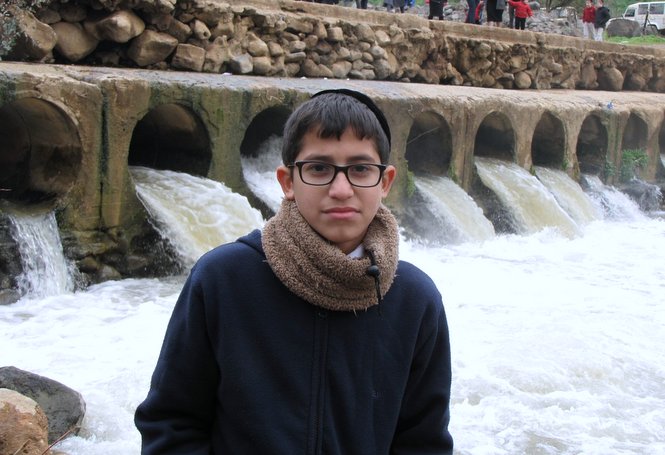 During the past month Israel has been enjoying much needed rain. One of the many benefits is an increased flow of water in the Jordan River, enjoyed by the Zion boys during the recent rafting trip.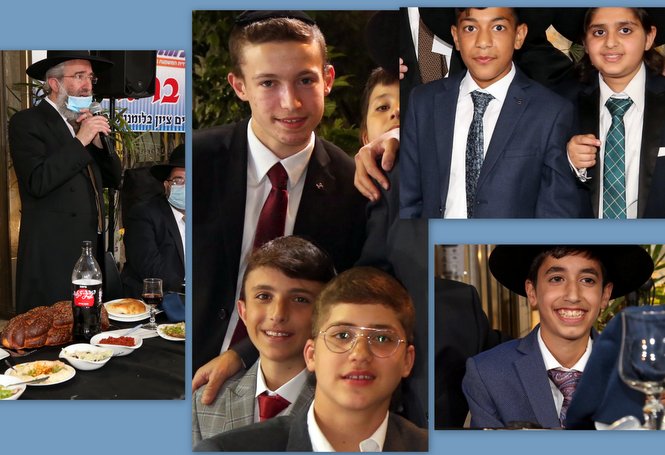 Last night Zion Orphanage celebrated the Bar Mitzvah of three boys under the stars in the large campus courtyard. Attending the exceptionally spirited event included members of the Israeli Knesset and the Jerusalem City counsel.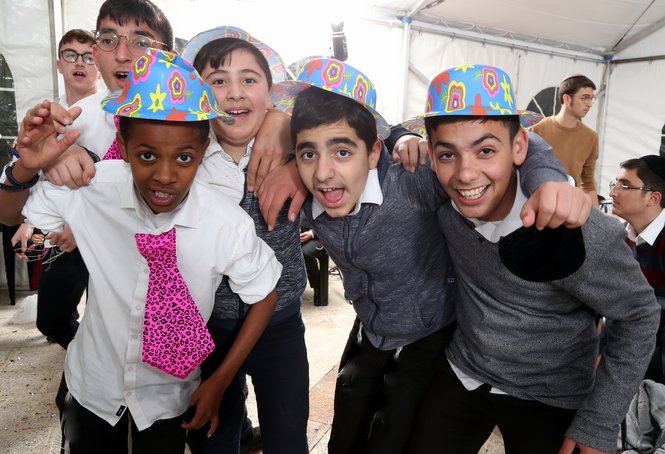 A decades old custom during Chanukah in Zion Orphanage has been to celebrate the Bar MItzvah of boys reaching 13 years of age. This year a festive and energy-filled party was enjoyed by all the participants on the occasion of two Zion Bar Mitzvah boys.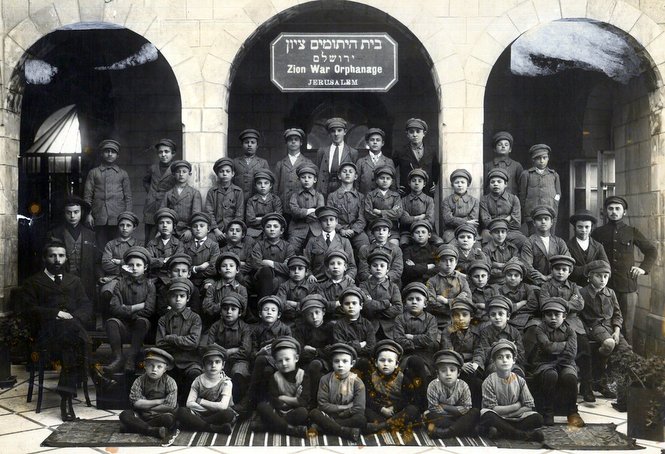 Following the tragic four years of World War 1 (WWl), in the year 1919 the home for the homeless built by Rabbi Blumenthal and his wife Chana Shaina in 1899 began using the name "Zion War Orphanage" as a result of the urgent need to house so many orphaned boys.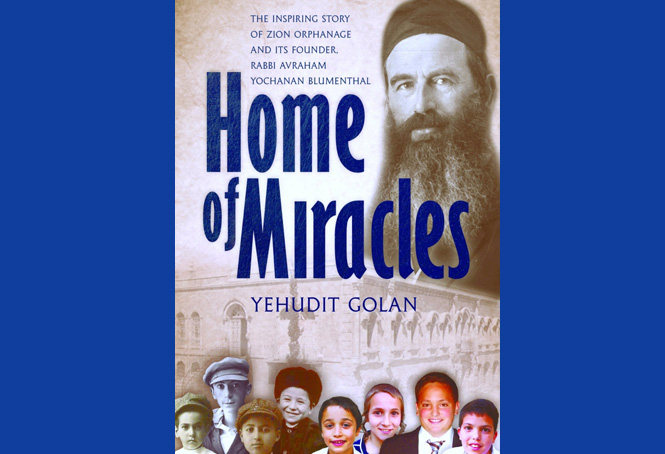 Zion Orphanage recently celebrated the publication of a stunning book that chronicles the century-plus history of the orphanage. Our founder, Rabbi A.Y. Blumenthal, pioneered the practice of providing not just a place of refuge, but the highest standards of a stable, healthy environment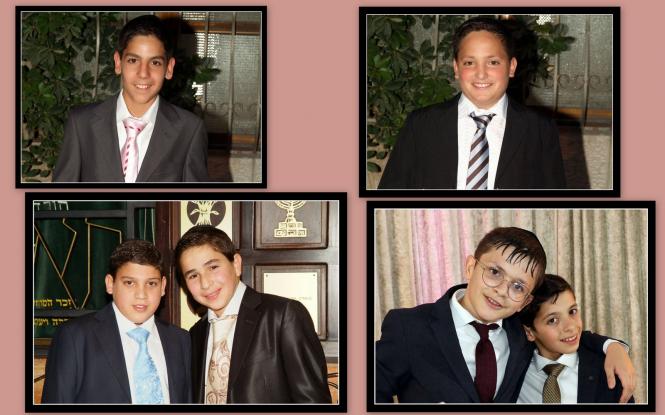 The Zion boys are very grateful for having received new outfits for the coming festive holiday of Pesach, annually marking the freedom from slavery under the Egyptians.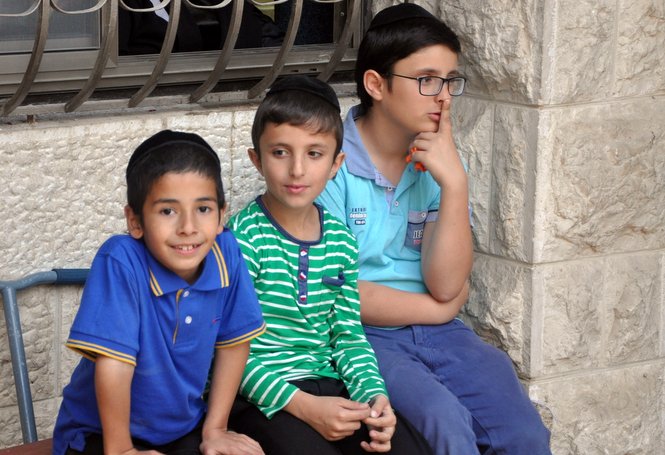 Zion boys taking a short break between some afternoon extra-curricular activities such as arts and crafts, martial arts, computers, electronics and photography.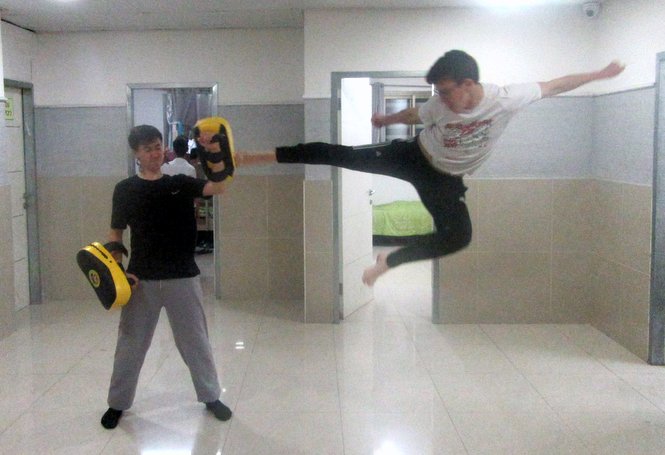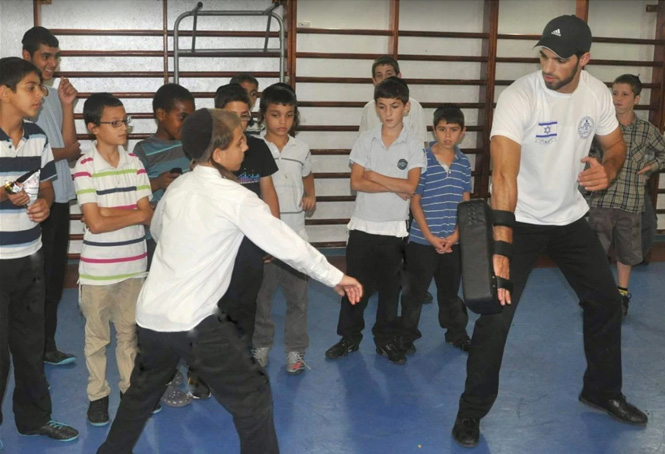 Along with skateboarding, ping pong, swimming and team sports, martial arts is one of the physical activities enjoyed by the Zion boys. In addition to the benefits of daily exercise, each participant gains confidence in his ability to defend himself and others when necessary. Here the Zion boys receive training in Krav Maga, the Israeli self-defense system.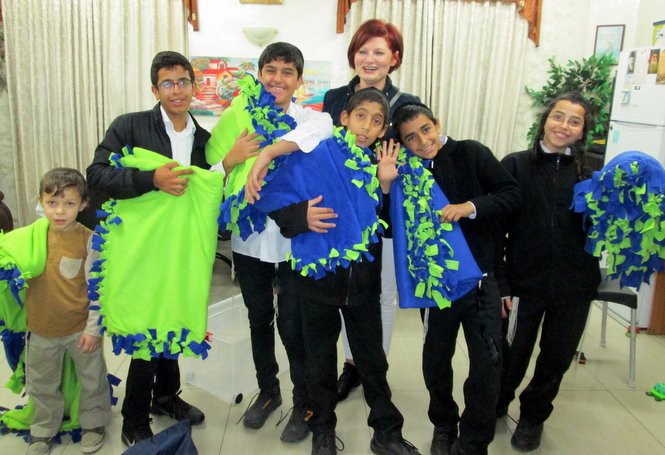 This week the Zion boys were ecstatic over the story and gifts each one received. An organization by the name of "Children Giving To Children International" based in San Diego, CA, matched up a local synagogue with Zion Orphanage. They worked for months making handmade blankets. Then the heads of the organization brought the beautiful and warm blankets to Israel in order to enjoy giving them to each child.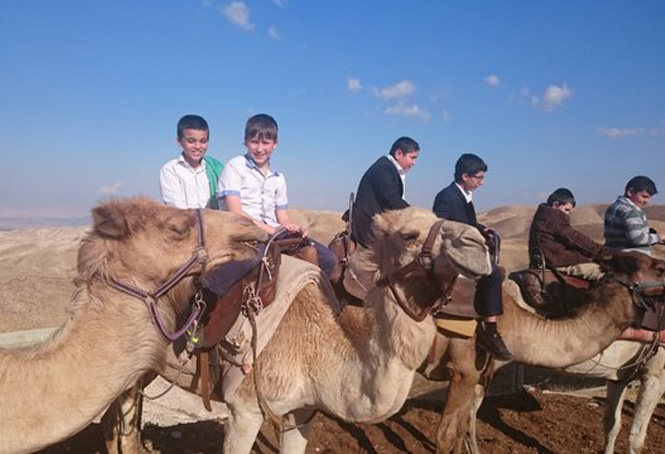 Zion boys enjoy a camel ride in the Negev desert.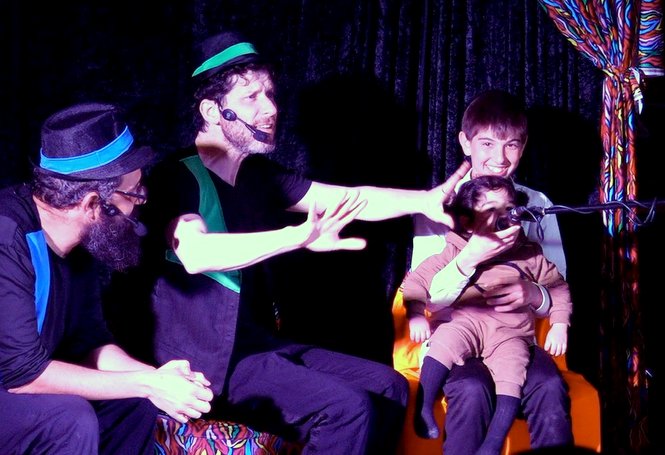 The youngest group of Zion boys thoroughly enjoyed a show about Purim performed by Israeli actors. The event was followed by delicious pizza and special ice cream cones, all funded by some generous supporters visiting from New York.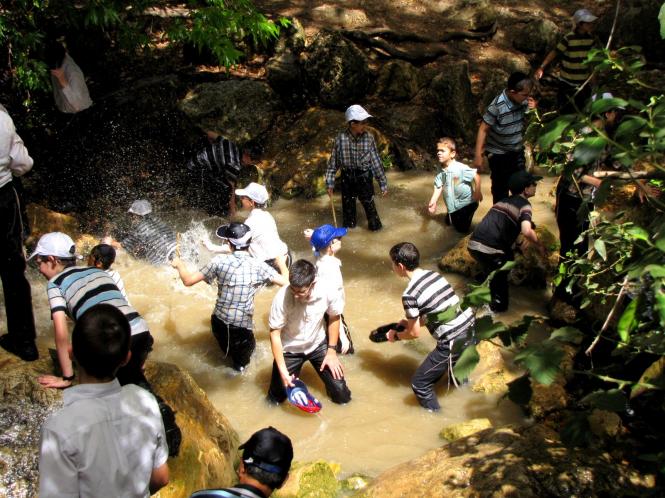 Following a plentiful winter season, throughout the summer many of the millions of visitors to Northern Israel enjoyed the constant flow of rivers and streams. Among those visitors who entered the water were some of the Zion boys.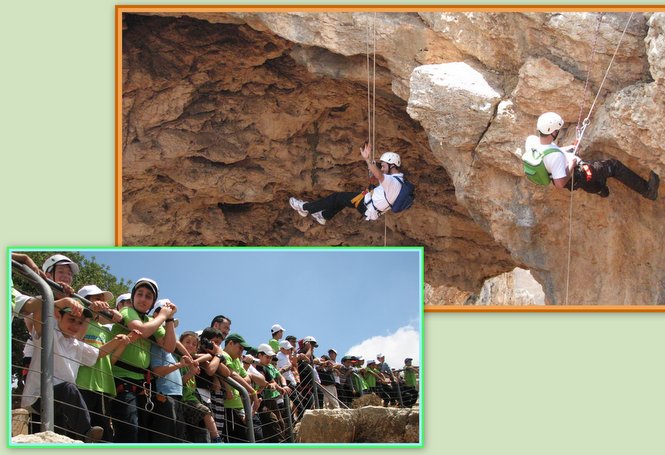 ​This week the Zion boys thoroughly enjoyed a trip to beautiful Northern Israel which included the thrilling experience of rappelling.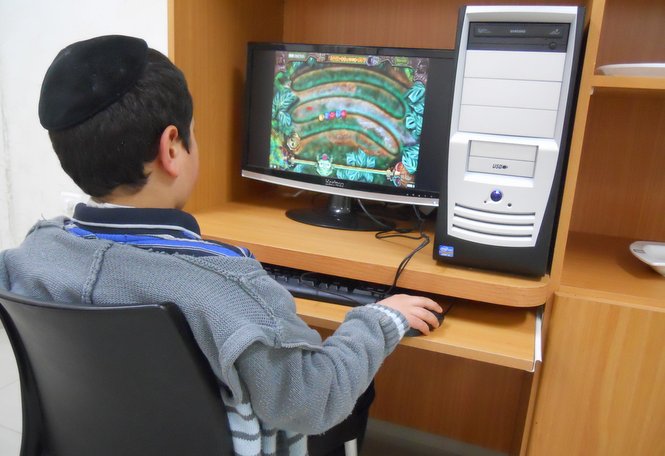 The Zion boys enjoy an array of computer activities including games, graphics and typing documents. Aside from two separate rooms full of computers, one for the younger kids and one for the older kids, each family unit enjoys its own computer (pictured).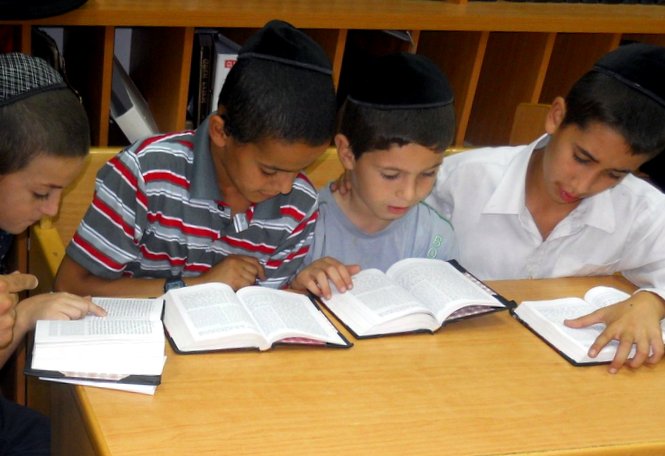 ​This Saturday night marks the beginning of the festival called Shavuot (literally "weeks''), marking the day on which the Torah was given on Mount Sinai. Most of the Zion boys will be practicing the custom of staying up all night studying Torah and then pray at the first opportunity which is at sunrise, timing the silent prayer to begin at the moment the ball of the sun begins to appear in the horizon. .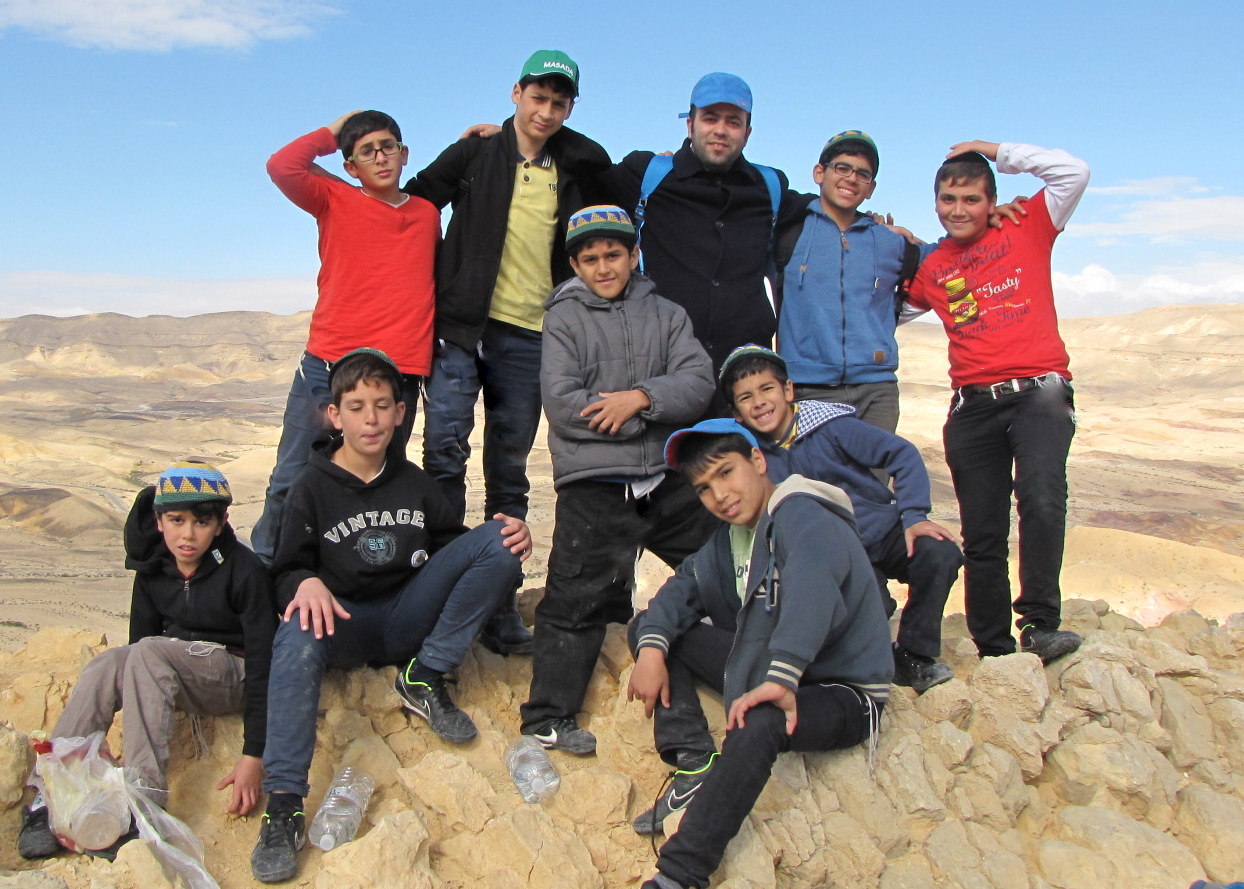 A group of Zion boys and their house father (av biyet) take advantage of the excellent weather by visiting the South of Israel.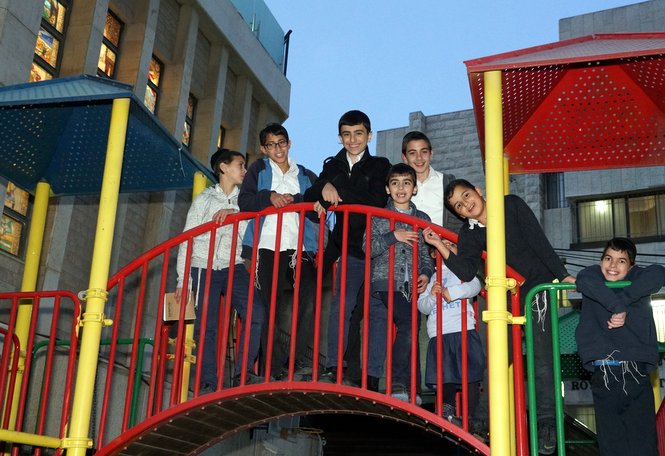 Some of the Zion boys pose for a picture from the campus playground which was donated by the Goldman family of Boston, Massachusetts, 50 years ago. Needless to say, it has been repainted numerous times since then.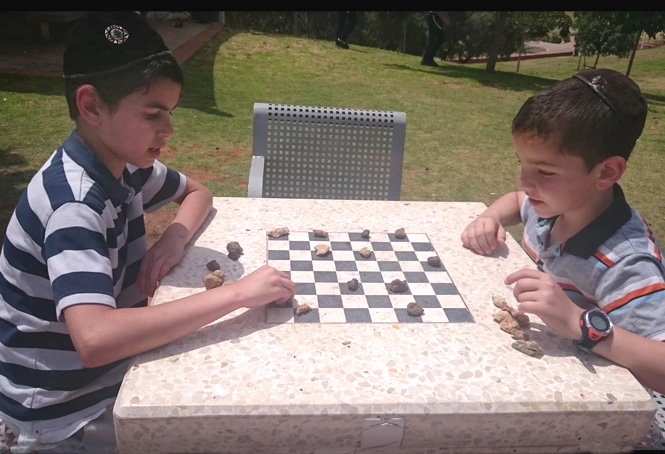 The Zion boys look forward to our annual chess and checkers tournament. Among the many benefits of this activity is teaching the boys patience, strategy, and to carefully consider consequences before "making the next move."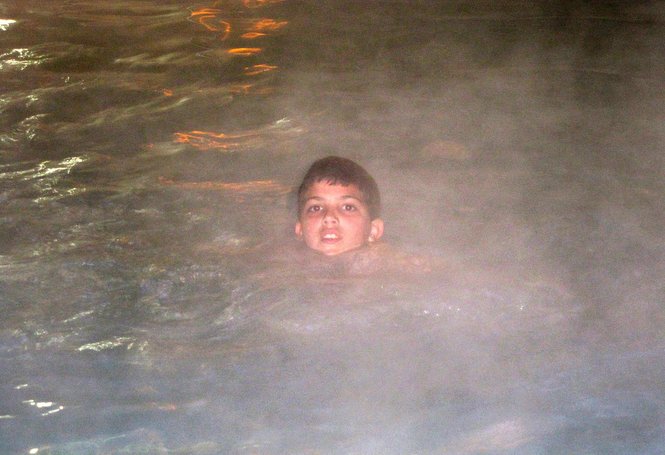 What has now become an annual winter excursion, this week the Zion boys visited the Hamat Gader hot springs. Located right off of Israel's freshwater Kinneret (Sea of Galilee) in the southern part of the Golan Heights, the gushing springs of therapeutic hot thermal water were an absolute delight to bathe and swim in during the cold winter night. The hot springs resort was reserved solely for the Zion kids from 1:00 - 3:00 am.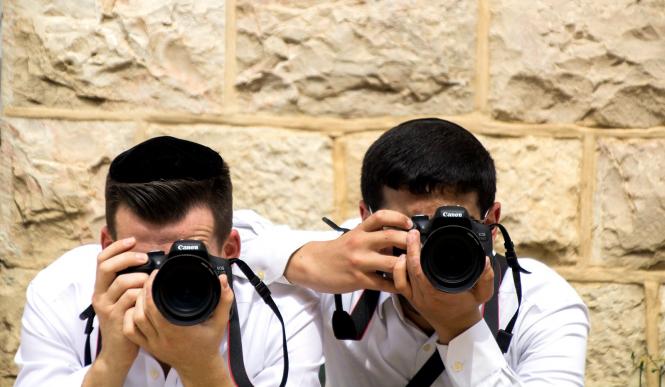 For many of our high school age Zion boys, the successful photography is helping them discover and actualize their talent in being able to capture special moments in pictures.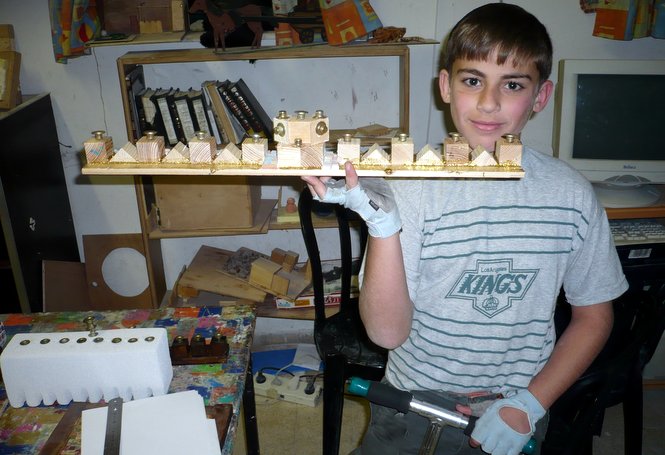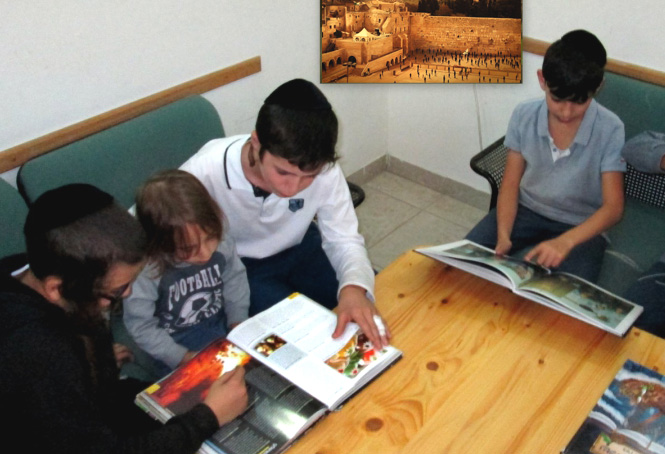 Our highly-successful "Mishpachtone" family units consist of an energetic young couple and a group of twelve Zion boys. This unique arrangement provides a genuine sense of caring family life. Here the boys share together some quiet reading time.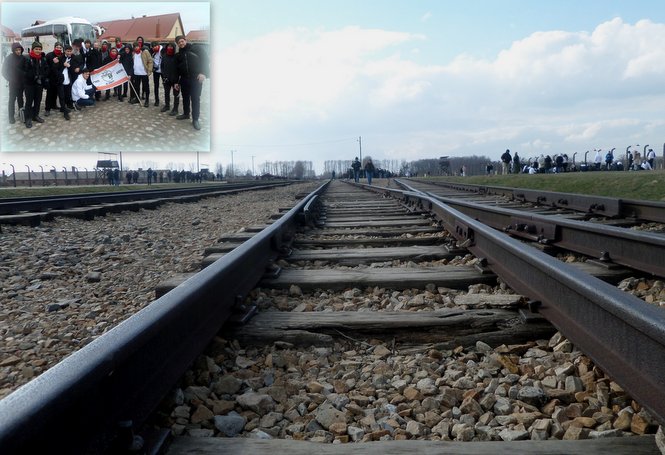 A group of the oldest Zion boys just returned from spending a week in the European cities of Warsaw and Cracow, Poland. The intention was for them to gain a taste of the Holocaust and life in Eastern Europe that led up to the war. As interesting as the boys found the history, the deepest and lasting impression will be from the broadening their minds. It was the first time they traveled abroad. The pictures were taken by one of the Zion boys as they visited the concentration camps of Auschwitz and Birkenau.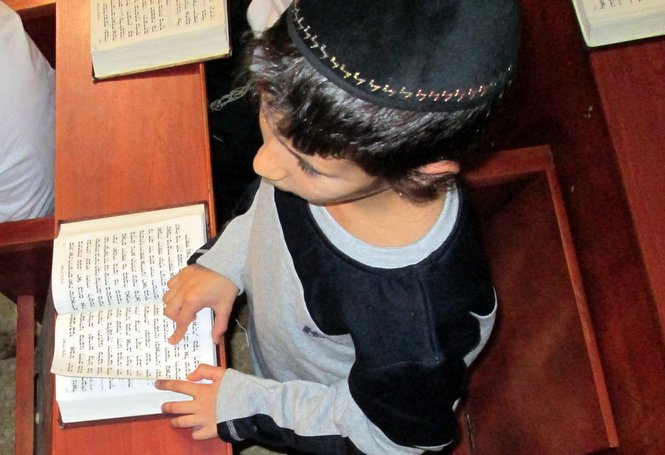 During these dangerous and uncertain times, the Zion boys have made it a priority to pray for the safety and well-being of people throughout the world. Zion Orphanage helps the boys appreciate that -- given their personal experience with challenge and adversity -- their prayers have particular power.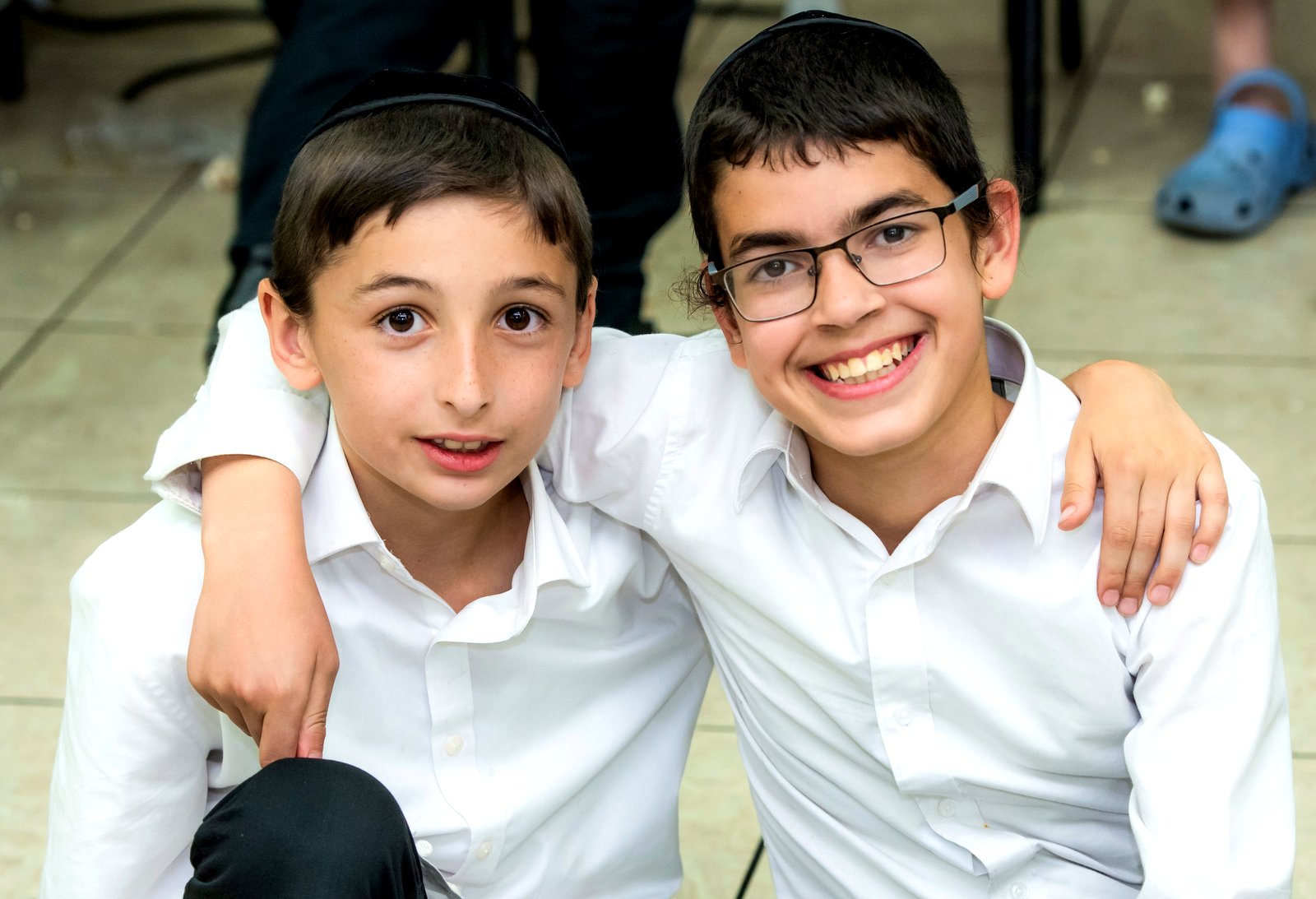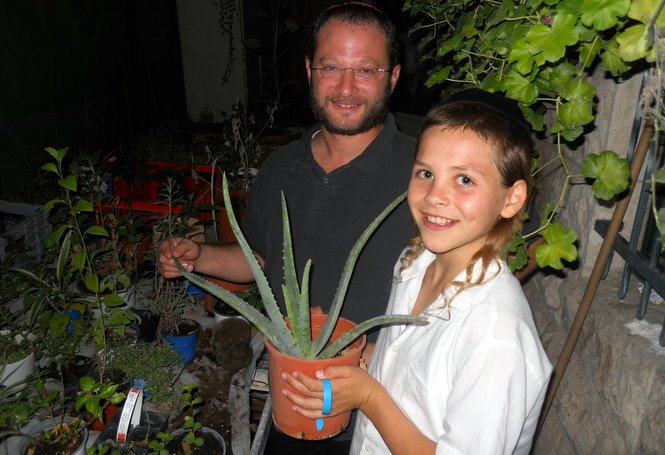 One of the Zion boys proudly shows a member of staff his nicely developing cactus plant.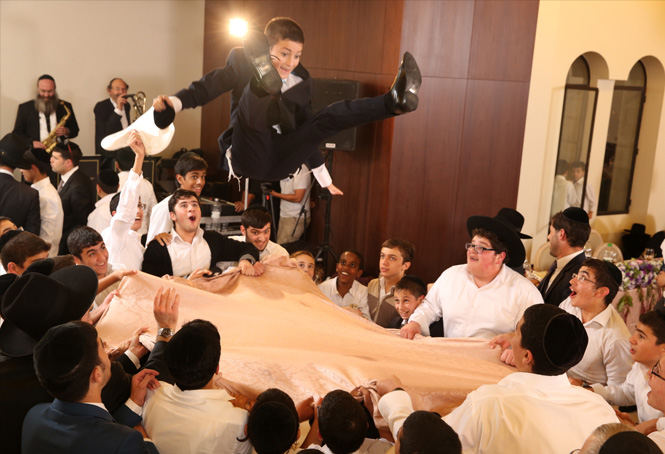 Every Jewish boy looks forward to his Bar Mitzvah. At Zion Orphanage, we strive to make the day extra-special, with live music, dignitaries, and a lavish meal. Pictured here is a recent Bar Mitzvah celebration held across from the Western Wall.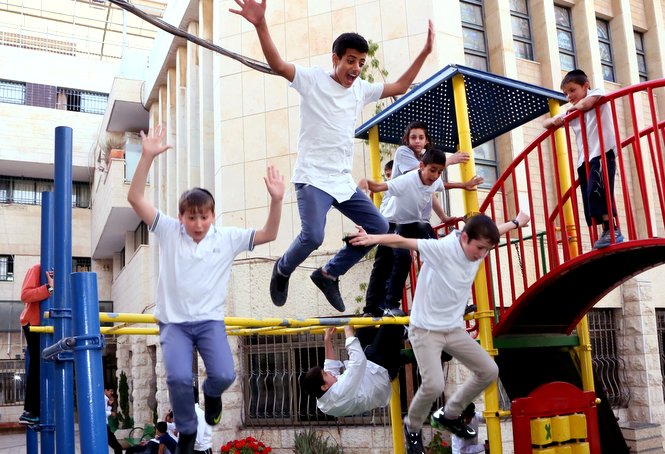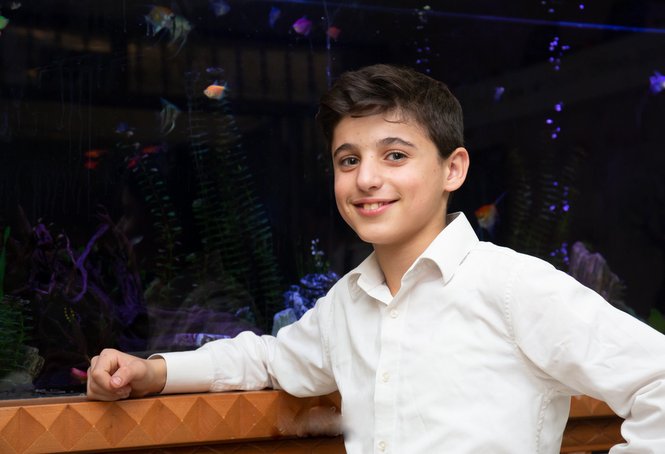 As soon as you enter the main building on the Zion Orphanage campus here in Jerusalem you will enjoy the large fish aquarium.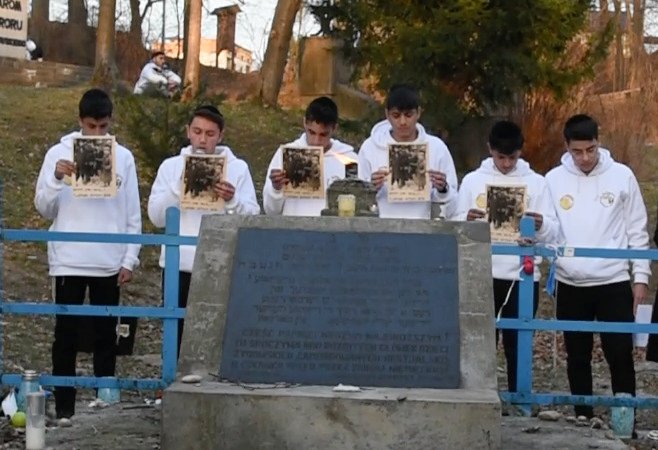 Many of the Zion boys who visited Poland related that the most emotionally impactful experience of the trip was their visit to the southern Polish village of Zbylitowska Góra, near Tarnów 71 km (44 mi) east of Kraków. From June 1942 until 1943, during the Final Solution, the Germans used the close by Buczyna forest as a mass execution site. The largest mass shooting took place on June 11th,1942. The massacre took the lives of 6,000 Jewish men, women and children including 800 children from the Tarnów Orphanage, killed in the pits using hand grenades. Some of the Zion boys on the trip are pictured at the forest memorial where they took turns reading excepts from stories about the place. One of them read that the Nazis, before killing the children, had them first remove and neatly fold their cloths and lineup their shoes before entering the pit to be murdered.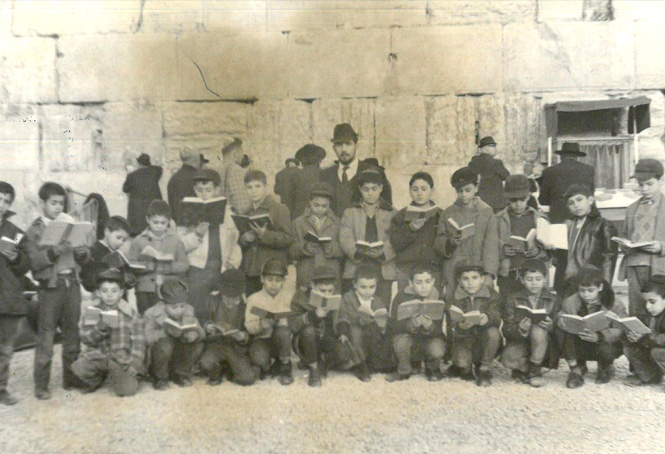 This historical photo from 1967 shows Zion boys at the newly-liberated Western Wall in Jerusalem.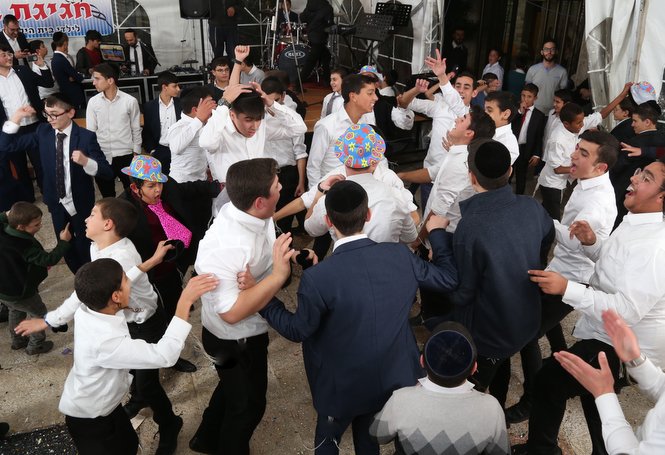 During one of the the recent Hanukah parties the Zion boys danced with all of their energy.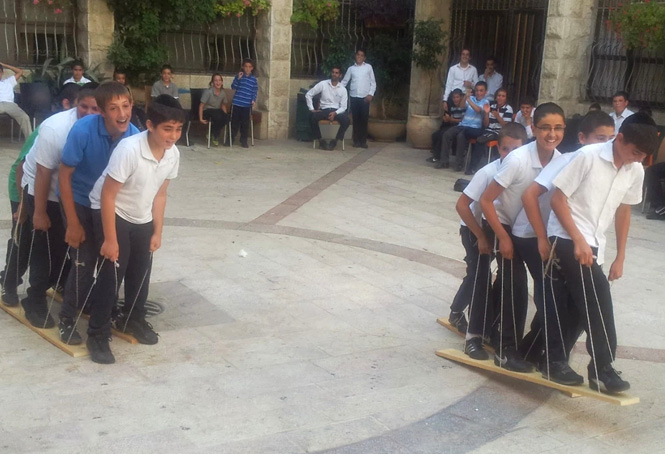 You could feel the energy in the air during a recent fun-filled evening of group competitions. Pictured here, in the courtyard of Zion Orphanage, the boys engage in a modified skateboard race.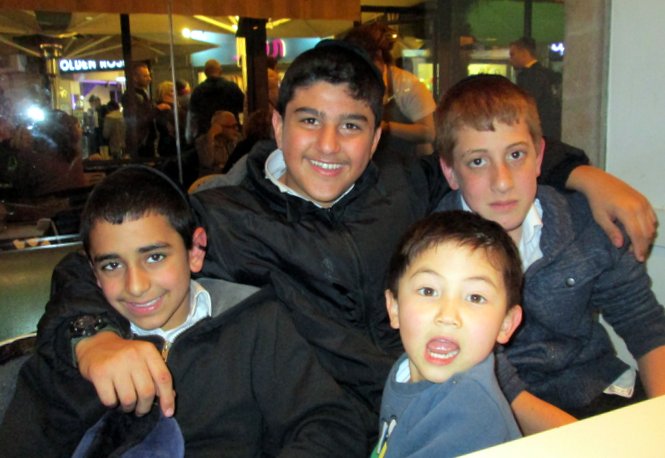 A few Zion boys were treated on Thursday to a delicious dinner at a local restaurant here in Jerusalem. The dishes including individual pizzas with the toppings of their choices, milkshakes, Belgian waffles and ice cream. The occasion marked ten years since the passing of a ten year old boy who was tragically killed by a passing car. Joining the kids was the sponsoring family from Tel Aviv whose son was a close friend of the boy.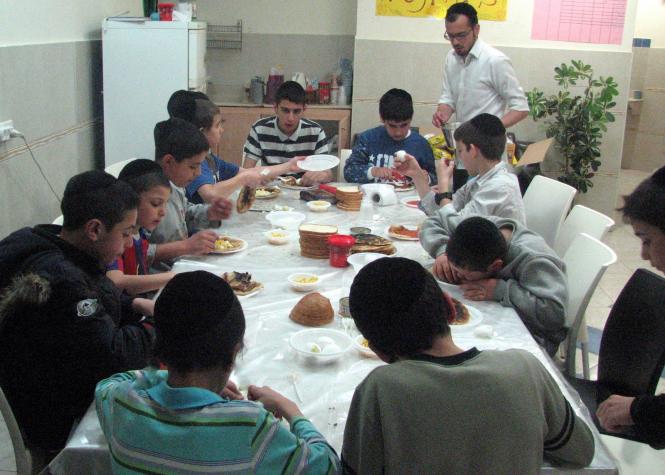 ​Pictured is one of our many family units enjoying lunch together. As much as possible we strive to provide all of our younger children (ages 8 - 14) with the feeling of living as a family. Along with their house parents, they live in a relatively self-sufficient apartment on campus. Throughout the week they participate in numerous extra-curricular activities together as well.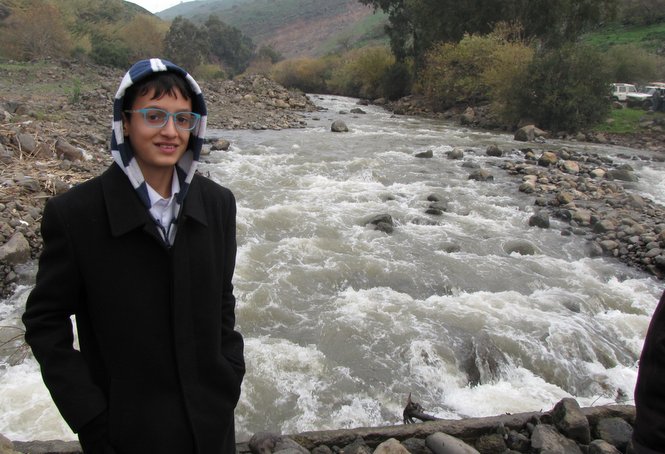 During a recent trip to Northern Israel's Golan Heights the Zion boys were able to enjoy the bountiful flow of the Jordan River, a direct result of our recent rains.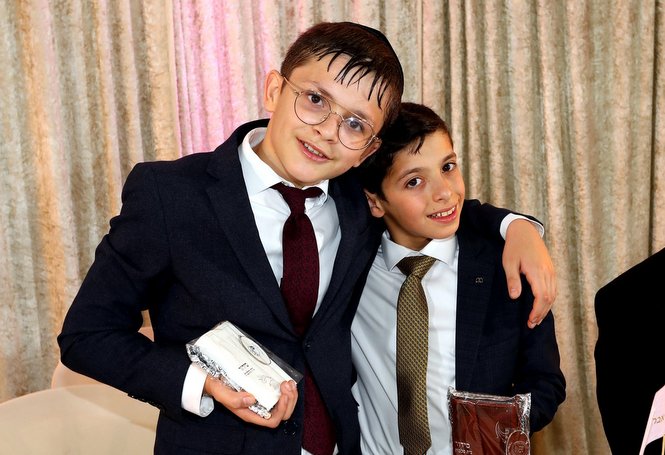 It was quite a festive and energy-filled evening during the Bar Mitzvah celebration of our two most recent boys reaching 13 years of age.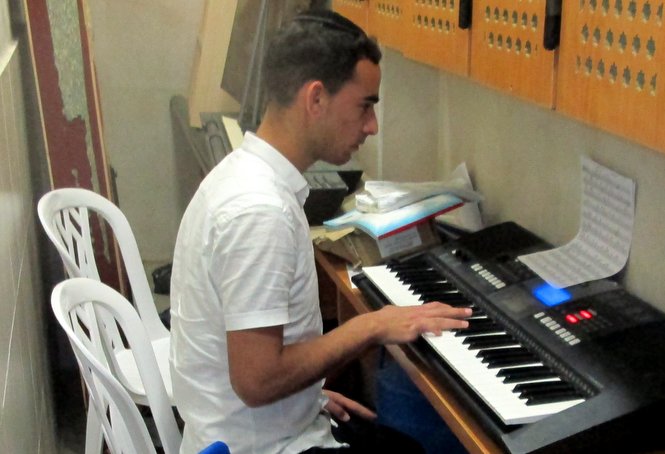 One of the older Zion boys practices keyboards during the afternoon break.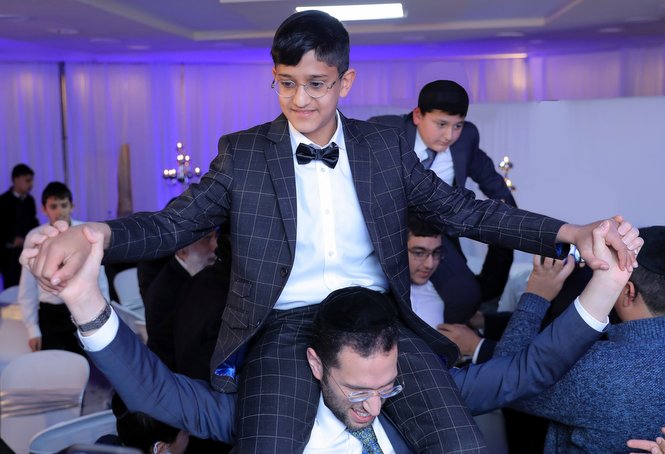 Thanks to the generosity of supporters from Kew Gardens Hills, New York, who twinned their son's Bar Mitzvah, two Zion Bar Mitzvah boys enjoyed an exceptionally lavish celebration.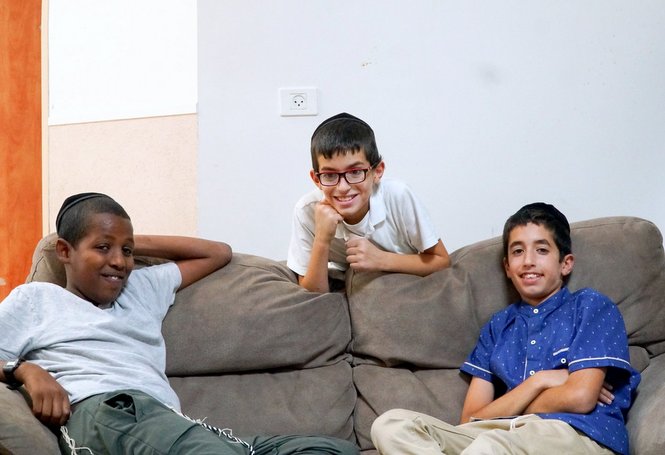 Rosh Hashana, also known as The Day Of Judgement according to Jewish tradition, is over. Still, the ten days finishing with Yom Kippur, known also as The Day Of Atonement, provide an opportunity to sweeten the verdict. A mere four days later will be the festive holiday of Succot. The Zion kids are already assisting in building succot (huts) which will become the primary dwelling place, weather permitting, for the entire holiday.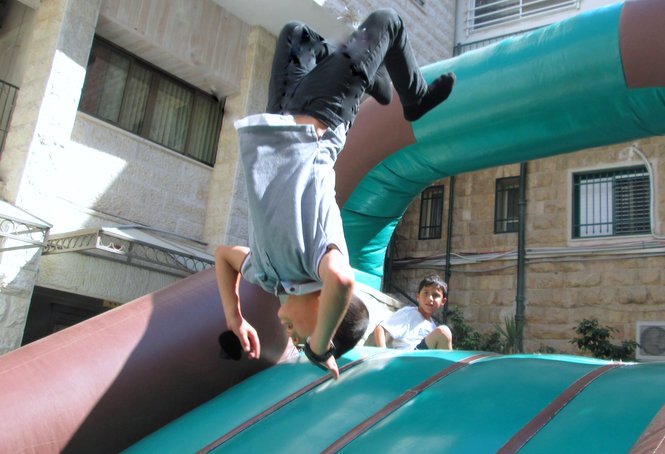 Following summer camps and trips, in order to provide something special for the new school year the Zion kids enjoyed lots of food treats (hotdogs, cotton candy, popcorn, slushes), music and some fun activities on campus. Pictured is a Zion boy captured in mid-air, fearlessly jumping backwards on an air-filled trampoline.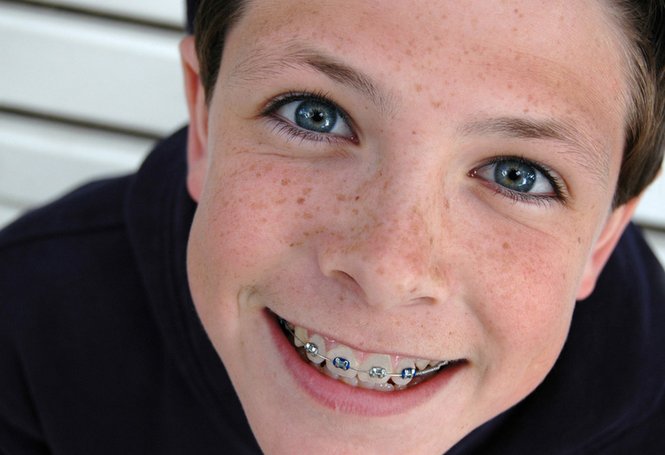 The Talmud (Ketubot 111b) says: "Better than providing the physical nourishment of milk, is providing the spiritual nourishment of a smile." Your gift to the Zion Dental Fund will help 26 Zion boys in urgent need of serious orthodontic treatment -- providing the confidence to allow their inner light to burst forth with a smile!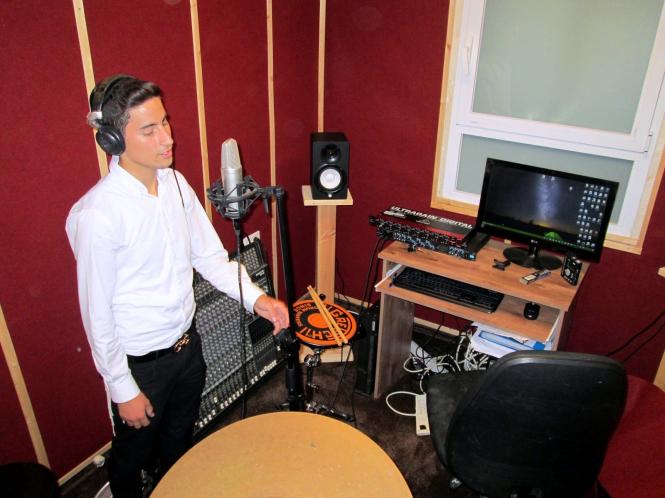 Over the past few months some of the Zion boys have been recording music in the on-campus studio, managed by our exceptionally popular drum teacher and recording studio expert, Nachman Porat. Pictured is one the boys during a recording session.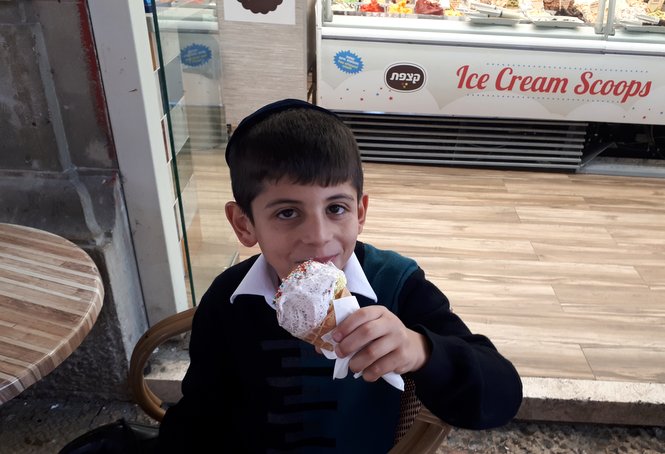 The Zion boys recently enjoyed delicious ice cream cones at a local favorite ice cream store. Although it's been quite cold here in Jerusalem, there was a break from the rainy weather. Besides, kids tend to like ice cream no matter what the weather.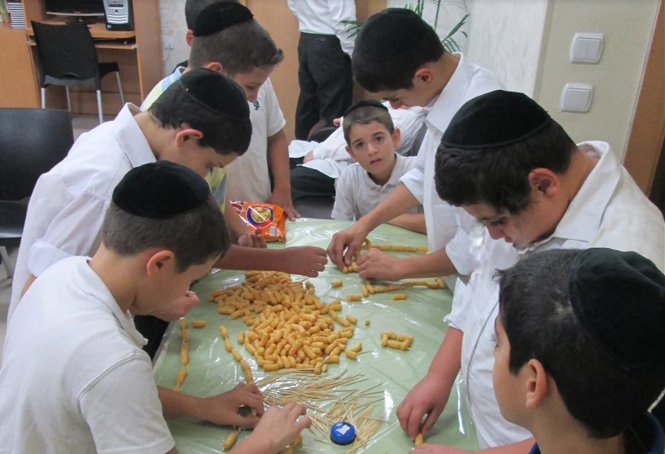 Bamba is an Israeli snack enjoyed by children throughout the world. Made from peanut butter-flavored puffed corn, Bamba contains no cholesterol, preservatives or food coloring and is enriched with vitamins. Recently, the Zion boys enjoyed competing to produce the most creative design by sticking the Bambas together with toothpicks.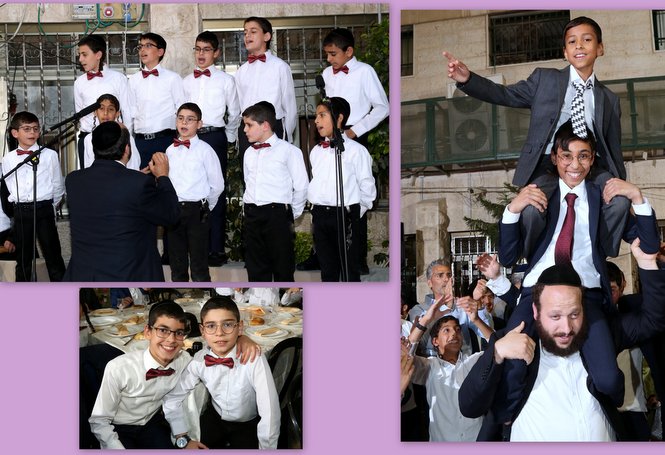 Four cousins from New York came to Israel with their families for their Bar Mitzvahs. Thanks to their generosity they sponsored a Bar Mitzvah celebration for three Zion boys. All enjoyed an extravagant affair with lots of festive dancing.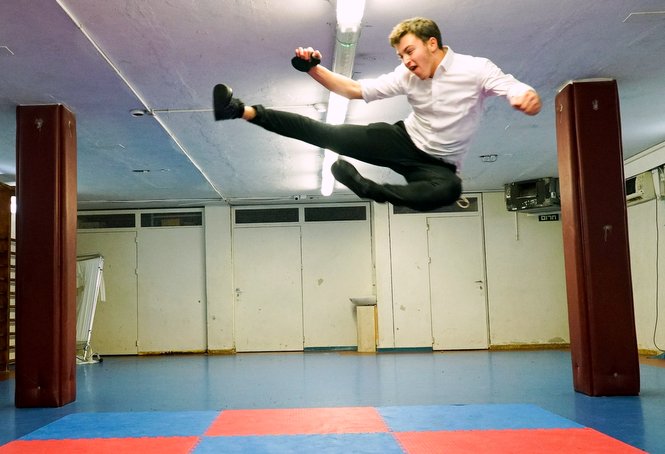 One of our Zion Martial Arts students provides a glimpse of what he is learning.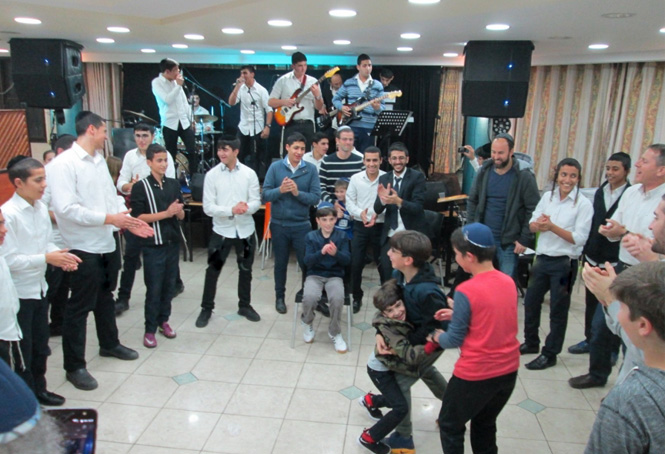 Zion Orphanage prides itself on creating a sense of family and caring among the boys. Pictured here is a festive Bar Mitzvah celebration, with music provided by the Zion Band and Choir.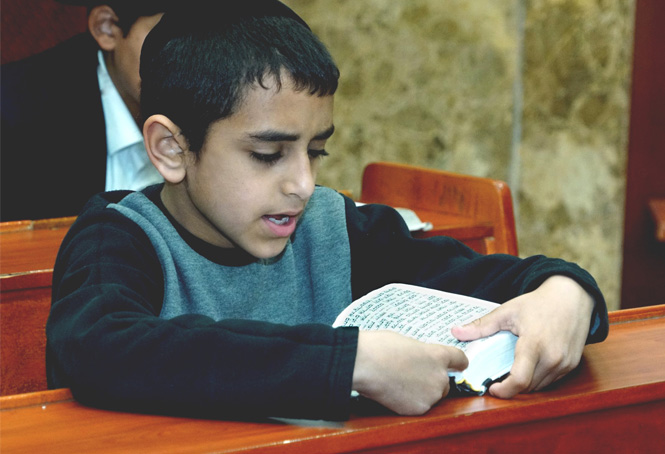 For the Zion boys, prayer is an opportunity to open their heart and develop their inner world. The Zion boys' prayers have a unique power, as King David states in Psalms, "God is the Father of all orphans."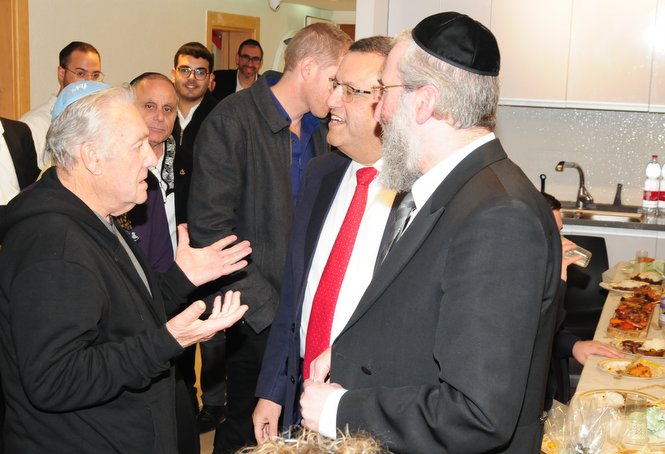 Mr. Amram Sudri was in Zion Orphanage/Blumenthals as a child over 70 years ago. Amram's unscheduled return happened to occur during recently elected Jerusalem Mayor Moshe Leon's first time visit to Zion Orphanage. This is what Amram shared with the enthusiastic Mayor (pictured). "I was born in the city of Fez in Morocco, immigrating to Israel with my father. On the way we made our way through Algiers where we were held up for close to a year and a half. During that time, we lived in the building of the local synagogue where we ate and slept. Shortly after arriving in Israel my father was drafted into the army. I was left alone in transit. An impoverished Jew brought me to the orphanage where Rabbi Blumenthal and his wife welcomed me warmly and raised me like their own son. I am very excited to be back in my former home of my childhood years. As difficult as it was during that period in my life, I have only good memories from those days in the orphanage."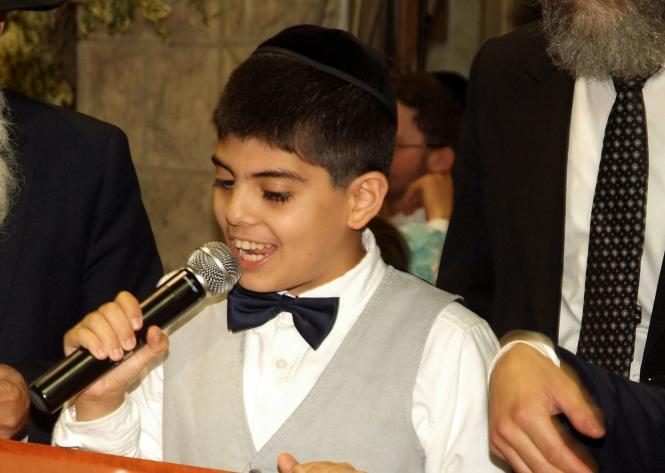 This week one of the Zion boys reached his milestone 13th birthday when a Jewish boy celebrates his Bar Mitzvah. Many have the custom of giving a Bar Mitzvah speech, marking the beginning of his new stage of life.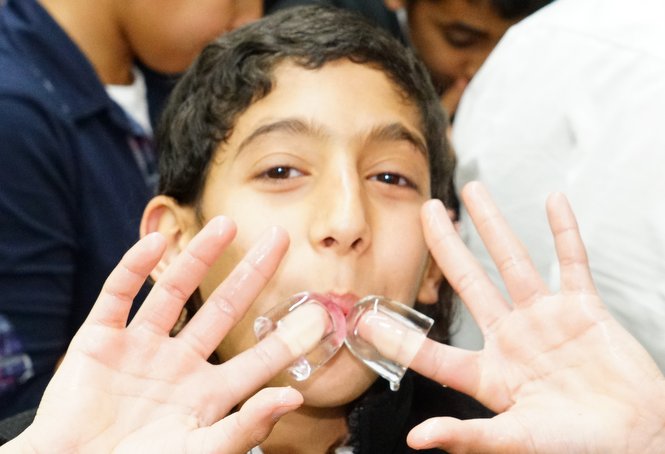 During this quite a warm week here in Israel the Zion kids especially enjoyed the new ice making machine.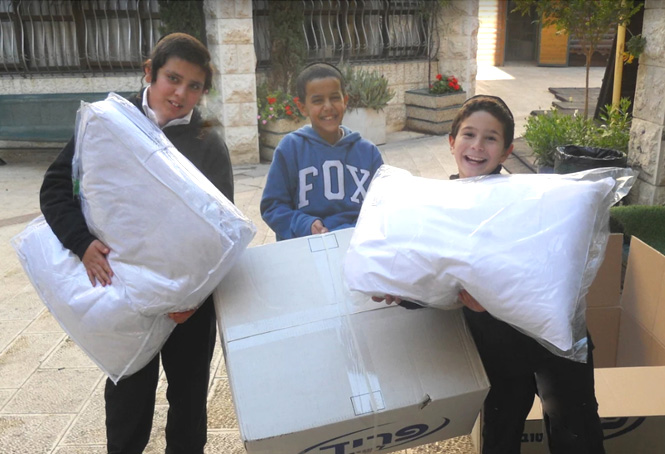 With the recent record-breaking cold in Israel, the Zion boys are grateful for their new pillows and blankets, donated by Rabbi and Mrs. Eli Mansour of the Bet Yaakob synagogue in Brooklyn, New York.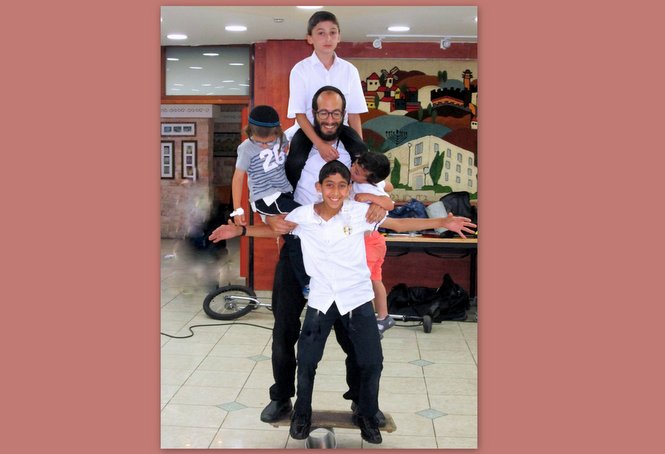 The Zion boys were treated to a lively performance from a popular local entertainer and teacher, Yosef the Juggler. Pictured is him holding four kids while balancing on a round cylinder.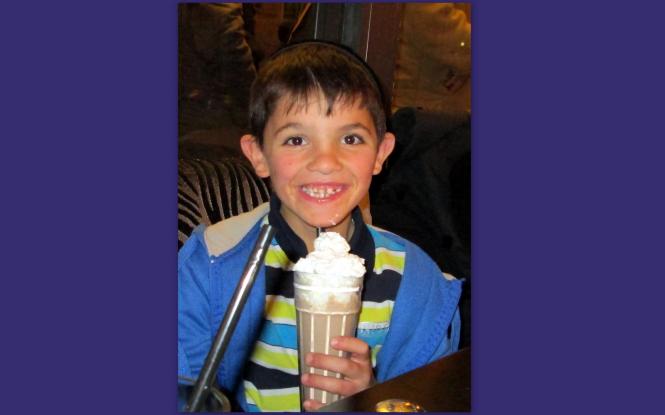 During these past many days, Israel has been experiencing quite warm temperatures. Thoroughly enjoying a cold chocolate milkshake is one of our Zion boys.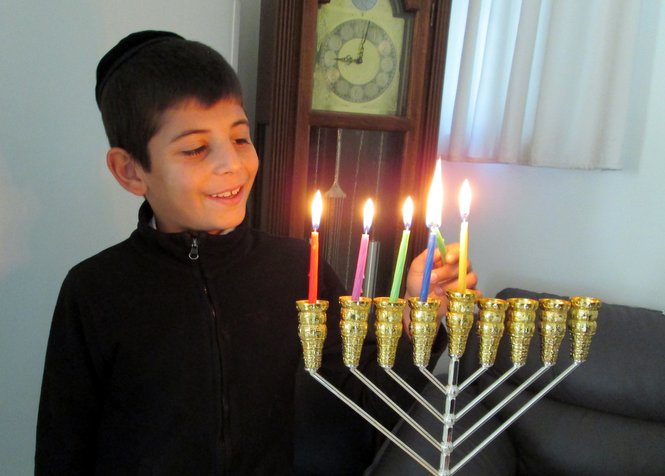 All of the Zion Orphanage kids wish you an enjoyable and enlightened Hanukah. The first night of Hanukah begins this coming Sunday evening.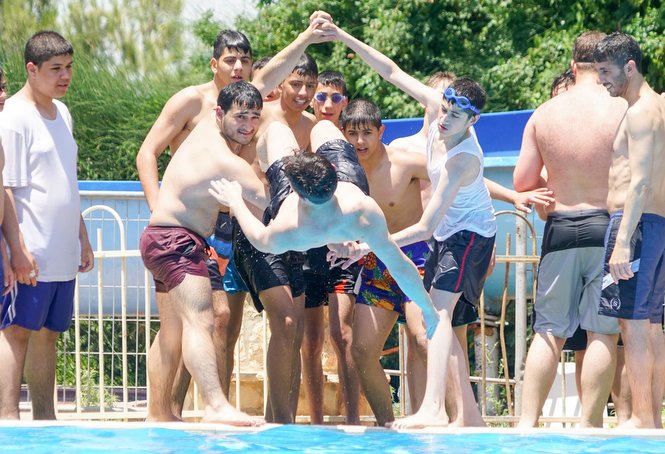 With daytime temperatures here in Jerusalem hovering around 90°F (23°C) throughout the week the Zion boys enjoyed an afternoon at the pool.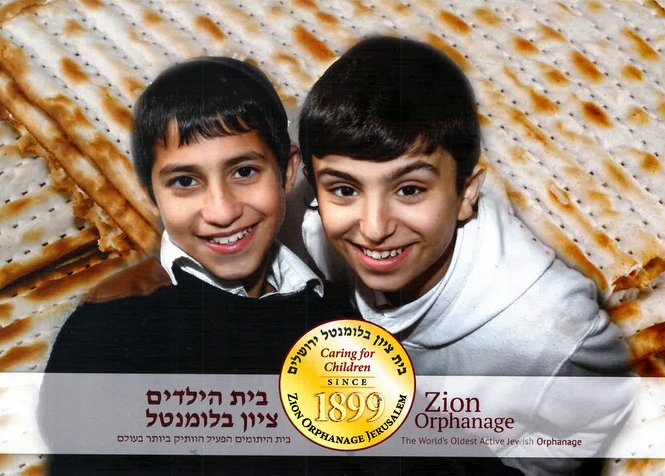 Thank you to all who responded generously to our recent postal Passover mailing highlighting the new campus student residence campaign. Apparently, some experienced difficulty donating online. Please take this opportunity now to help the Zion boys.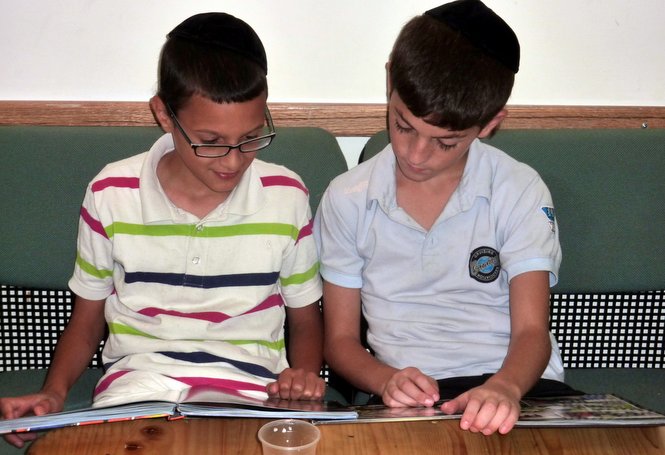 The Zion Orphanage campus library provides each boy quiet time to look through an array of books with the option to borrow them for a week or more.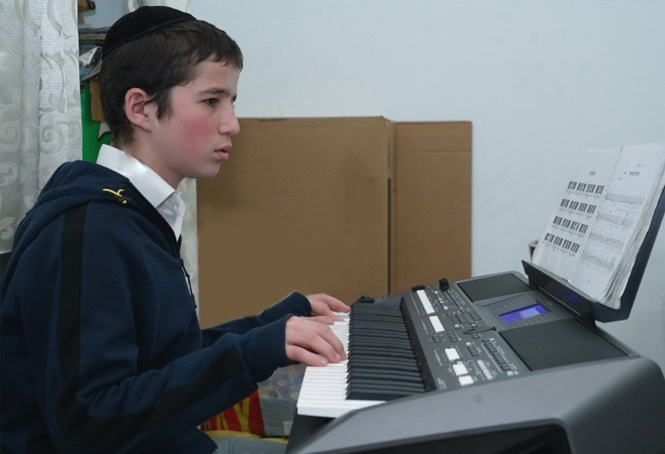 For those with talent and the opportunity to learn, there is nothing like producing your own music. Zion boys love their keyboard lessons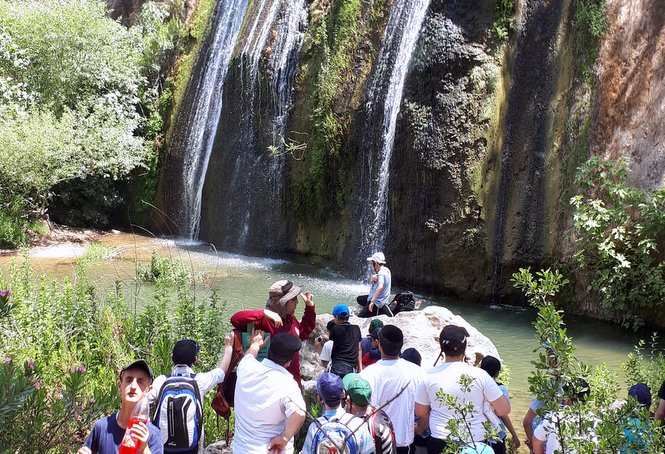 Following an exceptional rainy winter the rivers and steams in Northern Israel are flowing steadily and with force. Yesterday the Zion boys enjoyed a full day of hiking, swimming and camping in the Upper Galilee.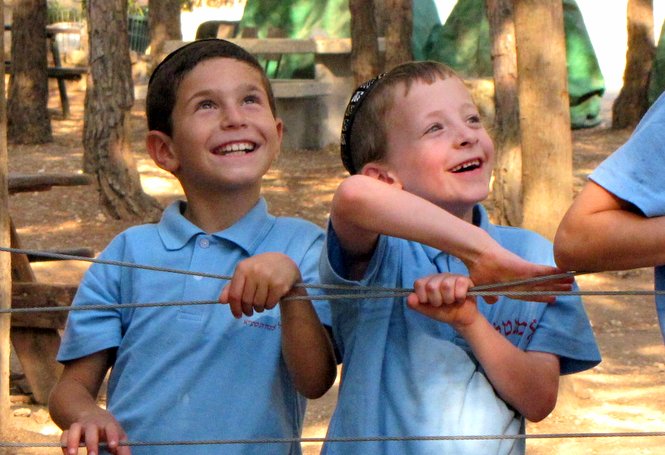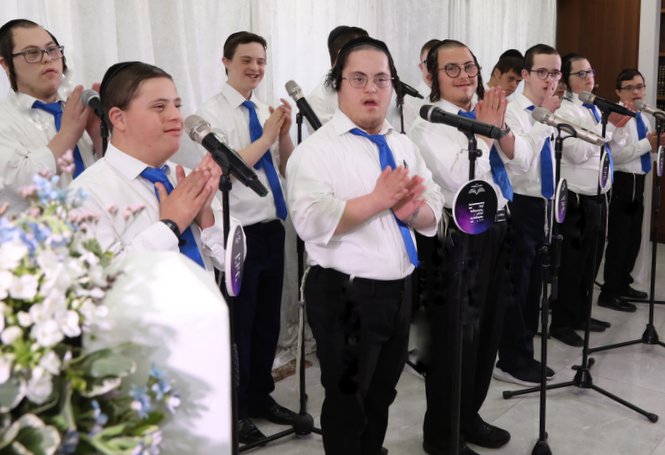 On Tuesday morning senior members of Jerusalem's municipality, including the Supervisor of Special Education, a Deputy Mayor and the person in charge of strengthening education in Jerusalem, joined Zion Orphanage for a presentation of our Down Syndrome program. Pictured are the boys performing in the choir, one of the many extra-curricular activities available for the high school age boys.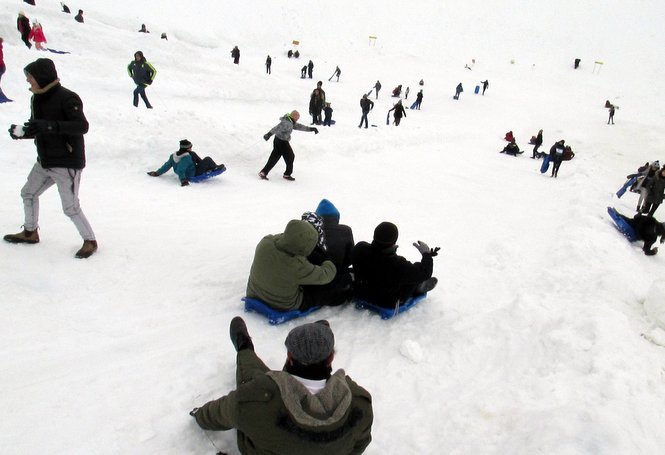 This winter Israel has been benefiting from an abundance of rainfall. Along with the rain, Northern Israel has seen much snow. That meant super-special fun for the Zion boys who enjoyed an afternoon on Mount Hermon located 2800 meters/9200 feet above sea level.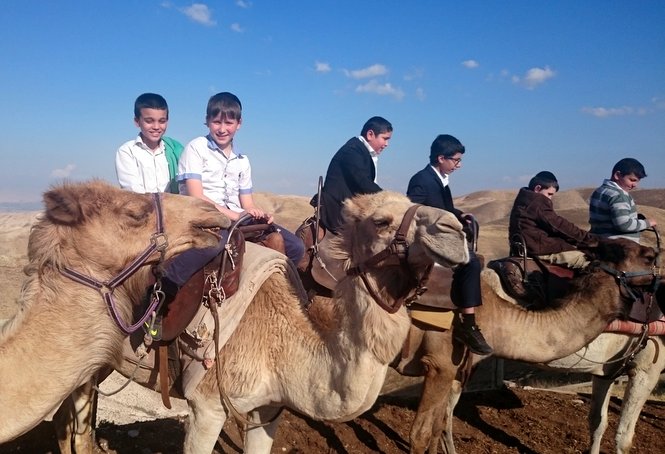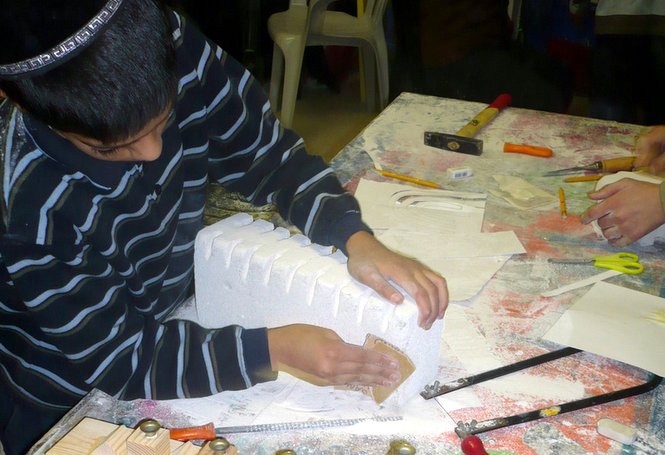 Zion boys in our arts and crafts program are hard at work preparing their projects for the eight days of Hanukah which begin next Thursday evening.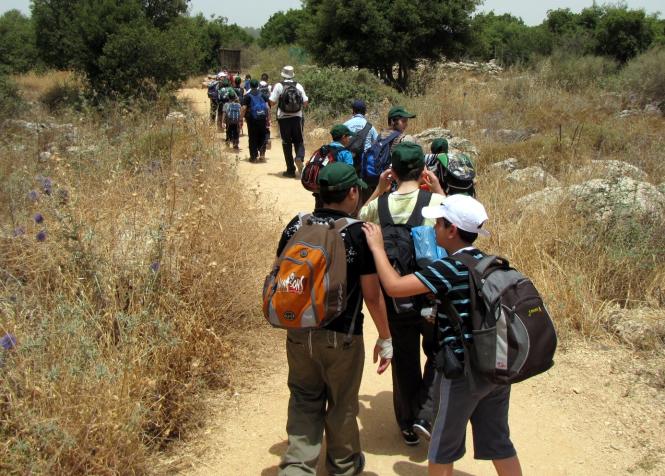 The youngest Zion boys (ages 8-14) enjoyed an exciting day of adventure. They began with some fun activities in the beautiful, surrounded by water, Kishon Park near the city of Haifa. Then it was on to the Nahal Kziv nature reserve for some rigorous hiking, offering some picturesque panoramic views.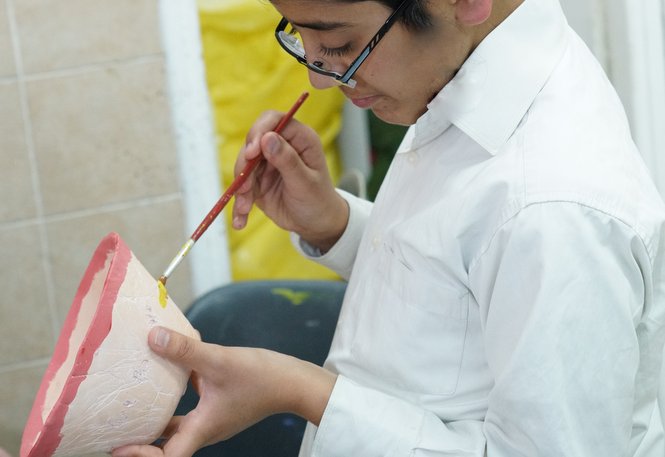 A Zion boy enjoying our arts and crafts program.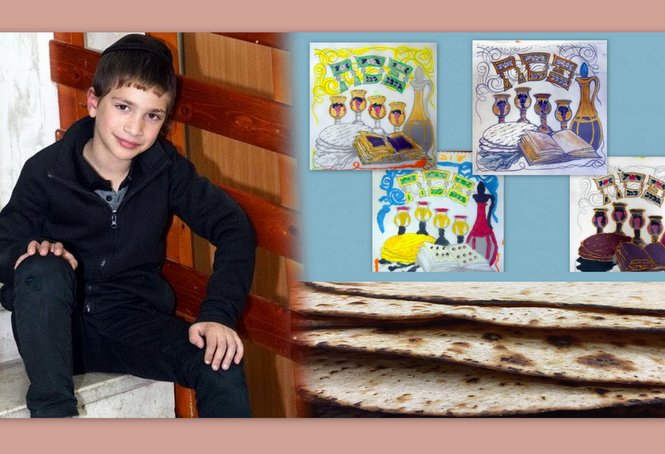 Help Zion Orphanage boys through these difficult times Across the globe, we are all feeling the challenging effects of coronavirus. Here at Zion Orphanage, we are working overtime to facilitate the boys' educational, recreational, and emotional needs. We now turn to you, our beloved friends and sponsors, to join in making the upcoming Passover holiday a bit brighter for the Zion boys. With prayers for the recovery of all who are ill, we wish you a blessed, safe and healthy Passover.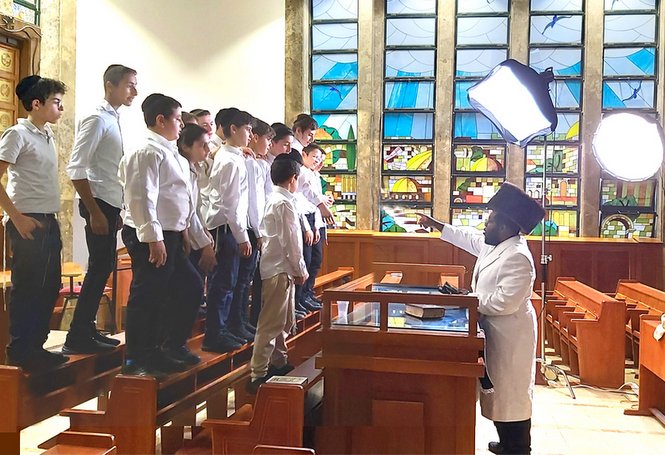 The Zion Orphanage campus was buzzing with excitement this week when Jewish rap star Nissim Black came to film a music video together with the Zion boys. Nissim composed an original song, "Change," relating to his own experience of a challenging childhood, which ties into Zion Orphanage giving boys a second chance to reach their potential. The video is now being edited and will be released on all media channels next month. (photo: Nissim performs with the Zion Choir in our beautiful campus synagogue.)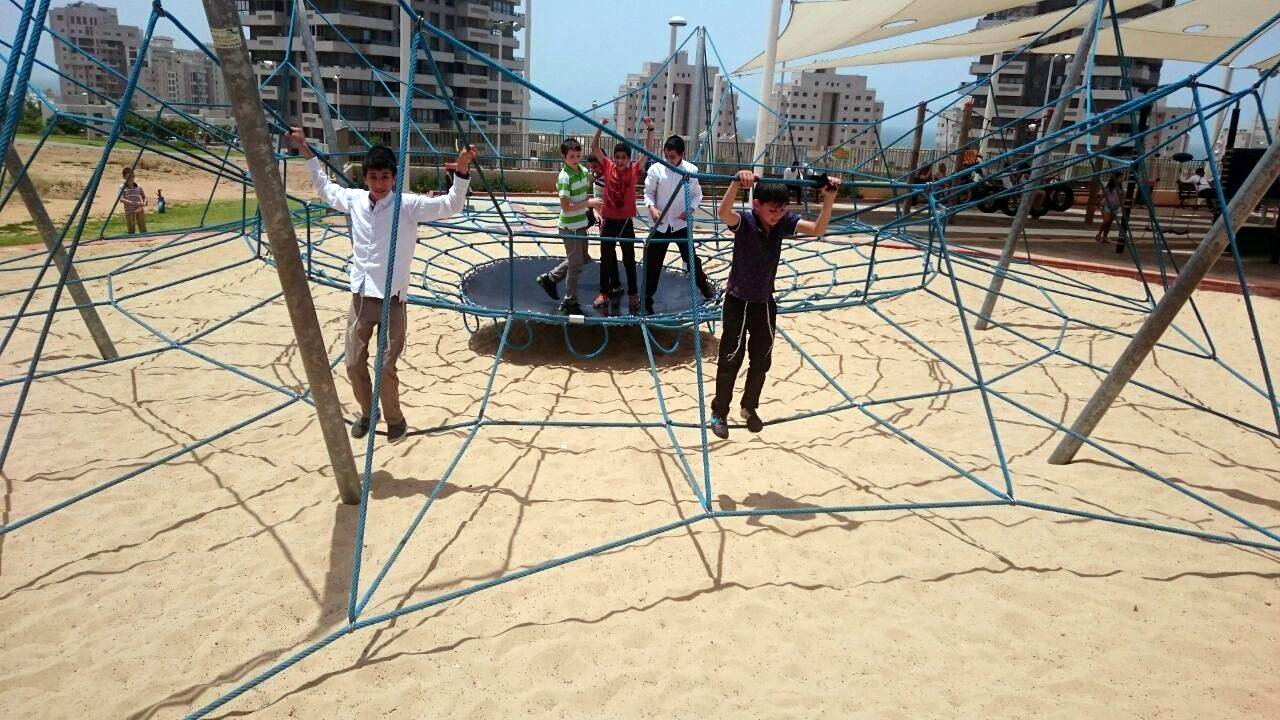 Some Zion boys stopping off at a sand-filled playground on their way to the beach on the Mediterranean Sea.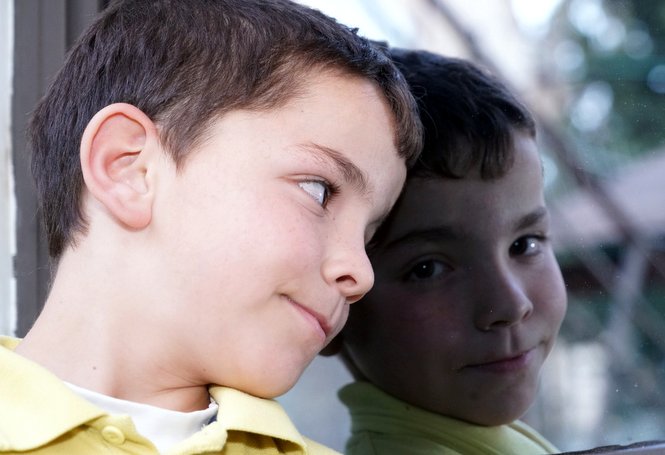 Around the world, these days of coronavirus have been a time of introspection and taking stock. The Zion boys have enjoyed the quiet time off of school, with the opportunity to appreciate life's many blessings, with compassion and solidarity for the many coronavirus victims.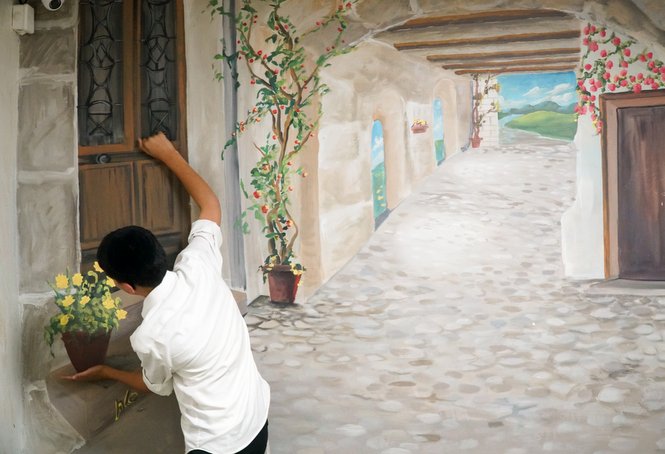 One of the Zion boys enjoying a newly painted campus wall mural.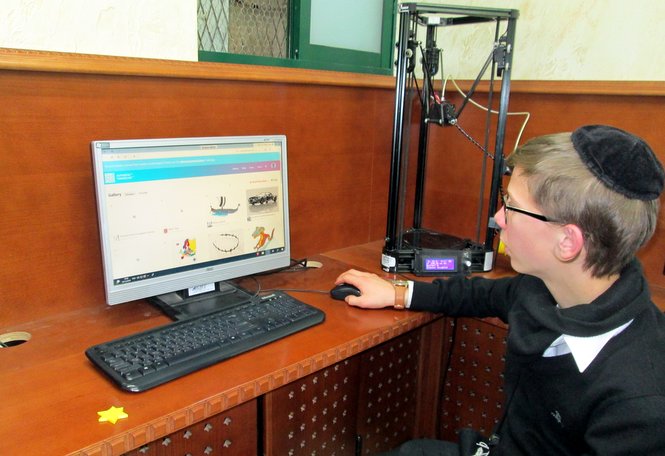 This week some of the Zion high school age boys began a course in designing and printing three dimensional objects (pictured). Using a computer the students first design a custom-made 3D item and then print it. The object gradually appears as the 3D printer forms it using a special biodegradable plastic.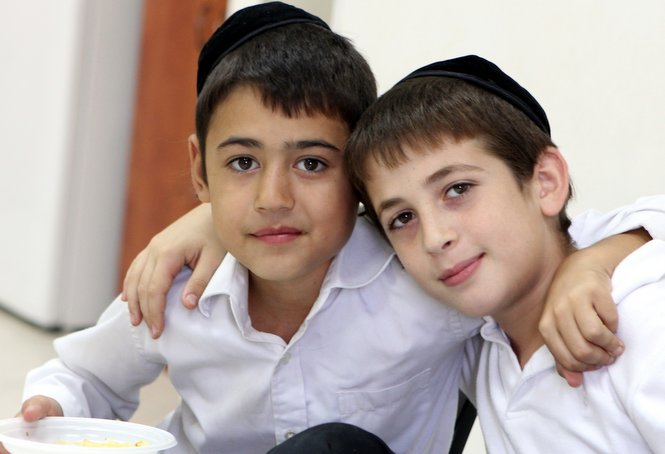 Major dental-orthodontic work is crucial to fulfilling the Zion Orphanage pledge: to give each boy the best opportunity possible to succeed and excel in life. Please contribute towards this campaign.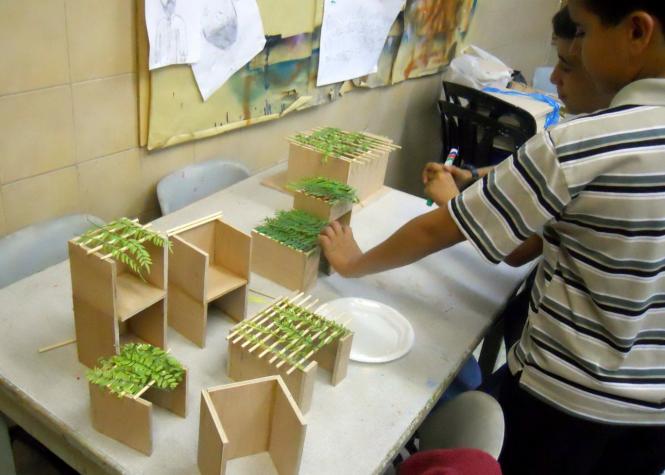 Rosh Hashanah and Yom Kippur is now behind us. Pictured are Zion boys in our arts and crafts program preparing their model Succot huts. At this time throughout Israel, huts have been built on terraces, sidewalks and in parking lots, set up in order to become the primary dwelling of families for the week of the exceptionally joyous festival of Succot.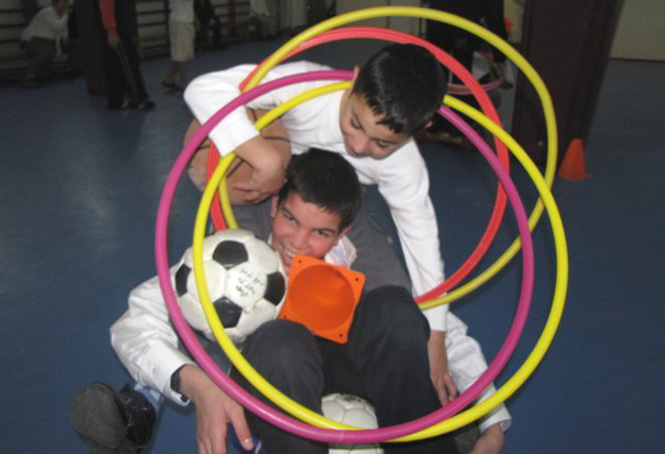 At Zion Orphanage, we encourage a balance of healthy body, mind and soul. Here, some Zion boys enjoy creative gymnastics in our indoor exercise facility.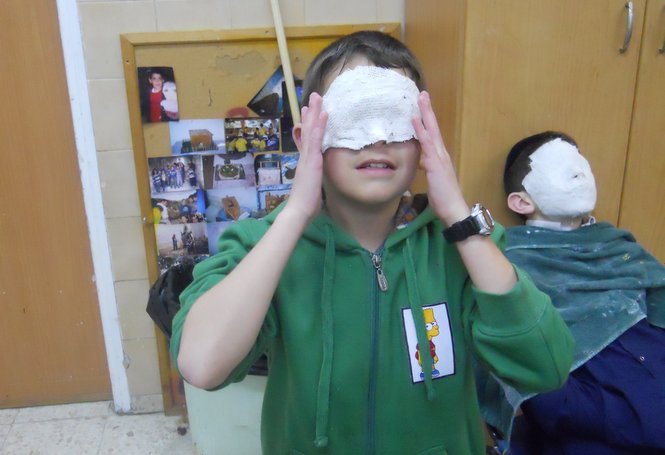 With five weeks left before the festive holiday of Purim the Zion boys are beginning the next arts and crafts project. They are making custom-fit masks. The kids begin with a net and apply plaster. Once the masks are dry they paint the masks as they wish.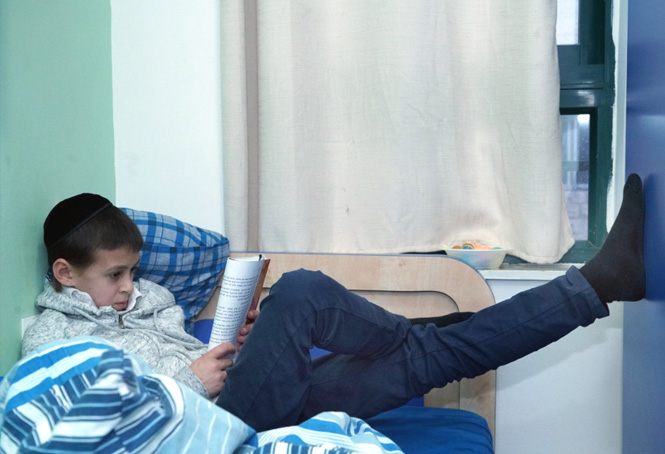 A century ago at Zion Orphanage, it was common to have 10 or more boys in one room. Today, with our highly-acclaimed "Mishpachtone" family units, each child has a maximum of three roommates. Pictured here is a Zion boy reading a book from our well-stocked Zion Library.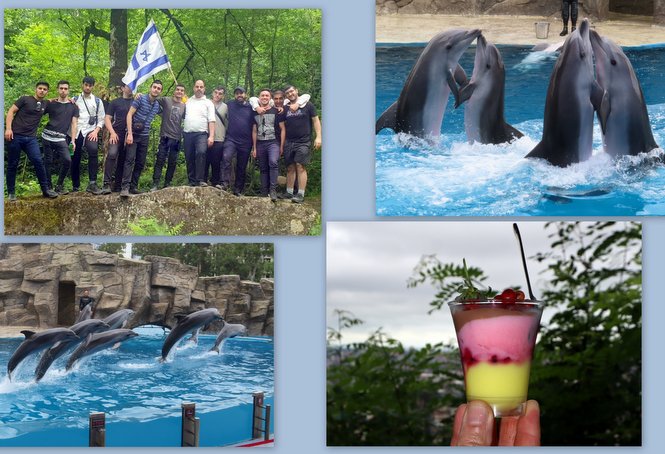 Our post-high school age boys (ages 18-22) enjoyed flying abroad for a five day visit to Georgia, formerly a part of the Soviet Republic. Besides touring the beautiful and diverse country, most of the participants took along their professional cameras and took lots of amazing pictures.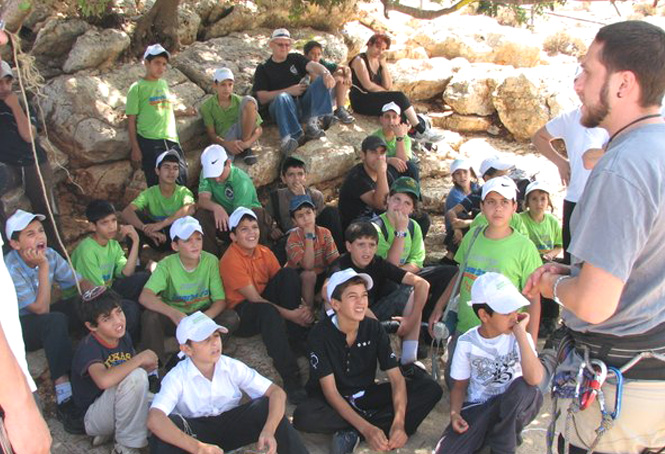 Our recent Summer Camp featured the exotic and exciting adventure of rappelling. Here, a professional instructor explains to the enthralled Zion boys the guidelines for a safe and successful activity.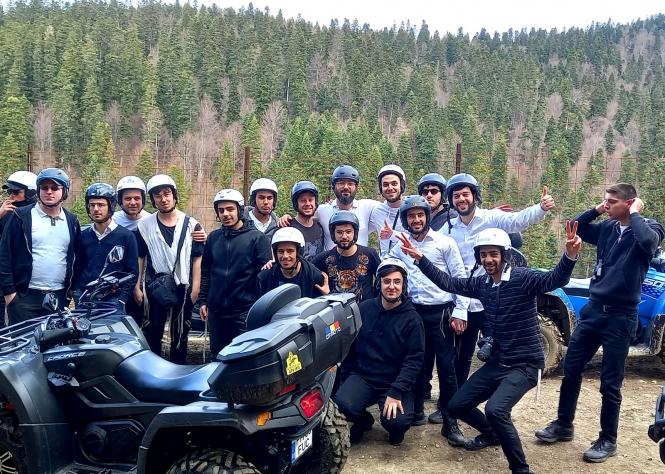 The Zion boys in our post high school program enjoyed jeeping throughout the beautiful countryside and forest.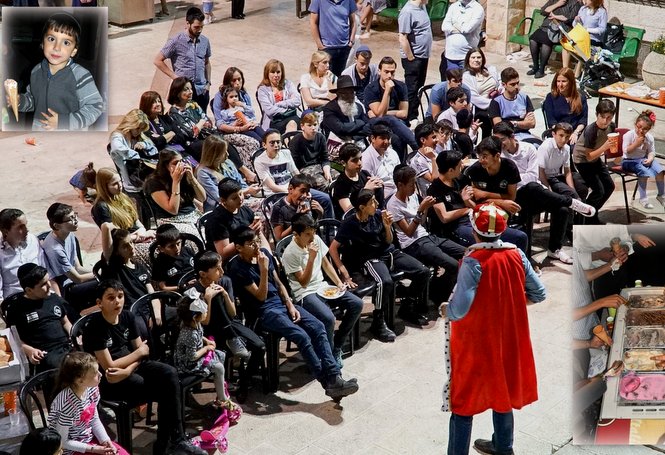 A family from New York were in Israel celebrating the Bar Mitzvah of two cousins. Wanting to share their joy, they chose to provide lots of things for the Zion boys. The special afternoon consisted of pizza, falafel, popcorn, cotton candy and a performance by an actor (pictured). In addition, the popular Israeli Ice Cream parlor Zisalek brought their delicious ice cream and condiments to the on-campus event and made Belgian waffles for all the participants.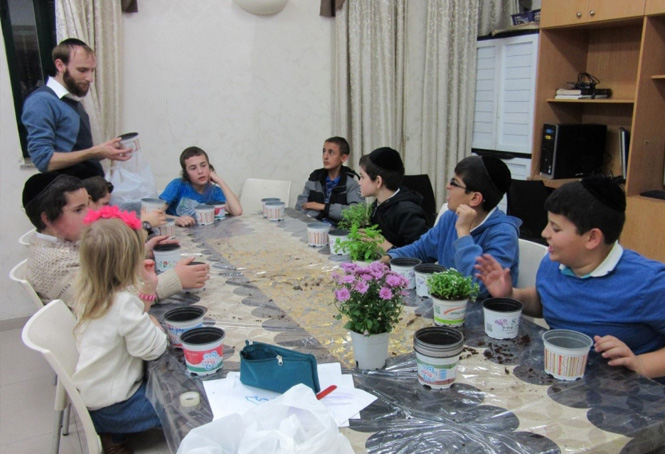 Springtime generates feelings of renewal and vitality as expressed by fresh, blossoming flowers. Working with plants can be a rewarding and therapeutic experience. Here a professional gardener teaches the Zion boys techniques for nurturing plants, along with a deeper appreciation of the wonders of creation.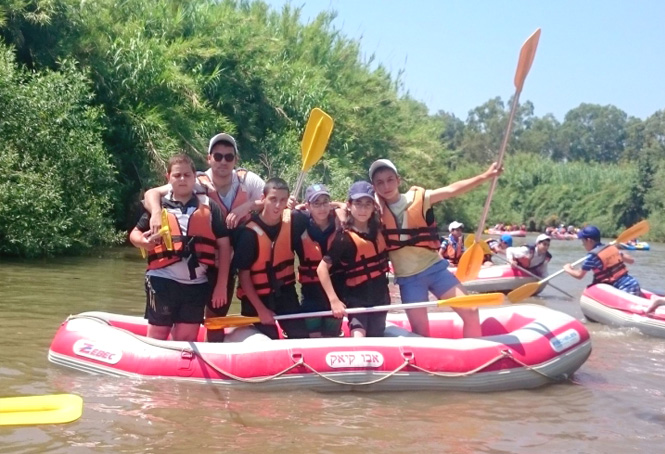 One highlight of ZO's annual Summer Camp is rafting down the Jordan River, north of the Sea of Galilee. Due to its rich biblical and spiritual importance, the Jordan River, provides inspiration for countless songs, stories, and fun for the Zion boys.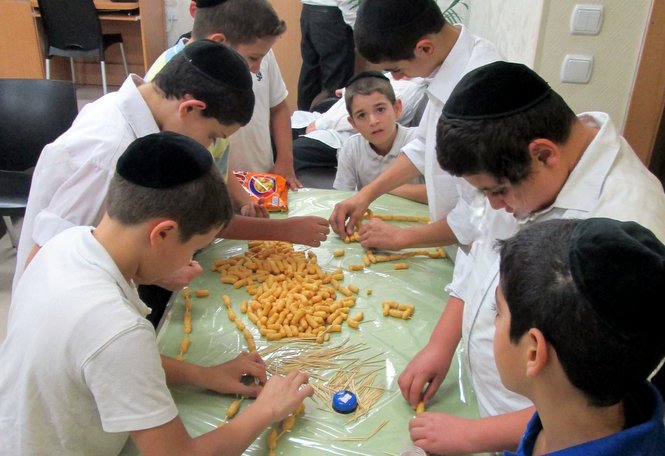 All sorts of interesting indoor activities are keeping the Zion boys busy during these challenging times. Pictured are the kids using their creativity by piecing together with toothpicks the Israeli peanut flavored snack called Bamba.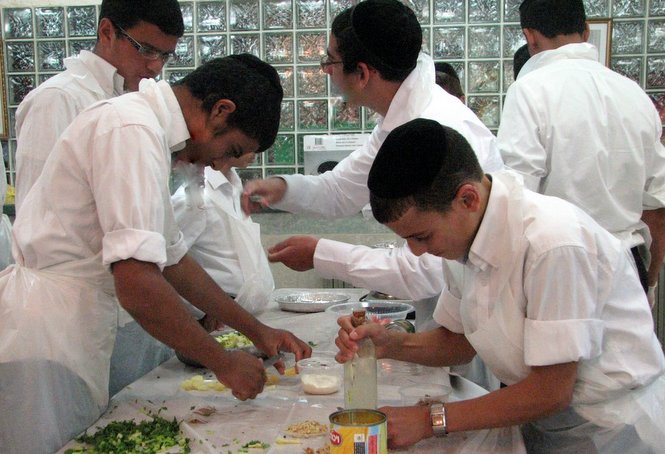 Our older Zion boys enjoy weekly cooking classes as they work towards achieving self-sufficiency.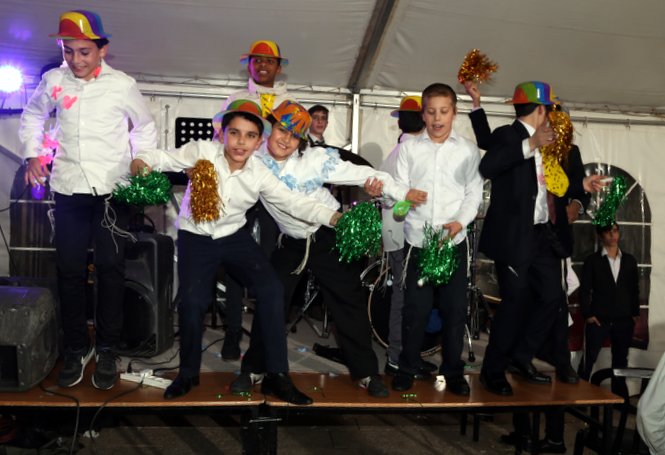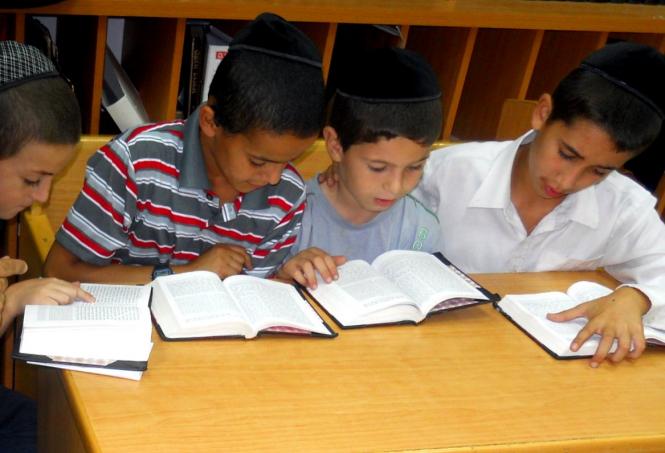 ​Thursday night marks the beginning of the festival called Shavuot (literally "weeks''), marking the day on which the Torah was given on Mount Sinai. Most of the Zion boys will be practicing the custom of staying up all night studying Torah and then pray at the first opportunity which is at sunrise, timing the silent prayer to begin at the moment the ball of the sun begins to appear in the horizon.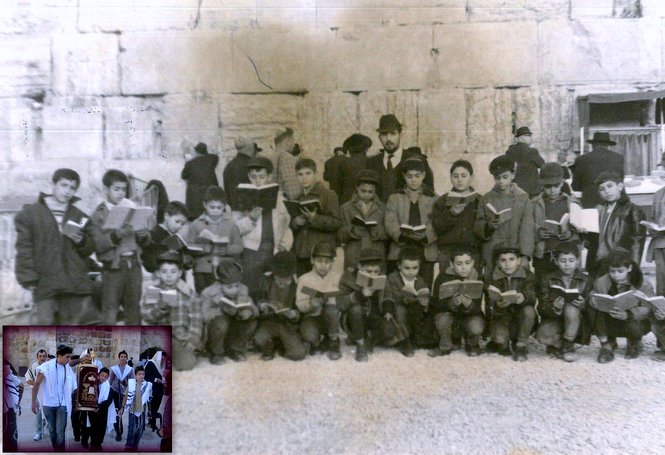 The Western Wall, a remnant of the Temple destroyed 2000 years ago, was liberated from the Jordanians on June 7th, 1967, during The 6 Day War. Soon afterwards apartment buildings leading up to the Kotel were taken down in order to make room for what is known today as the Western Wall Plaza. A few months later a group of Zion Orphanage boys visited the holy site about which it says, "The Divine Presence has never left the area of the Western Wall", in order to pray (pictured). At that time the ground was still merely gravel, having not yet been paved. Inserted is a picture from a relatively recent Bar Mitzvah celebration of a Zion boy.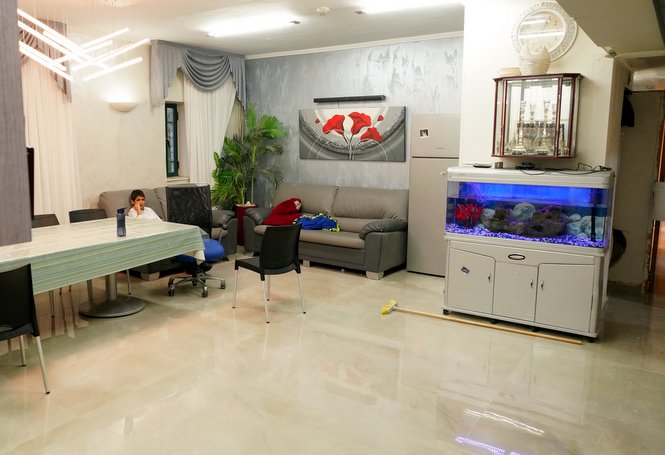 The emergency renovation campaign has reached 35% of the goal in three weeks. THANK YOU! The campaign ends on the festival of lights called Hanukah which begins this year December 23rd. Please join the effort and provide the Zion Orphanage kids with the amazing gift of knowing their cherished supporters are ensuring they are receiving all they need. Pictured is a beautifully renovated family unit dining room, an example of the work presently taking place on campus.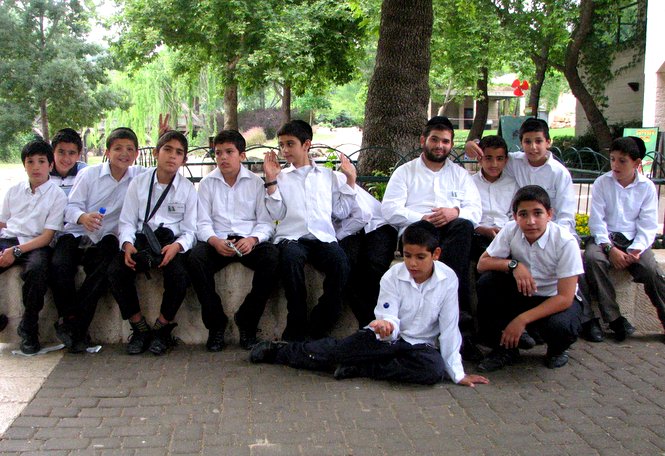 The Zion boys enjoyed an afternoon at the beautifully organized and diverse Jerusalem Biblical Zoo.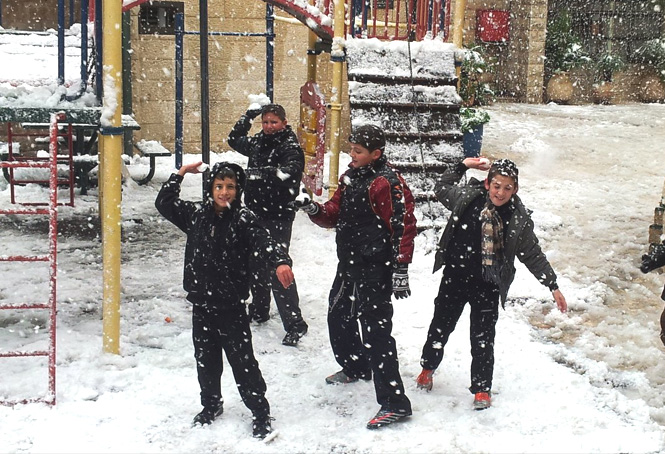 Snow falls in Jerusalem only once every few years. Here the Zion boys enjoy a good-natured snowball fight in the courtyard of our Jerusalem campus.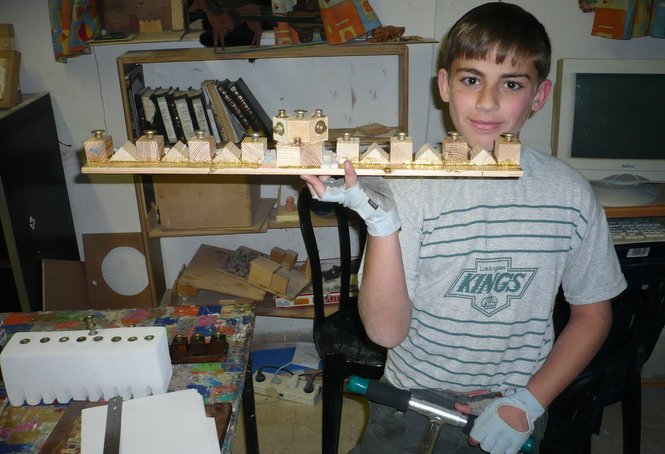 All the children and staff of Zion Orphanage wish you a very happy and enlightening eight days of Hanukkah!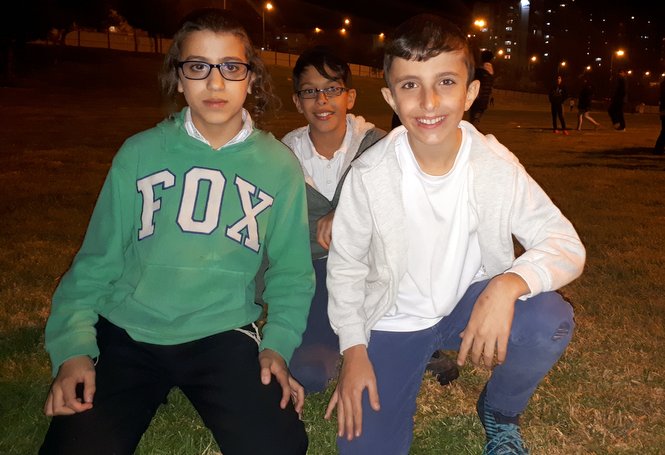 The weather is still pleasant here in Jerusalem. This week the Zion boys enjoyed skating and other sports activities in the city's largest park, Gan Soccer.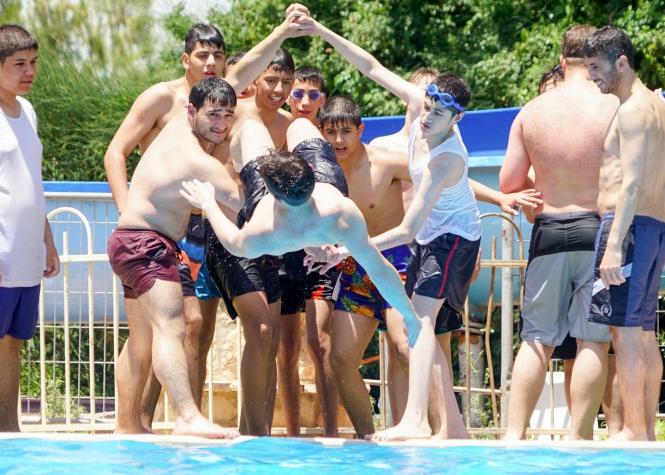 Zion Orphanage is larger than ever before, today made of many different groups of children and youth. We provide a home for our youngest group of children ages 8-13; For numerous high school age boys including those who are preparing to join the Israeli Army or enter work, those who are striving towards entering higher education, and then there is our high-functioning down syndrome group of boys; And finally, our newest and highly successful post high school age program where most of these young adults remain until they are married. Pictured are some Zion youth having water fun during these warm summer days.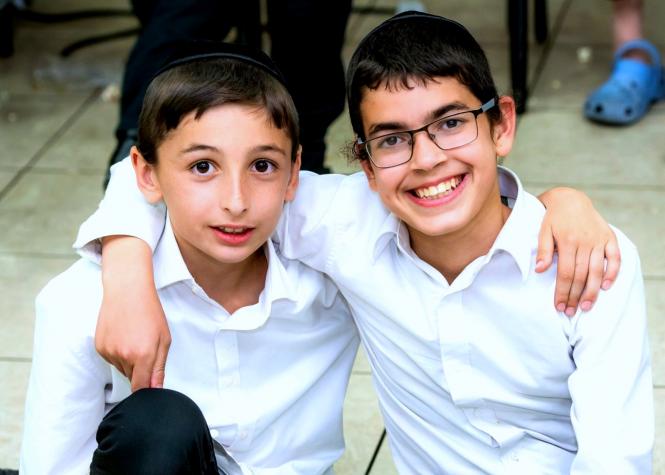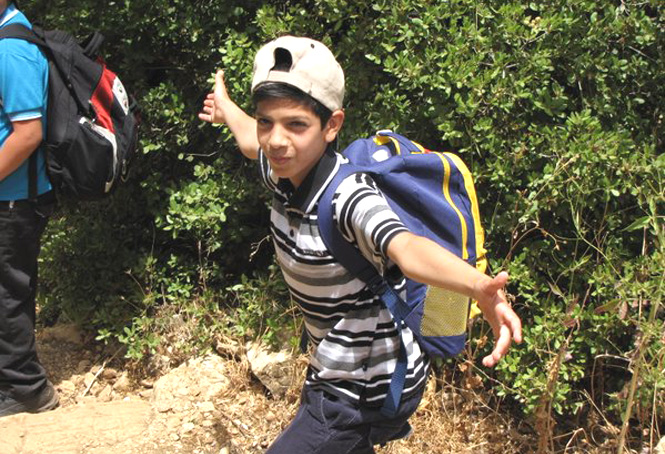 With the weather warming up in Israel, the Zion boys look forward to field trips throughout the beautiful and diverse Land of Israel. If you are visiting Israel during these summer months, please come by to meet the children and staff.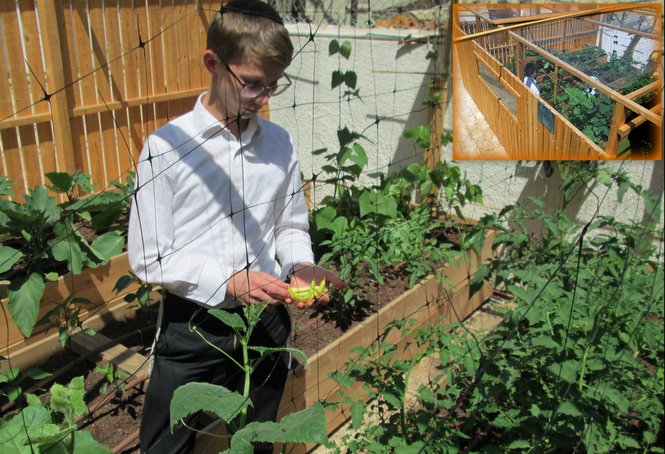 As part of the new agriculture program the Zion high school age boys build their own on-campus garden (pictured upper left) including the fenced in area and the digitally run irrigation system. This week they enjoyed eating the first grown vegetables, long yellow beans.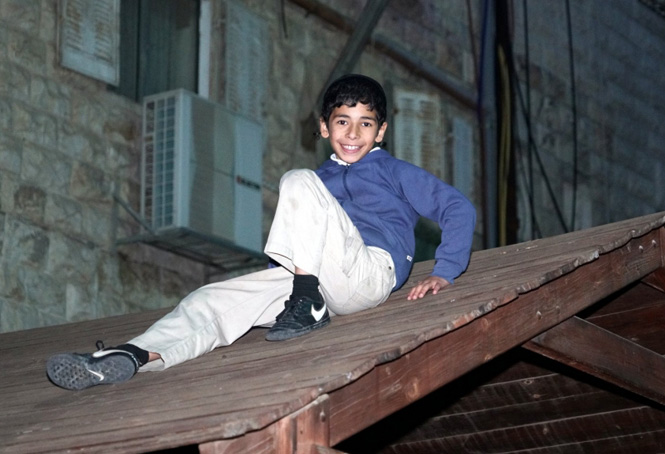 With seemingly boundless energy, Zion boys love to explore and play on our one-acre campus in the heart of Jerusalem.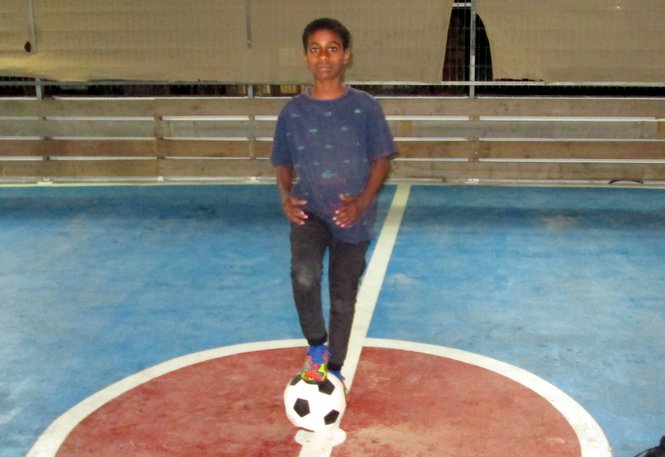 One of the Zion Orphanage boys prepares for an exciting early evening game of soccer on our campus rooftop indoor/outdoor count.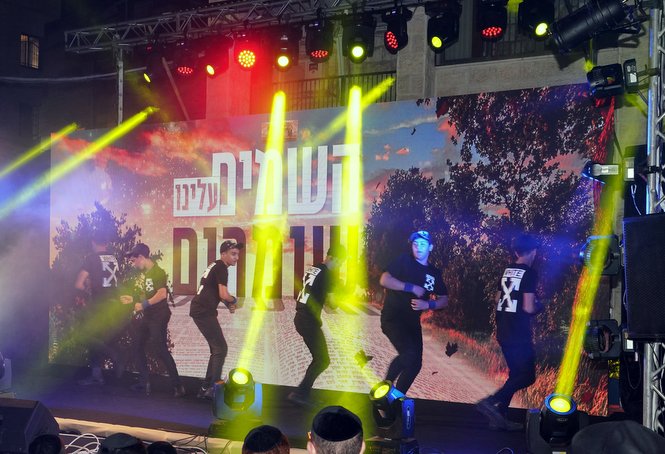 The Zion boys put on a beautiful performance during an open house evening for family and friends of the boys. An array of songs were played by different Zion musicians from our music program and they performed a captivating play (pictured).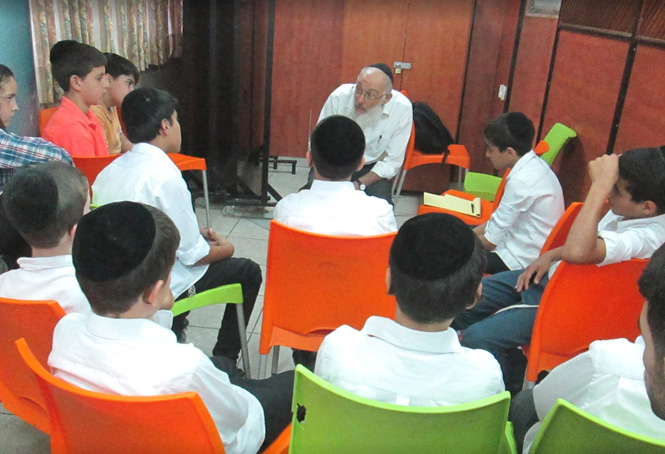 For most Zion boys, Hebrew is their only spoken language. Many visitors to our Jerusalem campus have inquired about the need for the boys to learn English, the universal language. Thanks to a recent donation, we hired Rabbi Chaim Gogek, a language teacher with an outstanding reputation and over 30 years of experience. The English classes are animated and fu, with the boys quickly acquiring their new language skills.
During this cooking class the Zion boys learned how to make caramel coated apples.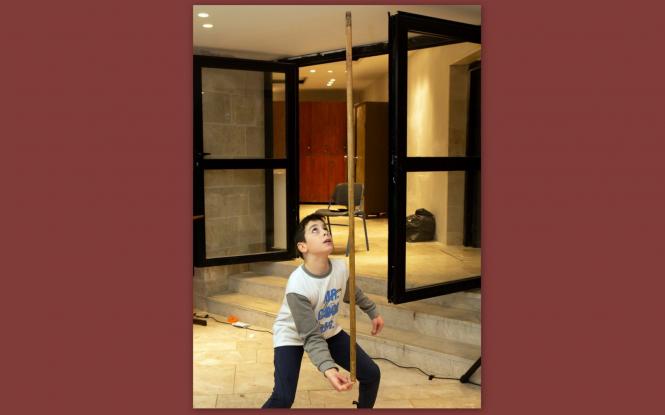 One of the Zion boys practicing his balancing skills.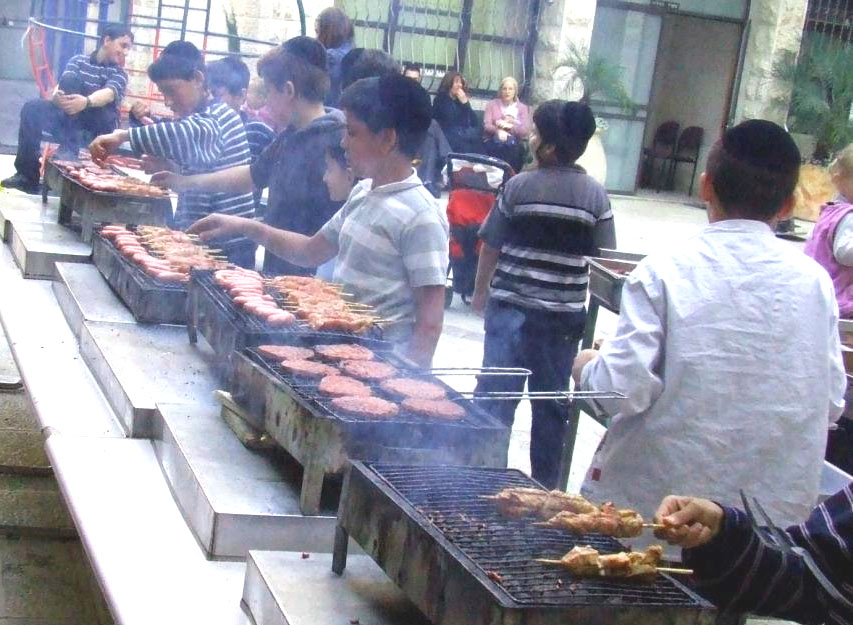 The Zion boys are enjoying a bonfire and BBQ on the festive day in the Jewish calendar known as Lag B'Omer, marking the passing of Rabbi Shimon bar Yochai over 1800 years ago in the town of Meron, Israel. Although the annual day marking the passing of a loved one is usually a solemn one, Rabbi Shimon's day is celebrated. Rabbi Shimon, also known as Rashbi (the acronym of his full name), was the primary disciple of Rabbi Akiva. His name is found throughout the oral Torah teachings, including in the Kabbalistic work called the Zohar. Rashbi had many outstanding disciples, including his son Rabbi Elazar, to who he taught all that he knew. There was one more part of the secrets of Torah which he had yet revealed to the world known as the Idra Zuta (laterally, a small threshing floor). It was on this last day of his life on earth that he chose to share these final teachings. For this reason the day is celebrated.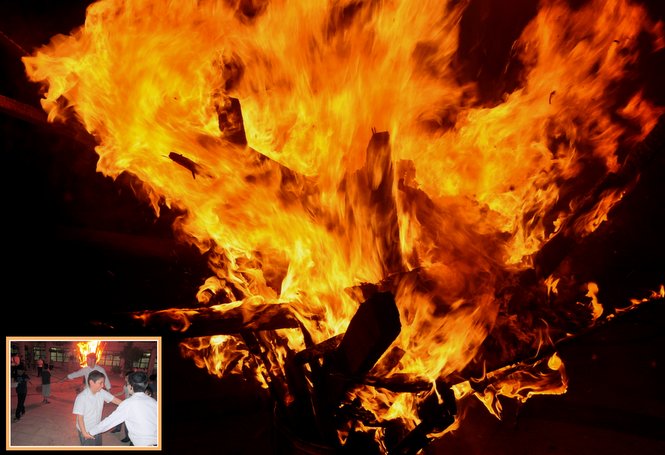 The Zion boys enjoying the traditional bonfire lit on the 33rd day of the counter of the omer which marks passing of the great Torah sage, Rabbi Shimon bar Yochai.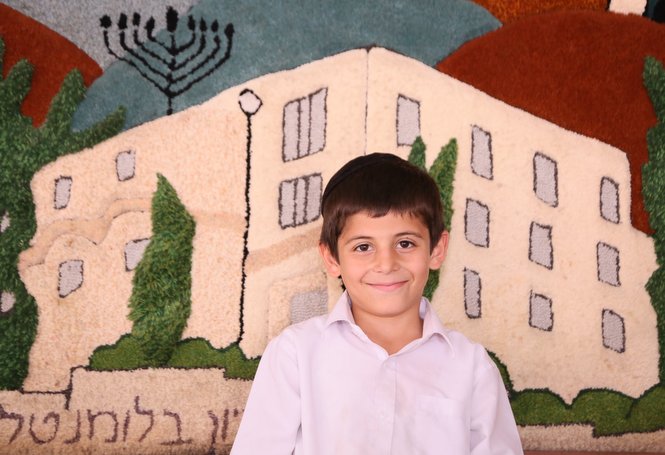 Featured this week is a Zion boy posing in front of one of the many decorations on campus, a custom-made carpet depicting the Zion Orphanage main campus building.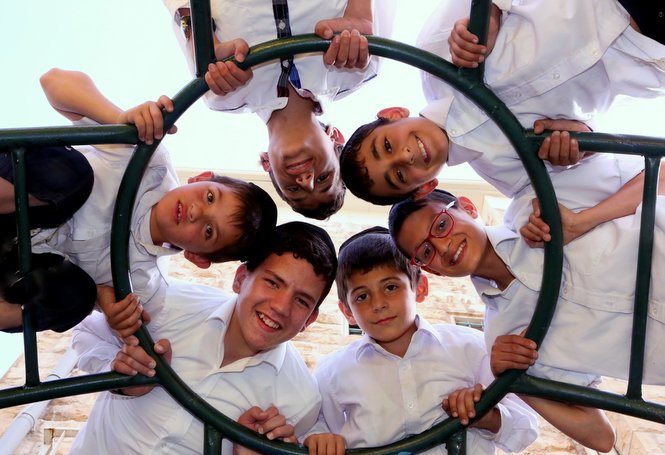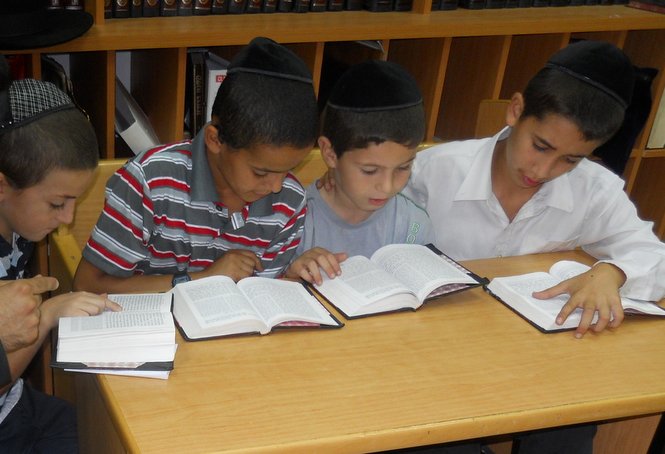 This Saturday night, the holiday Shavuot, more than 100 Zion boys will remain awake throughout the night studying Torah and involved in meaningful activities. You can help sponsor the festive holiday meals and snacks to invigorate the Zion boys' learning. Donate now -- and enjoy the merit of the Zion boys' Shavuot Torah study!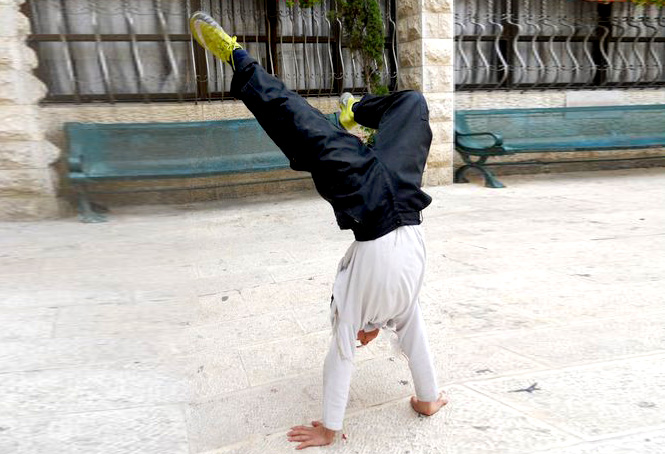 After a stimulating day at school, this Zion boy enjoys some gymnastics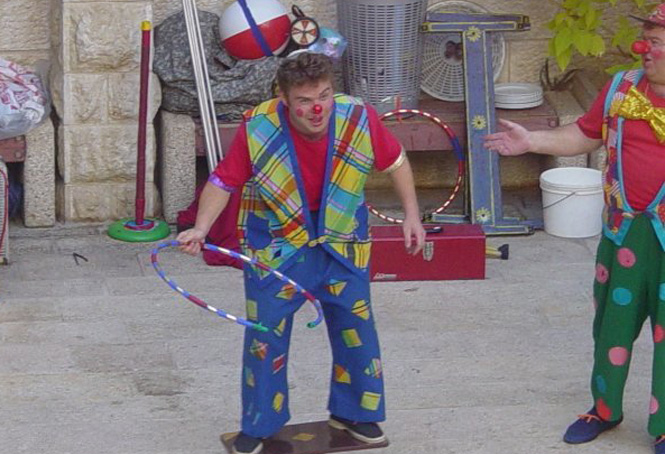 In honor of Zion boys' birthdays, we strive to provide a memorable experience that includes popular singers, jugglers and clowns.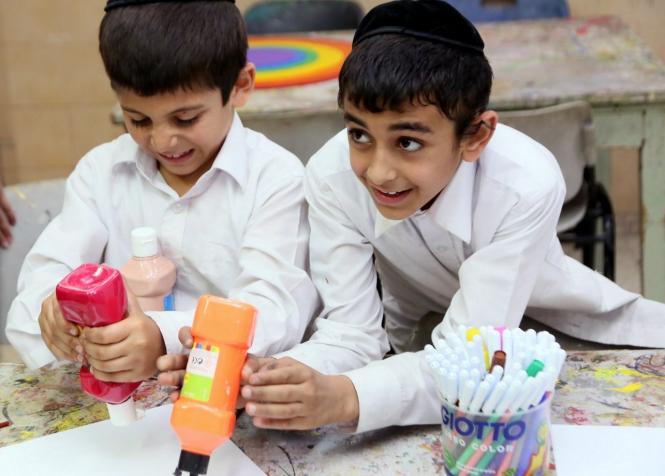 A couple of Zion boys enjoying a lively arts and crafts class on campus.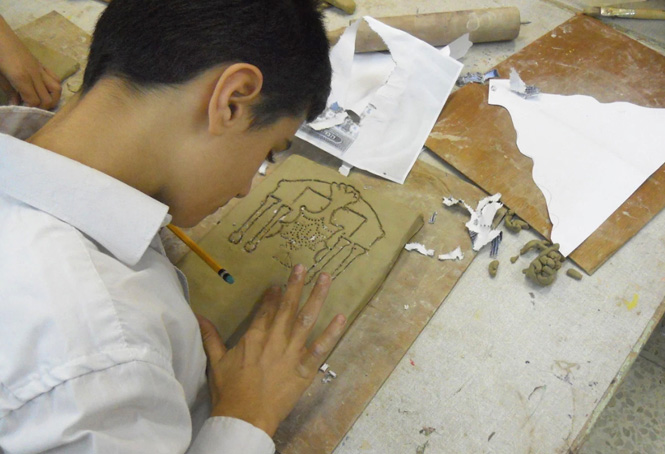 As Chanukah approaches, the Zion boys are hard at work designing their custom menorahs. A generous supporter recently donated the clay-baking oven which now enables the boys to produce hand-crafted earthenware gems, from start to finish.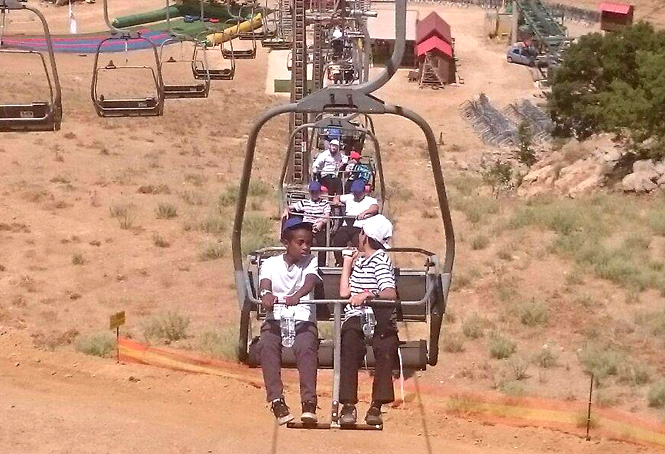 Zion boys enjoy a trip to northern Israel and Mount Hermon, the country's tallest peak. A cable car ride up the mountain offers fresh mountain air and panoramic vistas.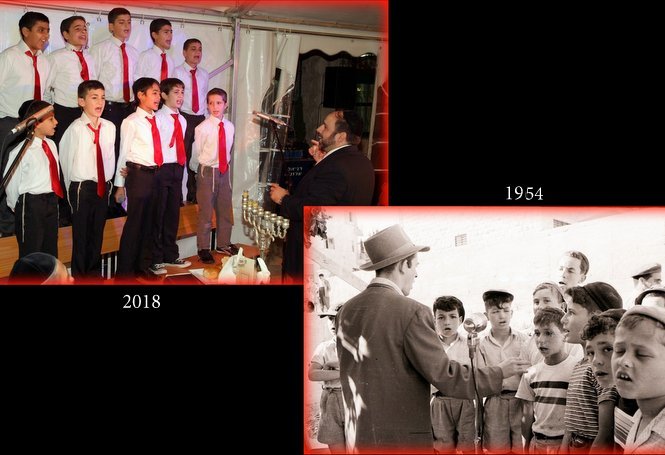 Zion Orphanage founder Rabbi Blumenthal was a master at empowering children with self confidence and the skills to become accomplished members of society. Featured this week is the Zion choir, an unbroken chain of tradition introduced by Rabbi Blumenthal over 70 years ago. The picture from 1954 is from the grand opening of the current Zion Orphanage location on the corner of Hoshea and Yechezkel streets in Jerusalem.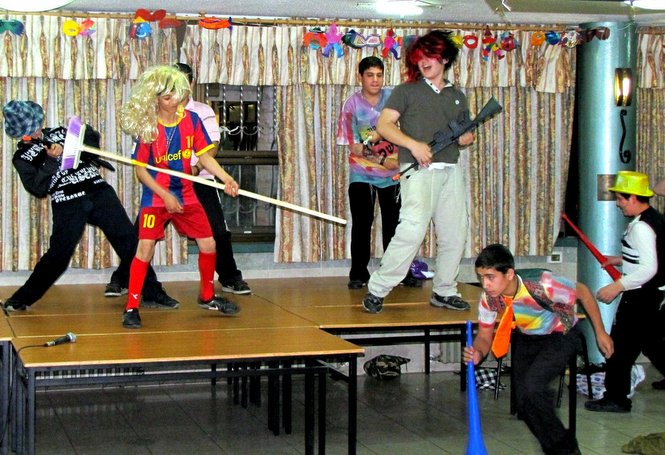 All the children, youth and staff of Zion Orphanage wish you greater and greater levels of happiness, safety and an exceptionally joyous Purim holiday.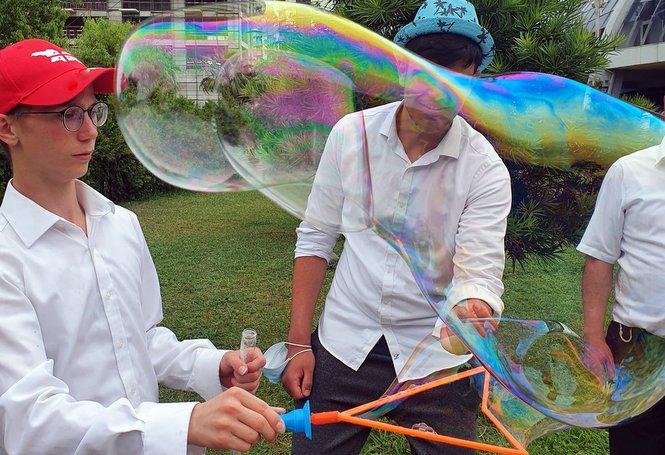 Do you remember as a child creating bubbles from soap? The kids of today enjoy lots of activities we had never even dreamed of in our youth, such as these Zion boys producing gigantic soap bubbles.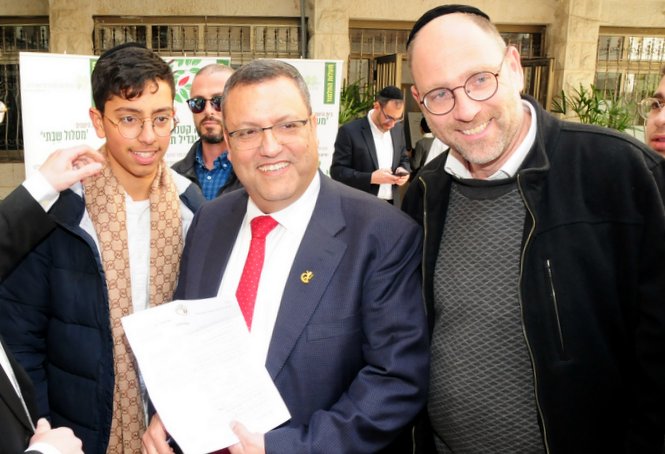 This week Jerusalem Mayor Moshe Leon and staff visited the Zion Orphanage campus in order to learn more about the world's longest running home for homeless Jewish children. Pictured is the Mayor standing next to a Zion boy and a Zion social worker. In the background stands one of the mayor's security guards.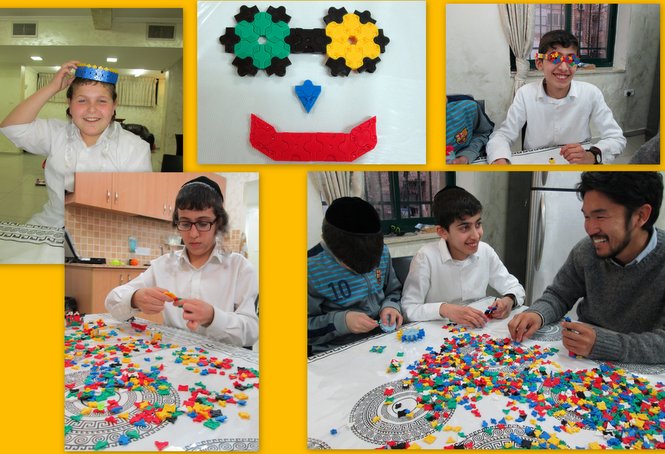 Last night the Zion boys were treated to playing with the popular Japanese toy LaQ. Teaching the children was visiting Japanese native Masashi.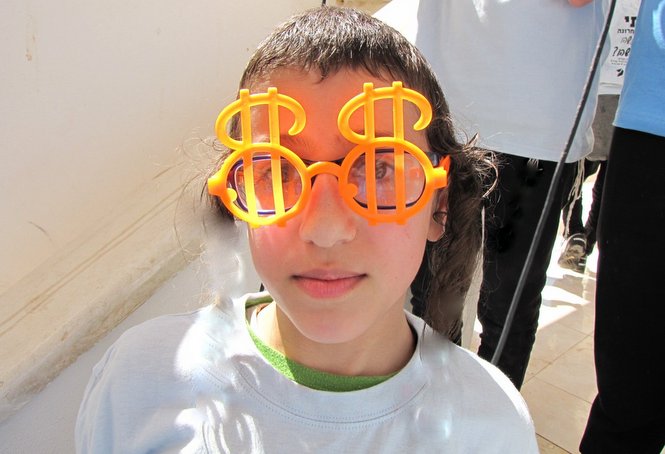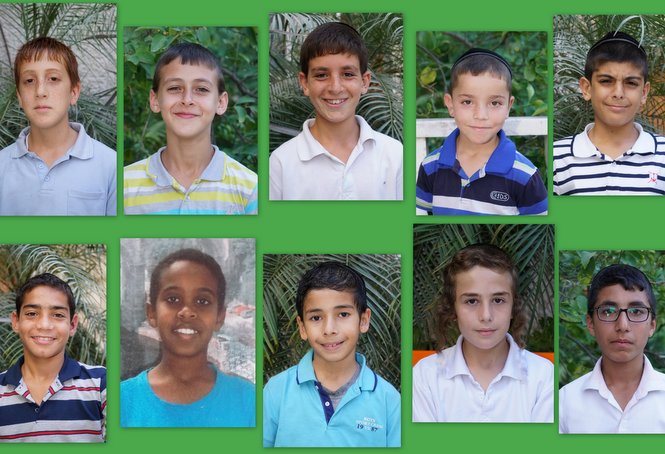 The Zion Orphanage kids wish you a happy and healthy Rosh Hashana, New Year!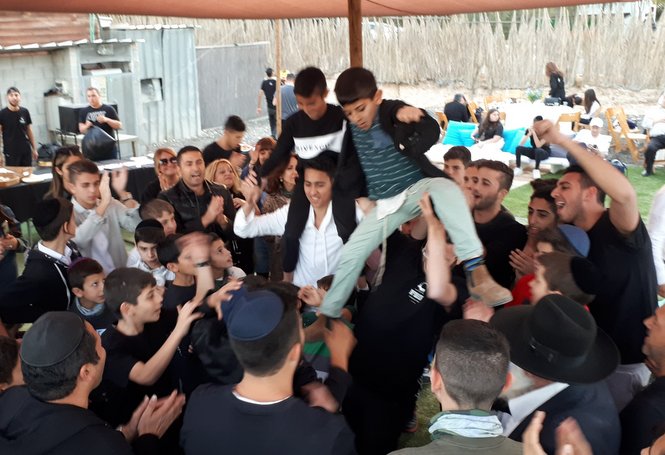 Last Thursday families from New York in Israel to celebrate the Bar Mitzvah of three of their sons invited the younger Zion boys to an afternoon of activities, food and music in the picturesque Judean Hills. Pictured are some members of the families dancing with some of the Zion kids.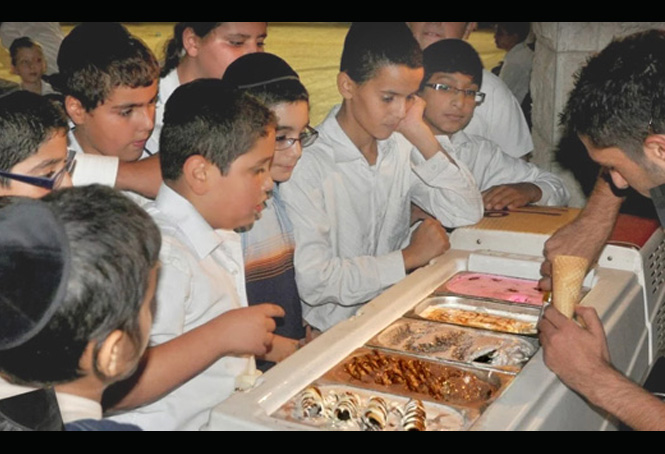 Through the generosity of a donor, the Zion boys were recently treated to an elaborate ice cream party, with various flavors and toppings. The sweet taste is a message to them of how much people care.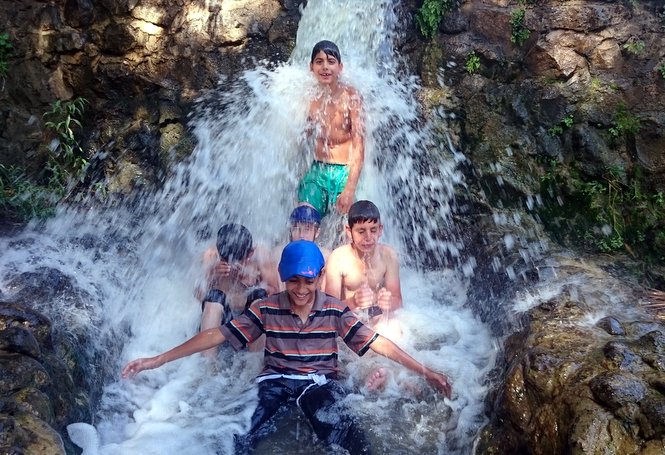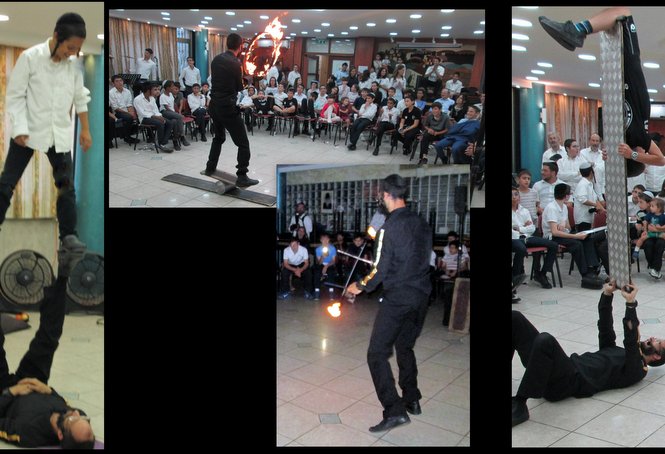 Yesterday evening the Zion kids were joined by a generous family from New York in Israel to celebrate their Bar Mitzvah. Wanting to share their joy with children less fortunate than them, the younger Zion boys thoroughly enjoyed the incredible Israeli juggler entertainer Yosef Broide, live music performed Zion's band and delicious pizza and ice cream. Mazal tov!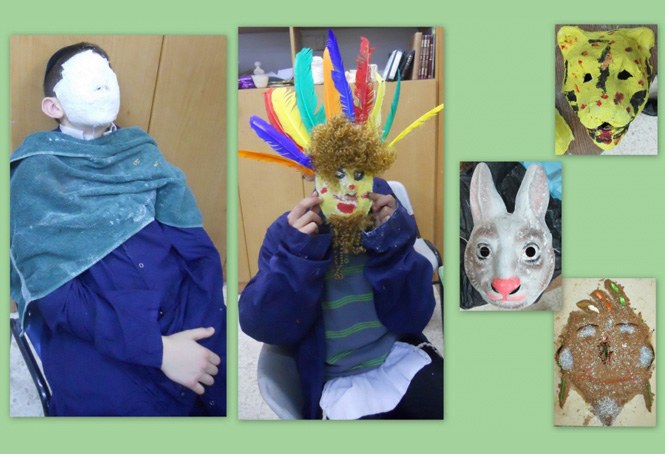 In the days leading up to Purim, the Zion boys enjoy making their own masks. The process begins with molding a custom-fit clay masks. Once the mask is dry, each boy paints something creative. Similar to the Talmudic insight that "Just as no two faces are alike, so too each person is unique," each of the Zion boys' masks ended up being distinct.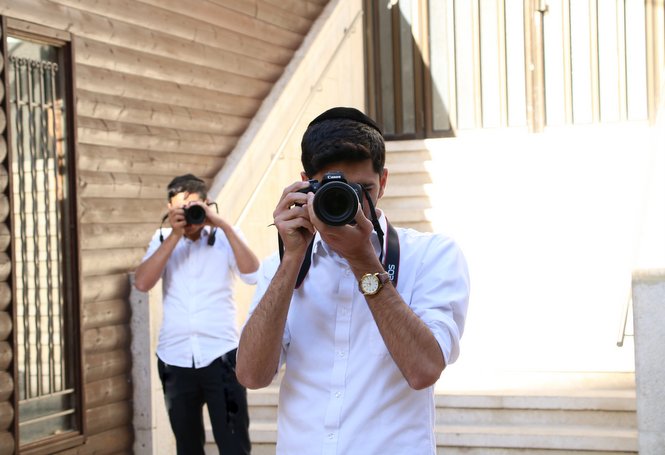 A new photography course on the Zion campus began a few weeks ago. It is providing the boys with the skills and discipline to become proficient photographers – while stimulating creativity, imagination, and the expression of emotions and feelings through pictures. Each boy will choose his favorite pictures and write a series of brief descriptions. These photos will then be placed on display for all the Zion boys, staff and visitors to enjoy. This picture was taken by one of the boys in the program.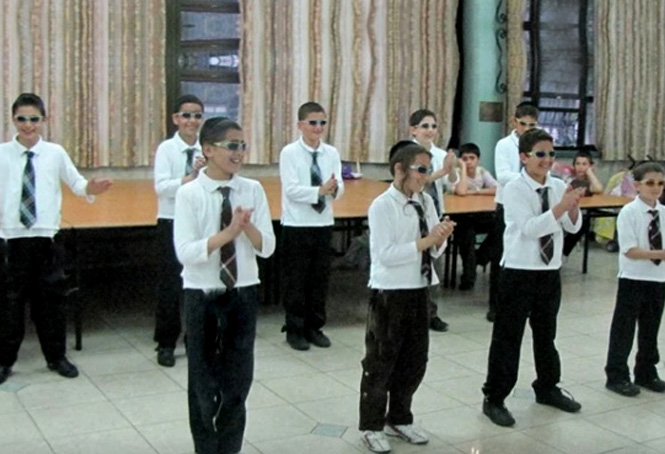 The Zion Choir performs at an event attended by guests and dignitaries. The choir, a source of great pride and esteem for the Zion boys, has produced a CD of four songs, as well as music videos.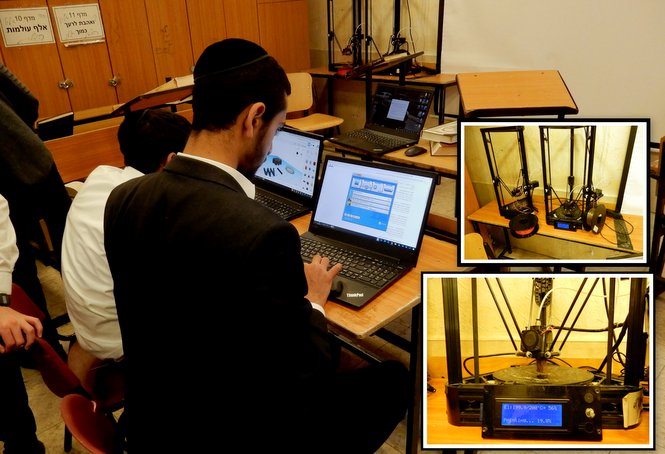 The Zion Orphanage course teaching the boys how to computer create and reproduce their creative designs using three-dimensional printers has been a great success. The program is now in its third year.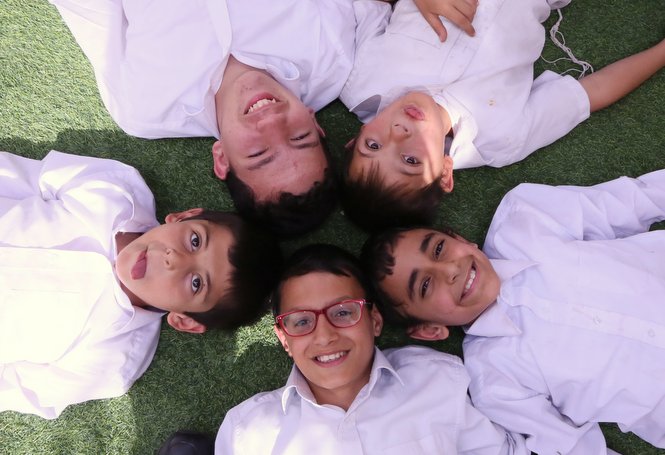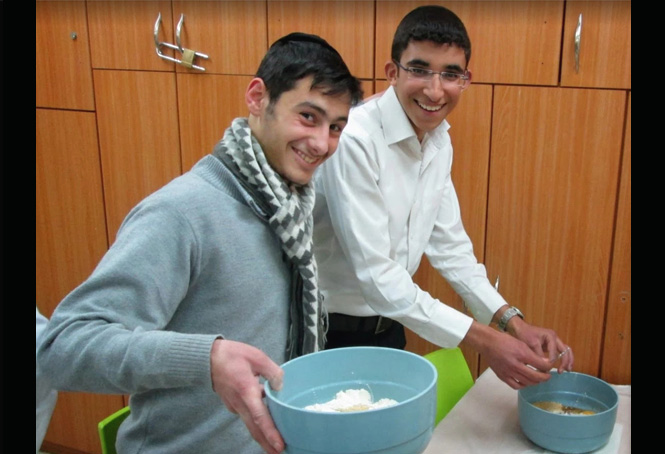 At ZO, one of the many fun, experiential activities is cooking and baking. An effective way to develop creativity and independence, the boys gain a firsthand sensory experience, both in preparing the food and enjoying the delicious results.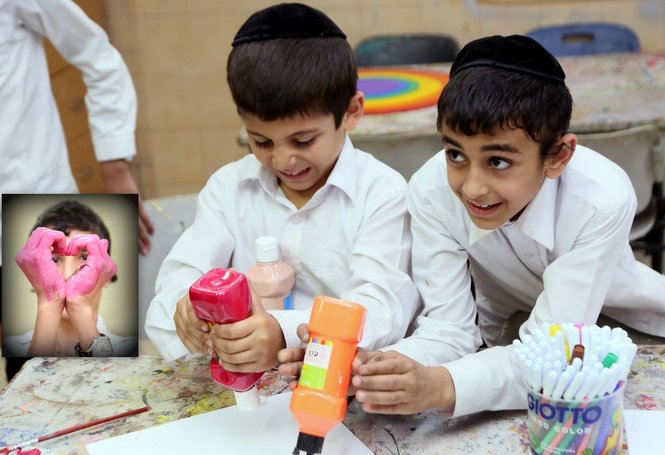 A couple of Zion boys are enjoying the art of finger painting.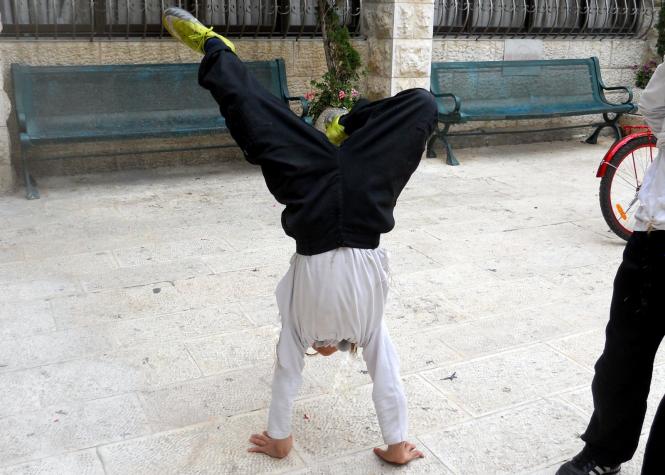 Just like most children living in a safe environment are often discovering new abilities, this Zion boy recently learned that he can stand on his hands.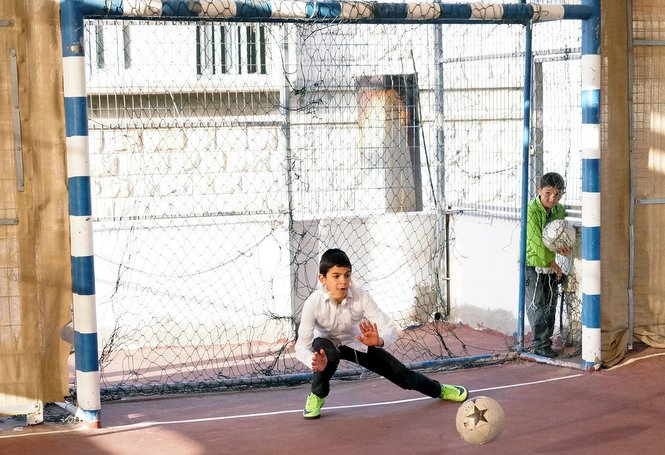 The Zion boys love their campus rooftop activities playing field. These colder winter days do not inhibit the kids from enjoying a heated game of soccer.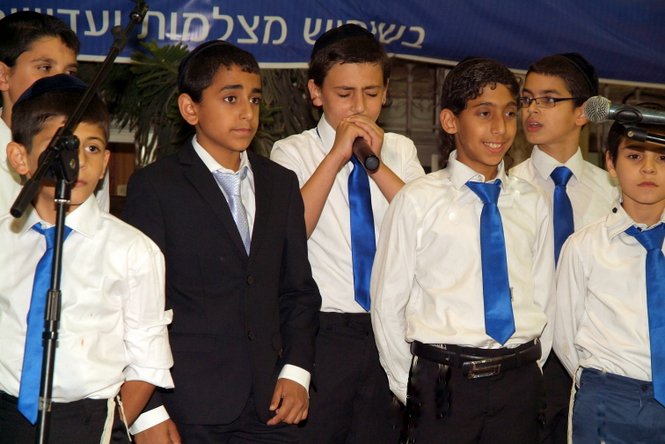 A few days ago three more Zion Orphanage kids celebrated their Bar Mitzvah. During the joyous celebration our Zion boys choir performed.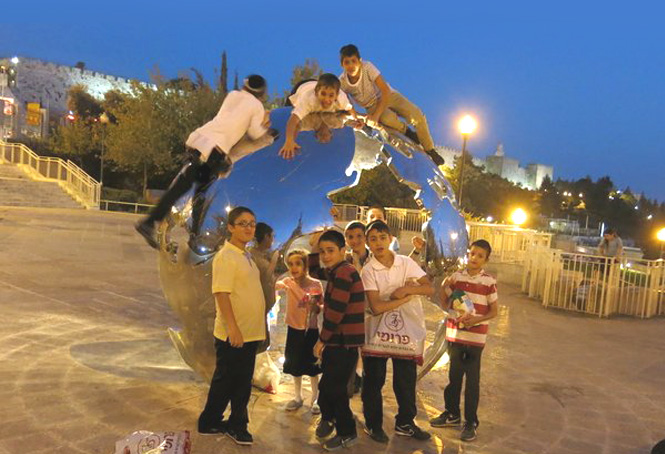 On an evening outing, Zion boys enjoy a sculpture located near Jaffa Gate in Jerusalem.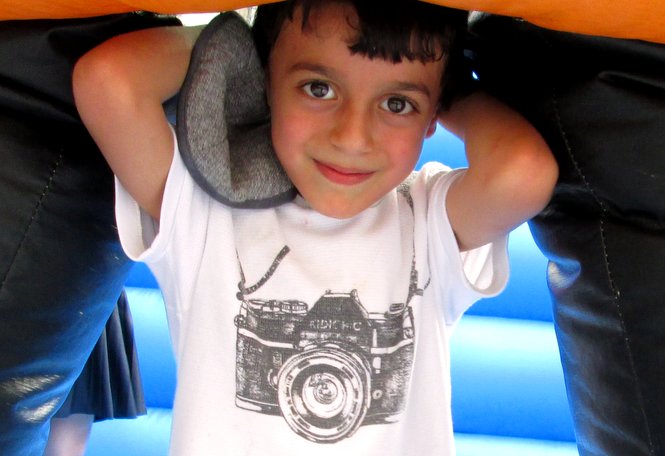 The Zion Orphanage children and staff would like to take this special opportunity to wish you an exceptionally joyous and successful new Jewish year. Shana Tova!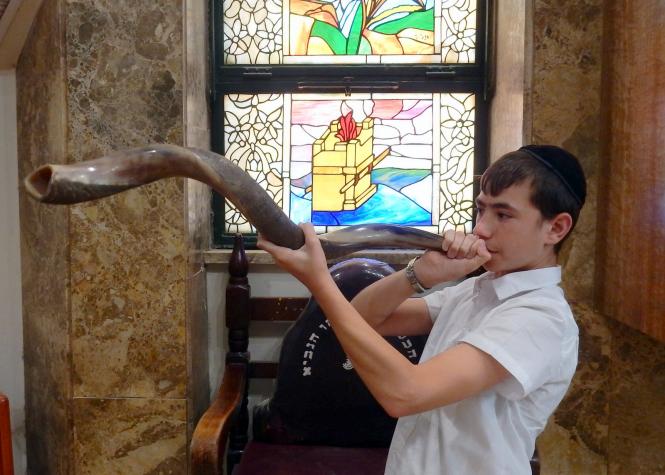 All of the more than 200 Zion children and youth wish you a Shana Tova, a new year full of true successes and real happiness.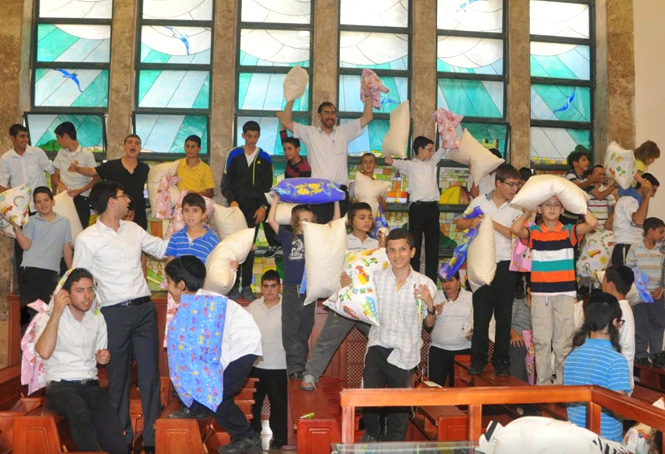 During the cold winter months, the Zion boys require quality blankets in order to sleep comfortably warm. A few years ago, a family of generous supporters from Brooklyn who sell comforters contacted us, insisting on providing the boys with natural goose-feather blankets. Now, to accommodate the increasing number of boys under our care, they purchased another 70 sets of comforters, down pillows and beautiful sheets.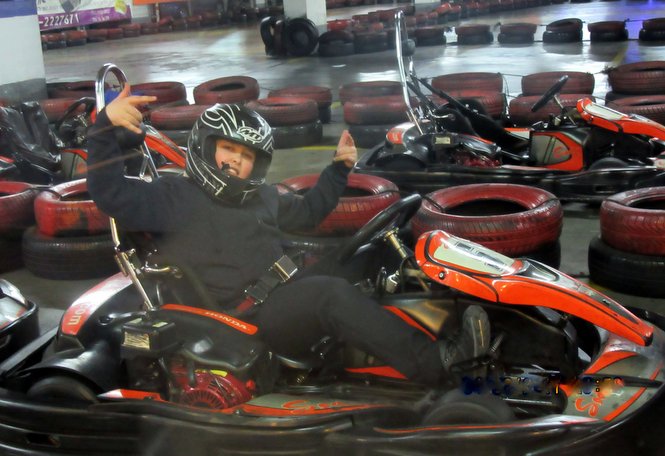 The Zion boys enjoyed driving and competing against one another at a local go karting track.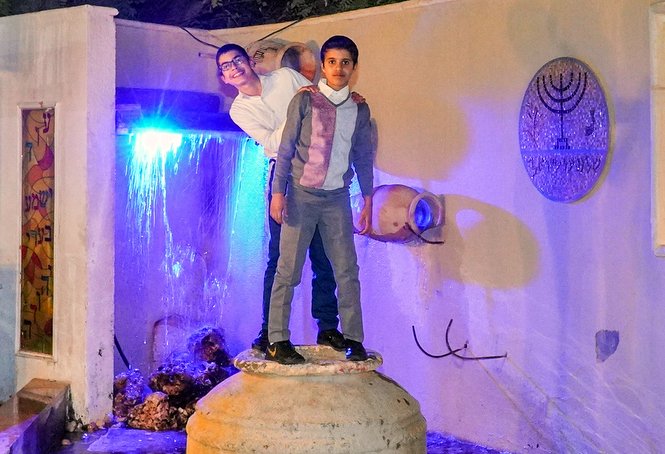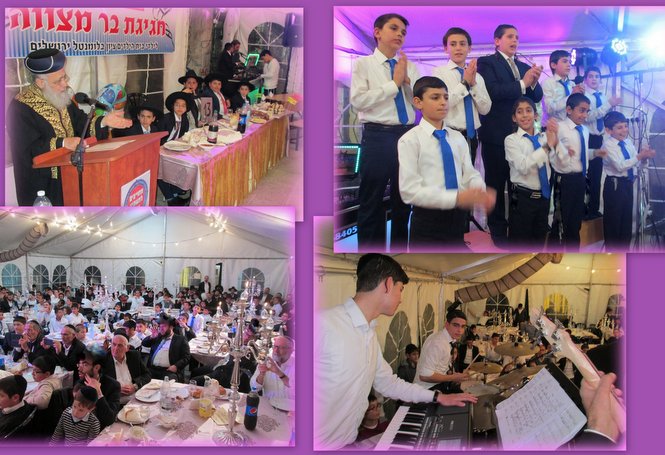 This past Thursday evening, the third candle lighting of Chanukah, six Zion boys celebrated their Bar Mitzvahs. Pictured are the birthday boys watching Israel's Chief Rabbi Yitzchak Yosef share words of insight and inspiration. Also shown are the Zion choir performing; The Zion band playing along; And a partial glimpse of the crowd under an outdoor tent built to keep the 250 participants nice and warm.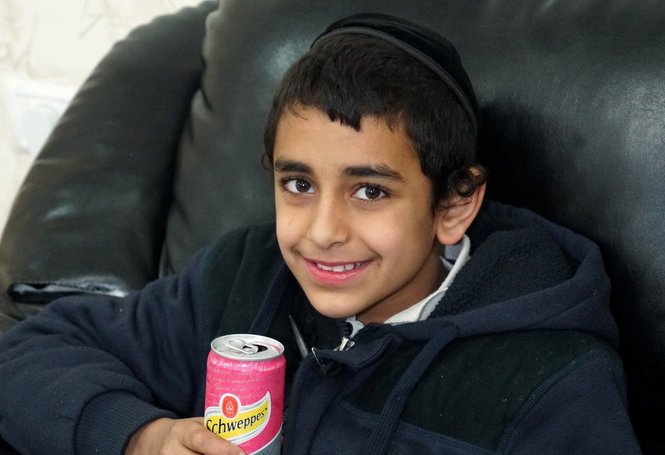 All of the Zion boys wish you a happy and festive holiday of Shavuot, along with prayers for good health and happiness always!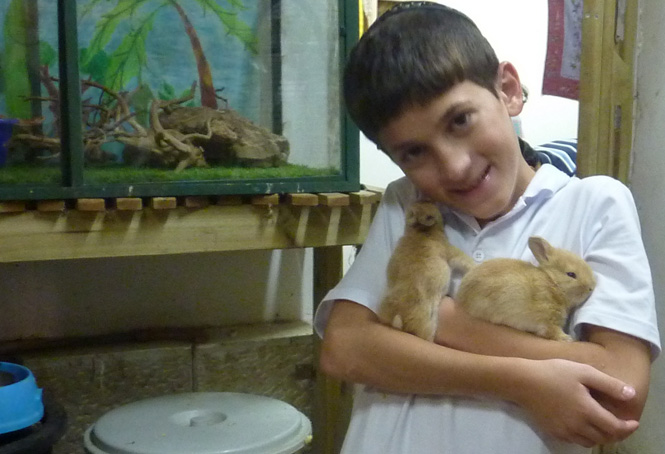 Often, a child arriving at Zion Orphanage is in survival mode. For many, the act of caring for animals, as part of our animal-assisted therapy, is an effective way to spark a turnaround in attitude. Here a Zion boy connects with animals at our popular on-campus mini-zoo.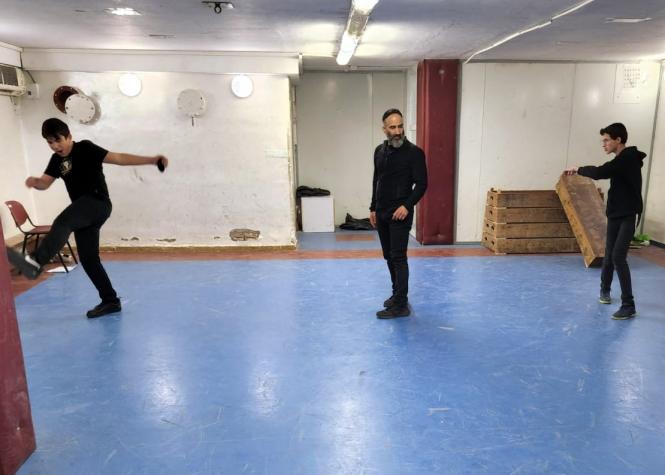 Leor Stern is our master Kung Fu (Chinese martial arts) instructor. Unlike Krav Maga (Israeli originated martial arts), enjoyed in the past focusing primarily on hand to hand combat for self-defense, at this time Kung Fu is taught, designed to help them with gaining mastery of their minds and bodies.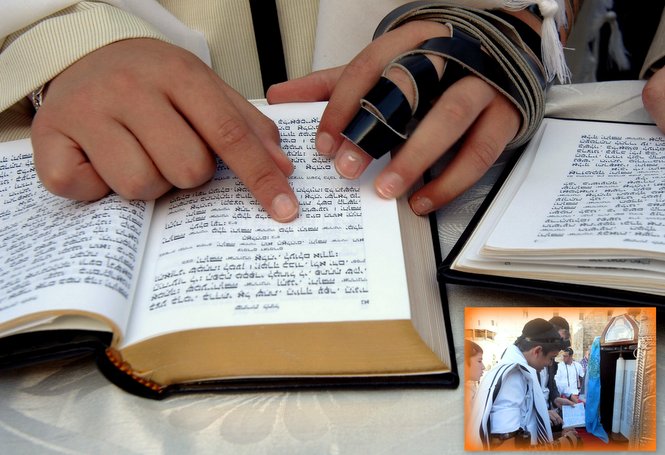 Prior to enjoying a festive Bar Mitzvah celebration in the evening, the Zion Bar Mitzvah boys and their friends pray at the Jerusalem Old City Kotel (Western Wall).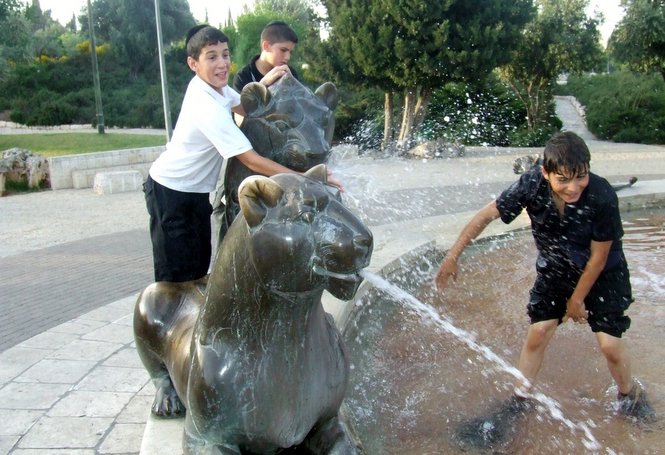 This week Israel experienced the first rain of the winter season. It still remains warm enough, though, for the Zion kids to enjoy some water fun at a local park here in Jerusalem.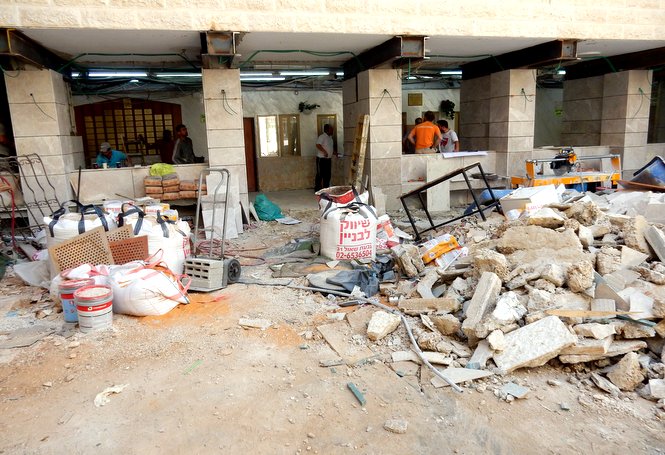 ​Major building and renovations continue on our main campus. Although there is lots of noise and dust flying throughout the day, the Zion boys are able to maintain their daily routines.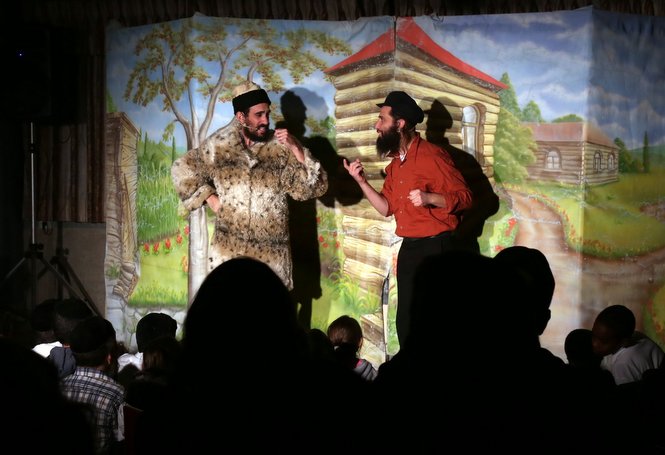 Prior to summer vacation the Zion kids enjoyed an evening of entertainment featuring a show by "Nekuda Tova" (literally, "a Good Point"), an Israeli performing arts group.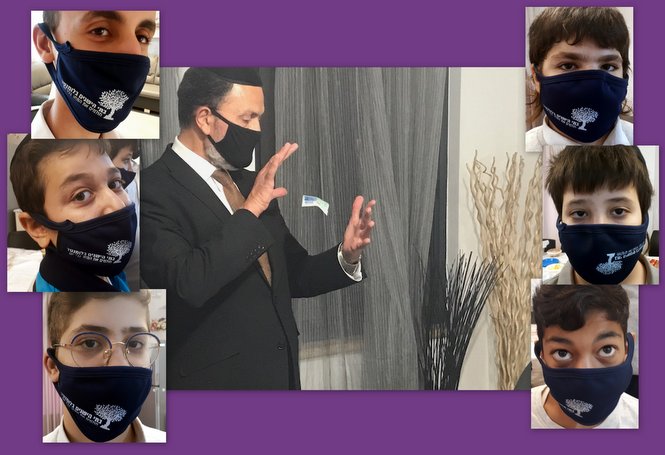 Still, all the Zion boys remain on campus throughout the day, even though restrictions in Israel are gradually being removed. As part of the extra-special activities for the Zion boys, they remained fascinated throughout the performance of top Israel magician Shimi Illuzini.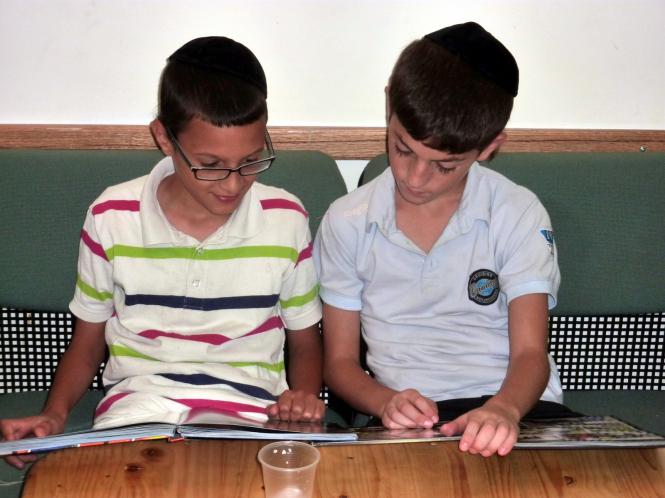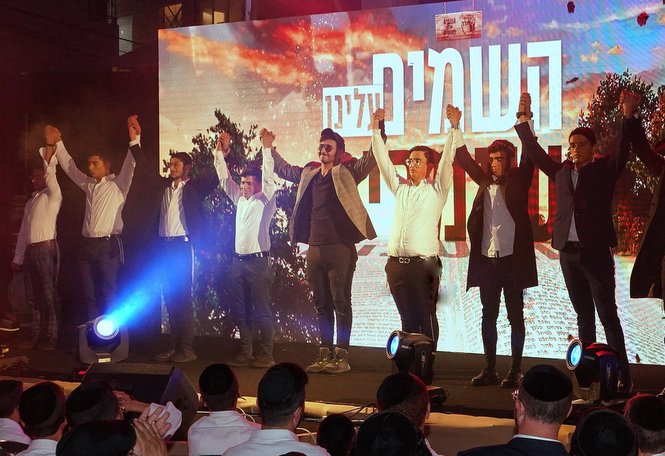 During the recent open house for our post high school age kids, some of the Zion boys acted for a packed audience. They are pictured here on stage completing their captivating performance. The story was about a boy who did not want to go to school, no matter what. Many attempts were made to convince him until he finally gave it. The final scene highlights his success with him surprisingly enjoying school and becoming a popular student who made lots of new friends.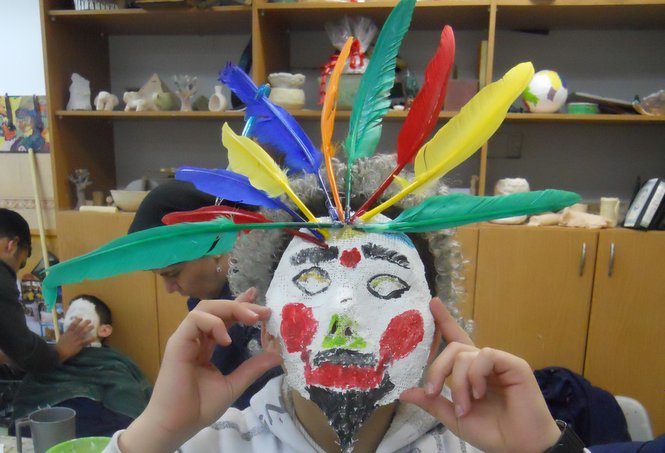 The Zion boys are hard at work preparing their custom-make Purim masks in preparation for next week's festive holiday celebration.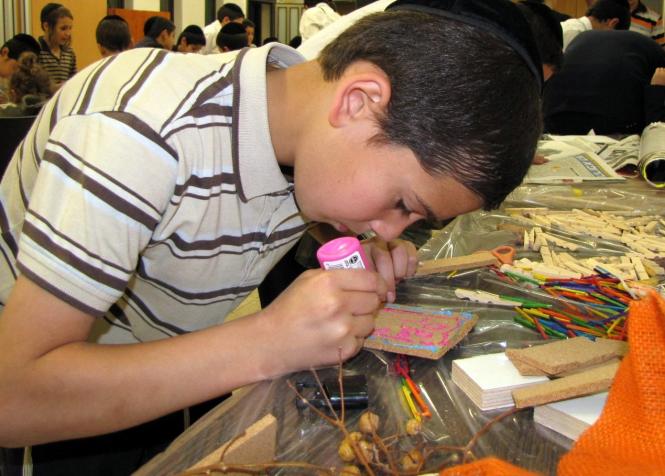 Arts and crafts is one of the many extra-curricular activities enjoyed by the Zion boys. Besides working with individual family unit groups throughout the week, our instructor, who is a professional art therapist, works with some of the boys in a one on one setting as well.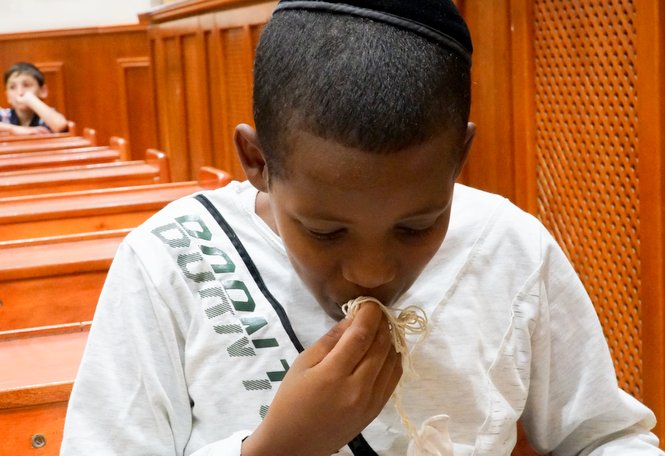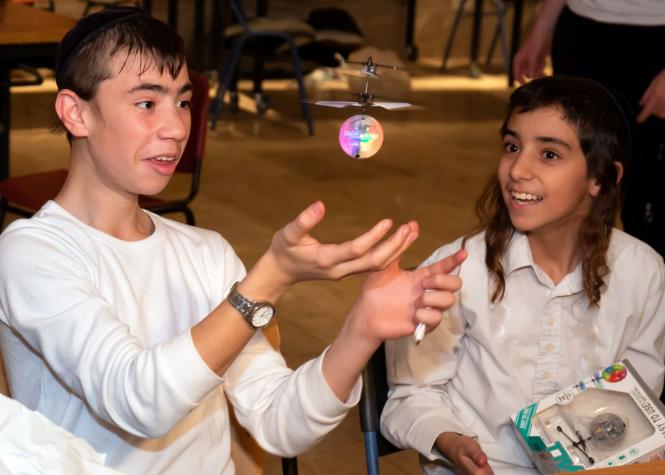 This newly on the market Hanukkah gift mini-drone was presented to each Zion boy. It was especially captivating at night.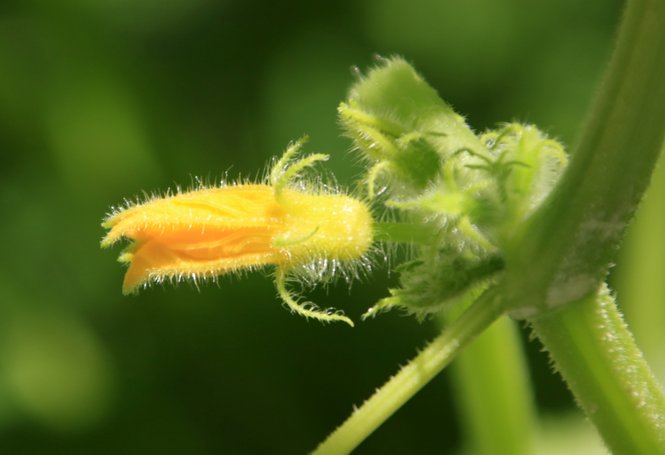 A Zion photography course student captured the beginnings of a cucumber grown in our agriculture course. He explains that once the flower dries up a tiny cucumber will appear. In a matter of less than three weeks a fully developed organic vegetable will be ready to be picked and enjoyed straight or cut into a salad.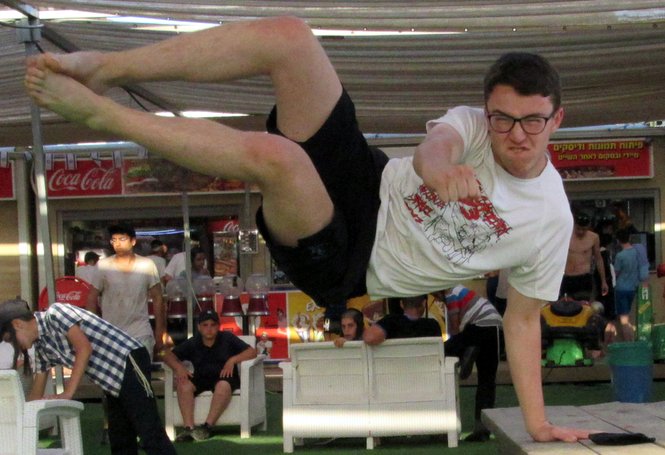 A Zion Orphanage martial arts student practicing in the city what he has learned in our Krav Magga self-defense program.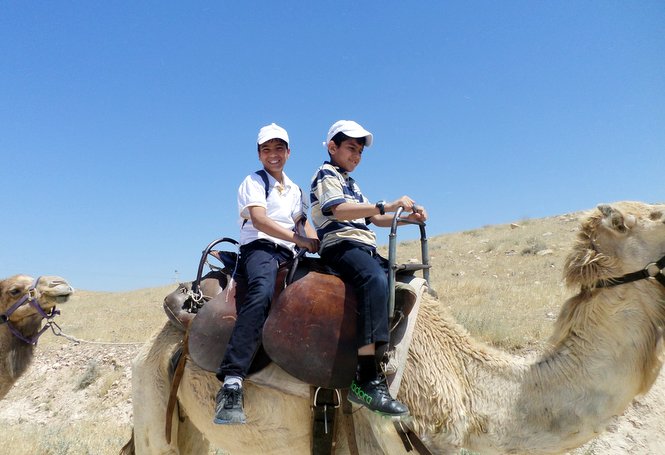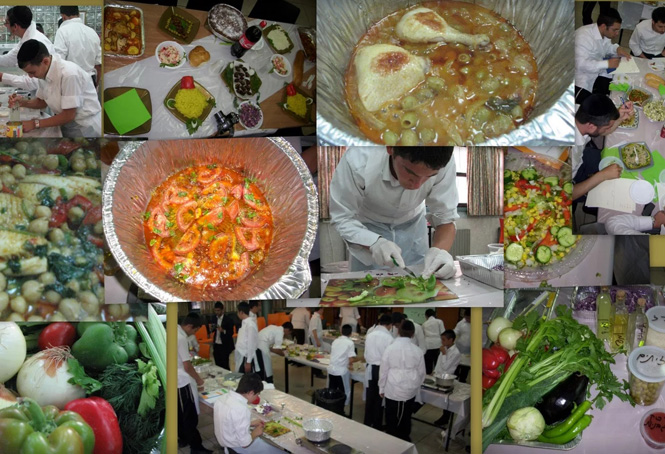 Teaching self-sufficiency is a constant objective in our work with the Zion boys. We recently held a cooking contest, where the boys divided into groups, each equipped with all the food and equipment needed to prepare a full-course meal. The results far exceeded exceptions, with all participants, including the judges, thoroughly enjoying the process and the delicious concoctions.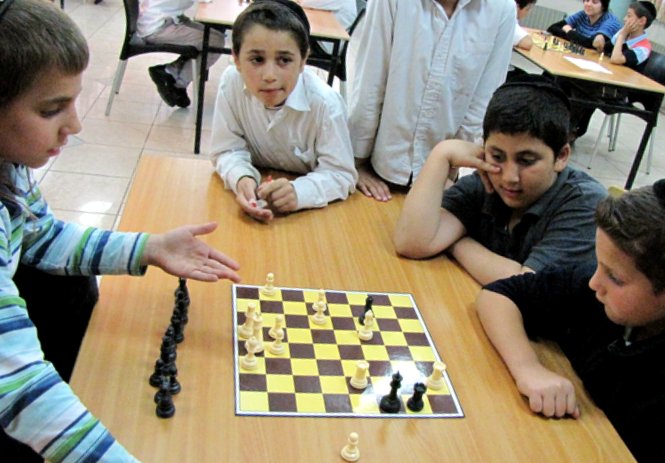 This week Israel has been experiencing lots of cold weather and rain. During such times it is quite enjoyable to compete in some indoor captivating chess games.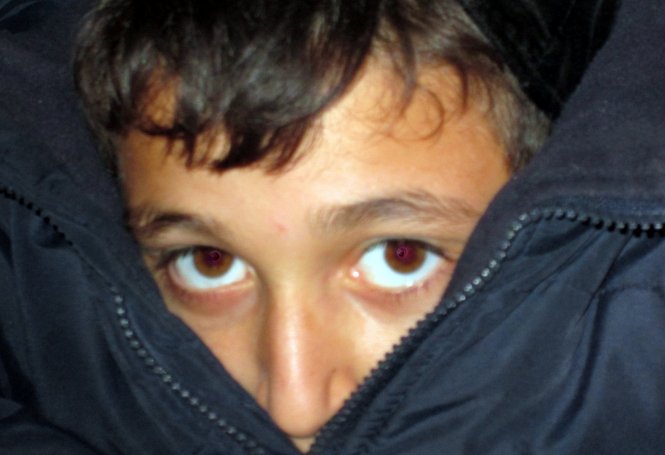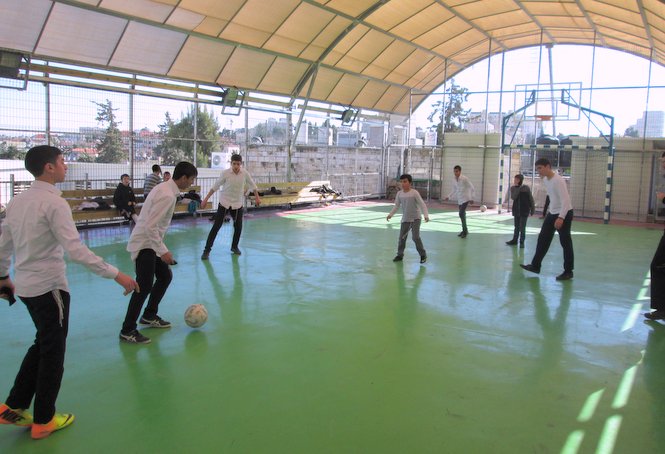 Zion boys enjoying a game of soccer on our campus rooftop sports arena. Through these activities, Zion boys learn vital life lessons in teamwork, perseverance, goal-setting, discipline, and leadership. All this is part of our commitment to developing well-rounded individuals, body and soul.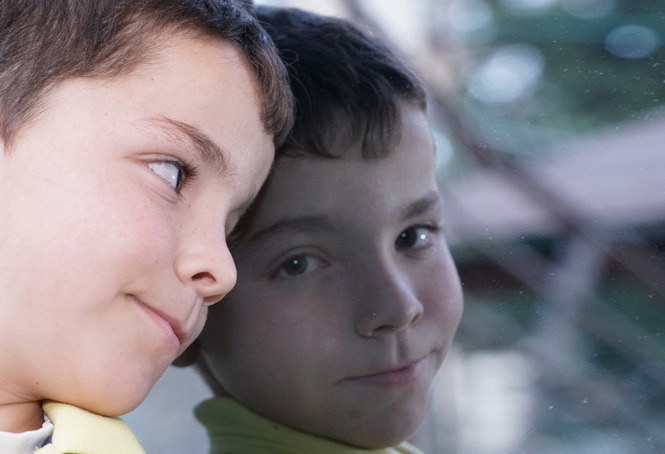 Photography is one of the most popular activities at Zion Orphanage. Here, one Zion boy takes a creative photo of another, reflected in the window of his bedroom.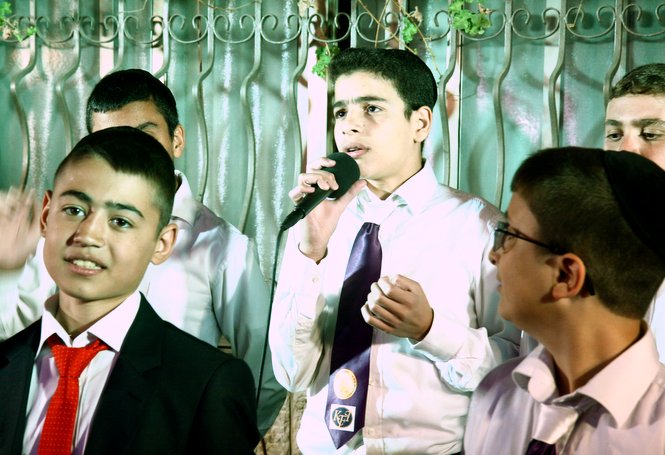 The releasing of the new video this week has created a buzz on the Zion Orphanage campus. The Zion boys are excited about having been a part of the enjoyable clip being seen by tens of thousands of viewers.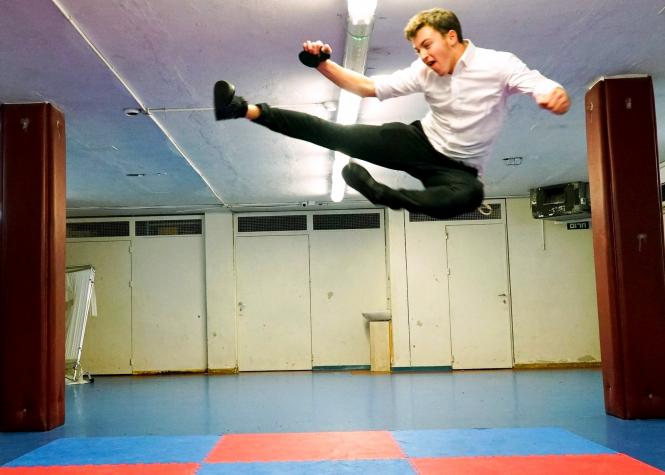 Pictured is one of the Zion boys practicing a move he learned in our martial arts program.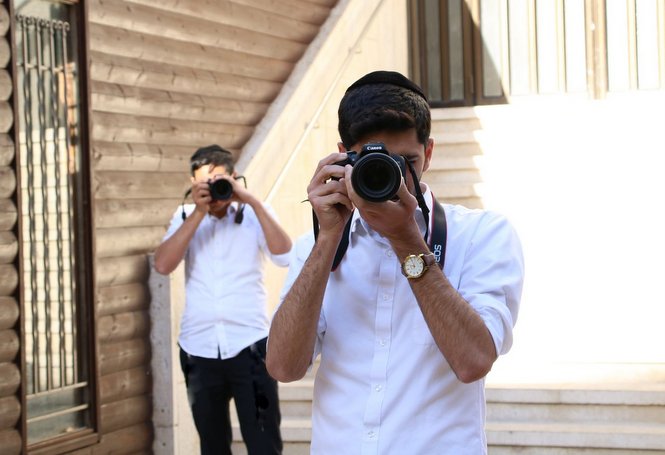 The high school age Zion boys enjoy a photography course. Over the past corona year outings were severely limited but now the students are able to go to diversified locations in order to capture all sorts of scenes.

Nissim Black films music video at Zion Orphanage Unique Sponsorship Opportunity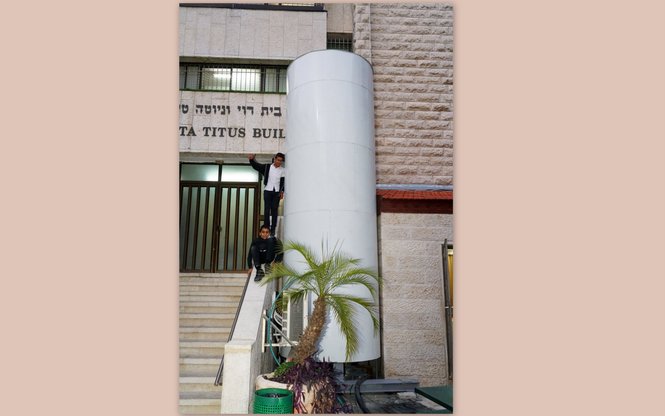 During this past winter the Zion Orphanage campus received a uniquely designed water and air heating system. Standard gas and electric heating systems tend to be quite expense and harm the environment. The new system collects heat from the environment and accumulates it in a huge hot water reservoir (pictured), while producing additional heat through a process of gas compression. The pumps operate with high efficiency, work quietly, do not pollute the environment and is saving the Orphanage 70% of the previous heating costs.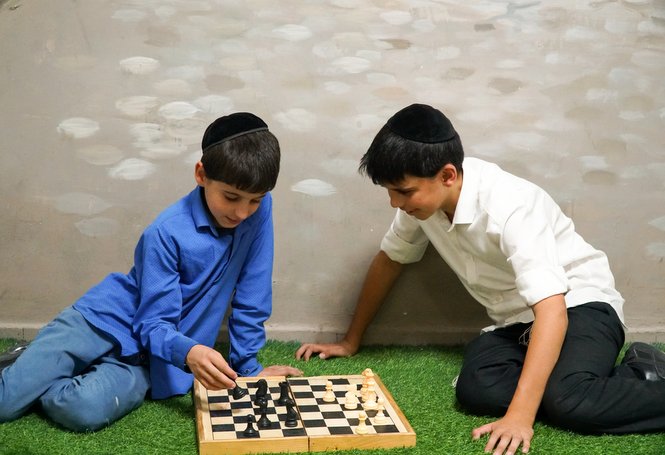 A couple of Zion boys enjoying an engaging game of chess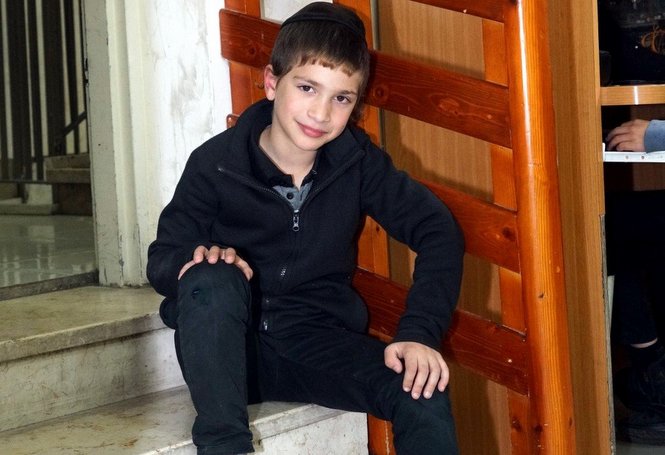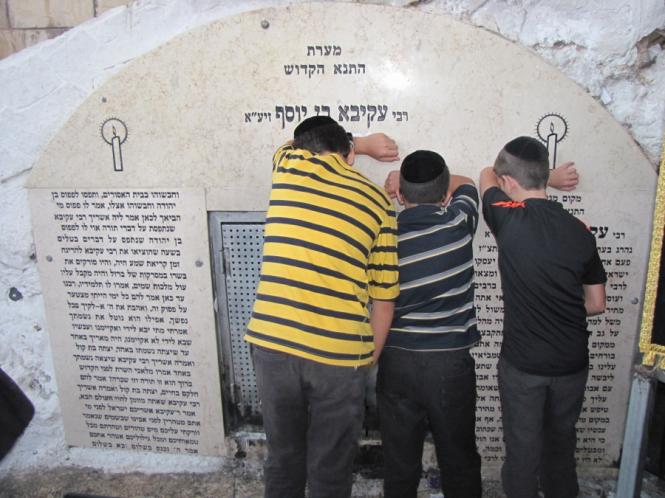 Following the Zion boys hearing an informative and passionate presentation on the life of the great Torah Sage Rabbi Akiva who died a martyrs death at the hands of the Romans roughly 1800 years ago, they visited his grave in Northern Israel located next to the 65 square mile (167 kilometer) Tiberias freshwater lake.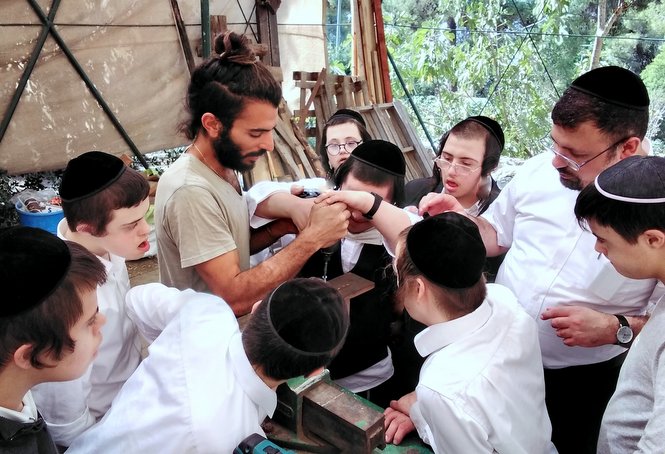 Zion Orphanage recently opened a new program, custom designed for high functioning high school age Down Syndrome children. Pictured are the boys learning how to use an electric-powered drill during a visit to the Jerusalem Forest.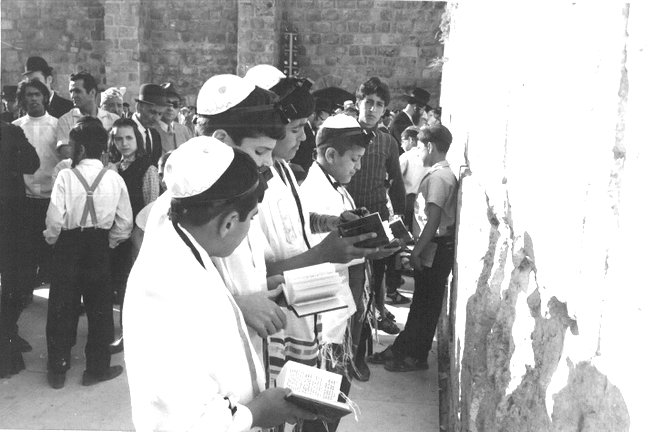 Taken over 50 years, this picture shows a number of Zion Bar Mitzvah boys visiting the Western Wall (Kotel), as is our custom, before their festive celebration on campus.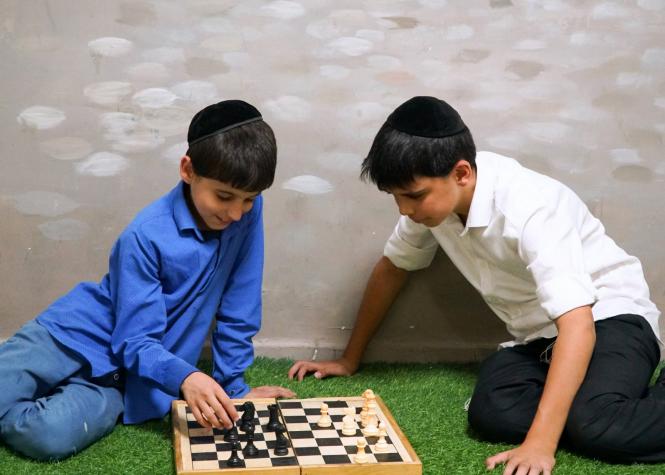 A couple of Zion boys are captured enjoying chess. This competitive game, according to historians, has been around for more than 1000 years.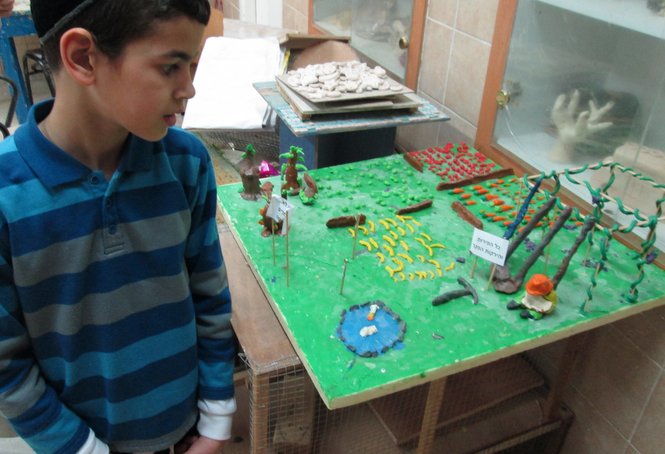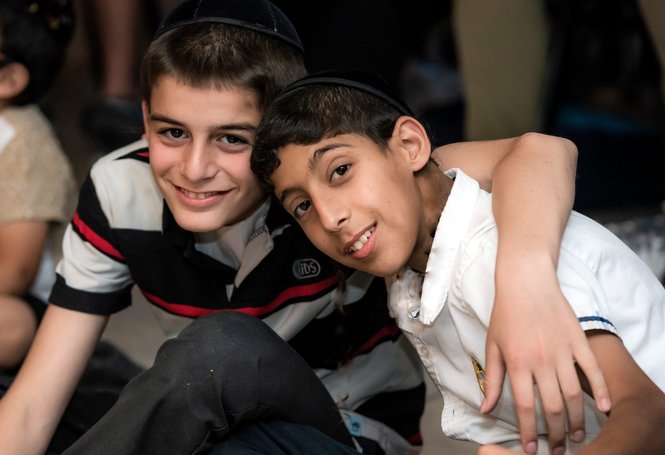 During these trying times, having a friend to speak with, to share thoughts and feelings with is so very important. In accordance with the Israeli Health and Social Welfare Ministries all of the 180 Zion Orphanage boys ages 8-23 must stay on campus throughout the day and night. That means all our staff on campus are having to keep the kids occupied and entertained throughout the day. Most of the Zion boys are finding comfort during this worldwide time of uncertainty and their need to stay in one place by developing and enhancing friendships among themselves.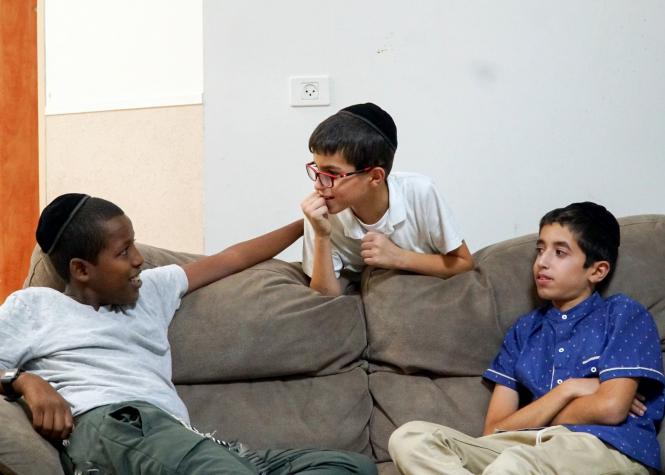 As these Zion boys wind up their day they are relaxing and enjoying each other's company in their family unit on our main campus.
During a field trip the Zion boys were treated to some unexpected entertainment. One of our Zion counselors grabbed the opportunity to temporarily befriend this beautiful bird and this fast moving monkey, to the delight of the kids.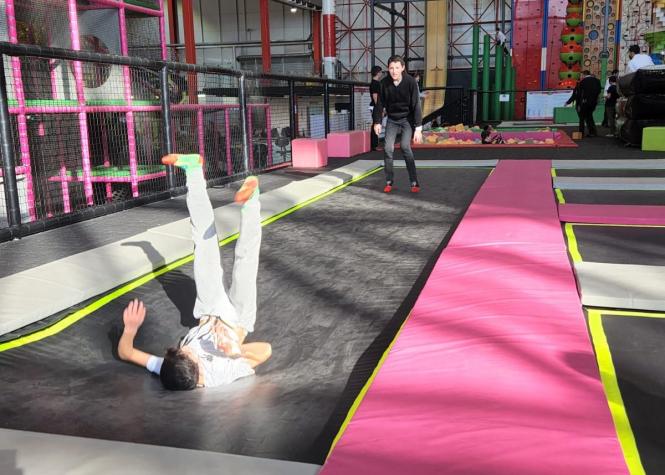 The Zion boys thoroughly enjoyed a full day at the incredible amusement park in Yarka, a Druze village located in Northern Israel close to the city of Haifa. Even after seven hours of almost non-stop diverse activities such as trampolining, the kids did not want to leave.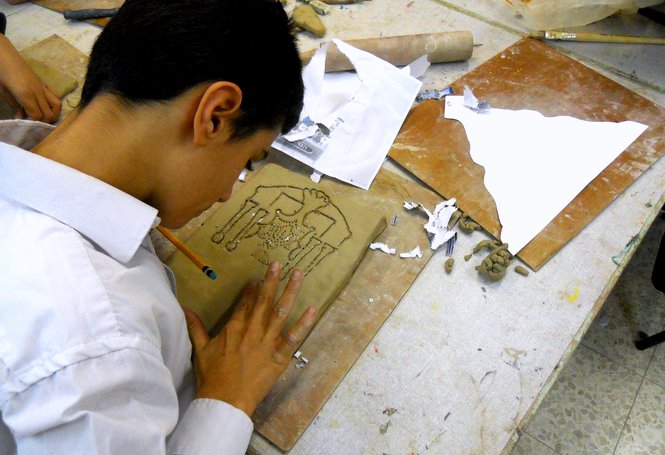 With Chanukah speedily approaching, the Zion boys are hard at work in their arts and crafts program with their holiday project.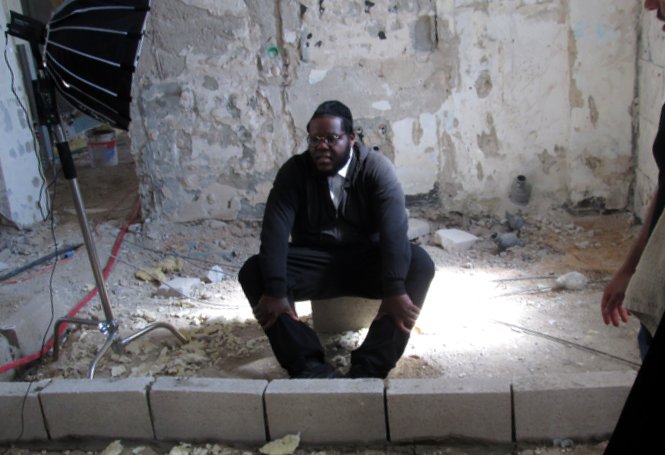 This picture was taken during the videoing on campus of Nissim Black's feature song, "Change". Nissim liked this scene in particular since it highlighted our building under construction on the way to being transformed into something new and beautiful. Today the number of boys ages 8 - 22 has reached 200. While most live on our main campus, others live in our facilities located in other parts of Jerusalem. The Israeli Welfare Agency is especially satisfied with our work and are sending more and more kids to us for 24/7 care. Lots of building, renovating and refurbishing is presently taking place. The urgent need at this time for major funding includes: - Major renovating (rebuilding) two floors, each floor will become five bedrooms at a cost of $1,560,000 (5,000,000 NIS) - Major renovating (rebuilding) the on-campus petting zoo used for animal-assisted therapy at a cost of $188,000 (600,000 NIS) - Major renovating a building with four floors for our high school age high-functioning Down Syndrome program located close to our main campus at a cost of $1,000,000 (3,200,000 NIS) Any assistance in connecting Zion Orphanage to people, foundations or estates potentially capable of helping to fund any of these vital projects will be appreciated beyond words.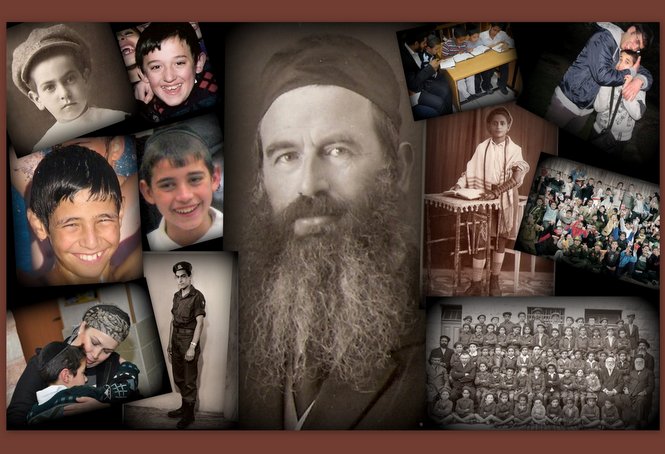 This coming Sunday marks the 55th yahrzeit of Rabbi Avraham Yochanan Blumenthal, the founder of Zion Orphanage in 1899 and father to thousands. Rabbi Blumenthal, together with his wife Chana Shaina, dedicated their lives to housing and nurturing Jewish children and youth towards self-sufficiency. A testimony to their pure intentions is their legacy, the home for the homeless and less fortunate continues to strive and expand to this day. The Zion boys will be praying for the cherished supporters of Zion Orphanage at his gravesite. If you have a specific request then please respond to the message with your name.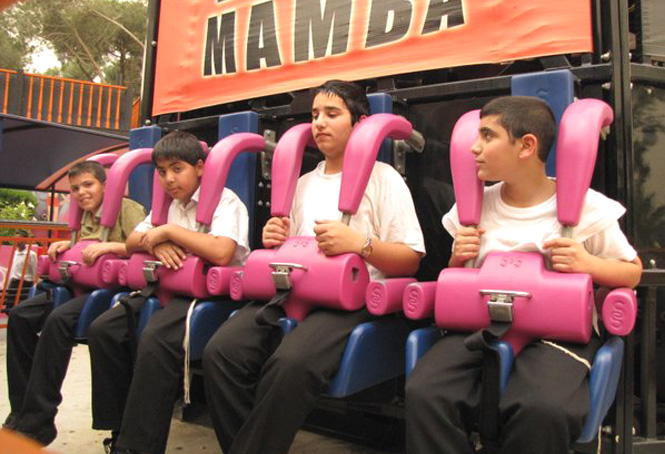 A special springtime treat is an outing to the local amusement park. Here, the Zion boys gain their composure before embarking on a thrilling ride.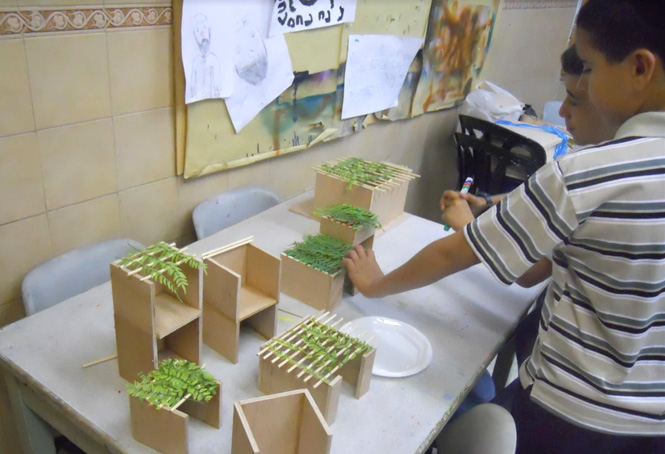 In anticipation of the festive holiday of Succot, the Zion boys are busy with an arts and crafts project
In the Zion Arts and Crafts program the children are hard at work. With enthusiastic anticipation the children are creating their personalized Purim masks to be worn as part of their Purim costumes.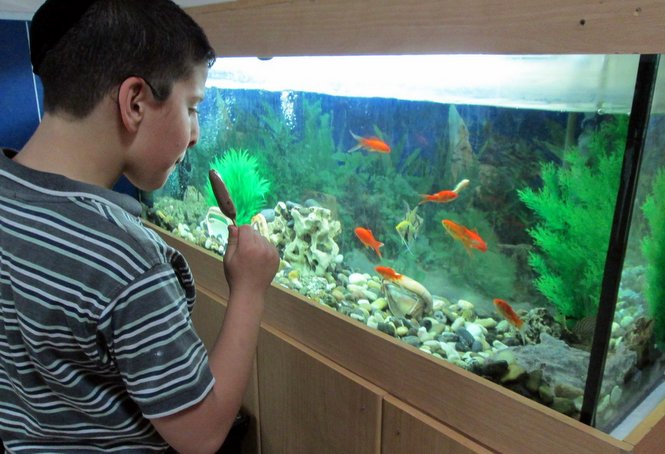 Enjoying a quiet moment in a Zion Orphanage family unit.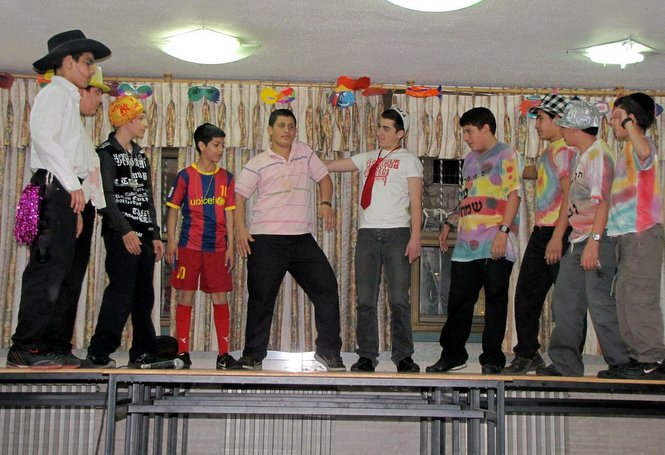 Pictured are some Zion boys performing during the annual Purim play. The Zion Orphanage children and staff wish you a very happy and uplifting Purim celebration!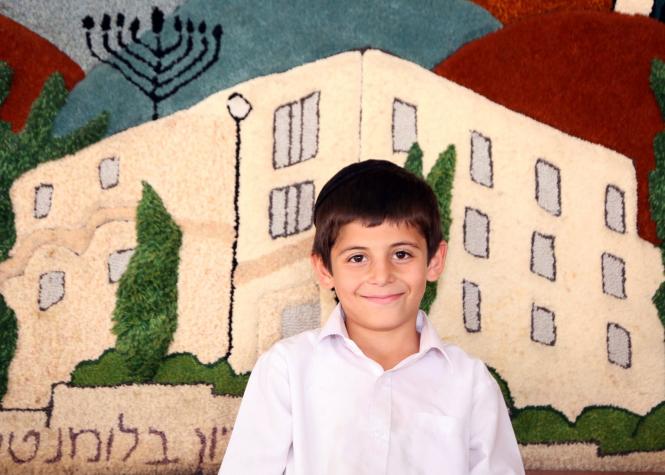 In the background of this smiling Zion boy is a carpet mural of the Zion Orphanage building.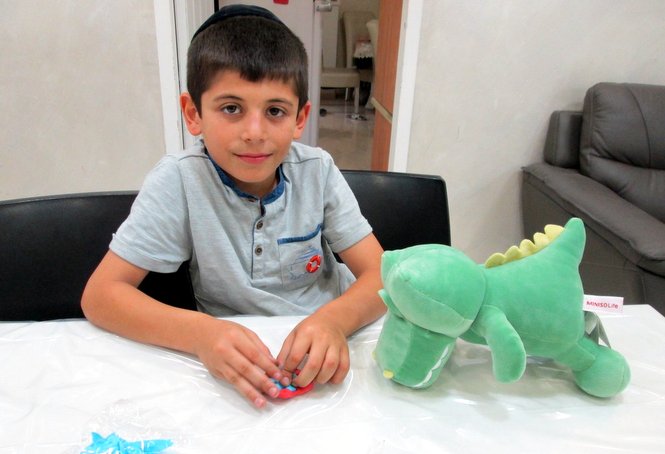 One of the Zion boys spends some time relaxing in his family unit before going to sleep for the night at 9:00 pm along with his new stuffed animal.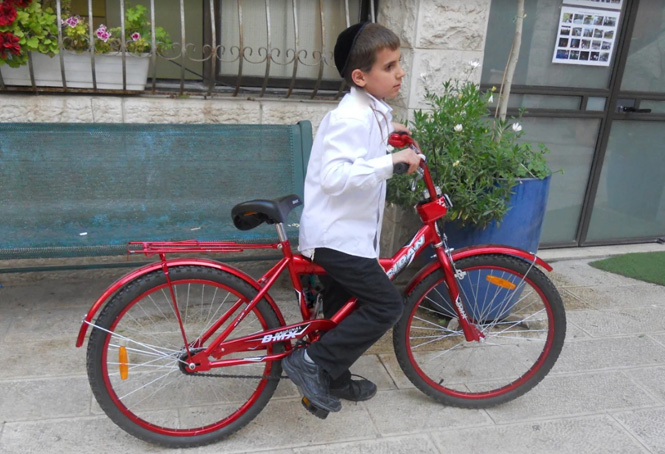 Every child cherishes the experience of riding a new bicycle, especially when it's "his own." A generous supporter from New York recently purchased beautiful new bikes for the Zion boys.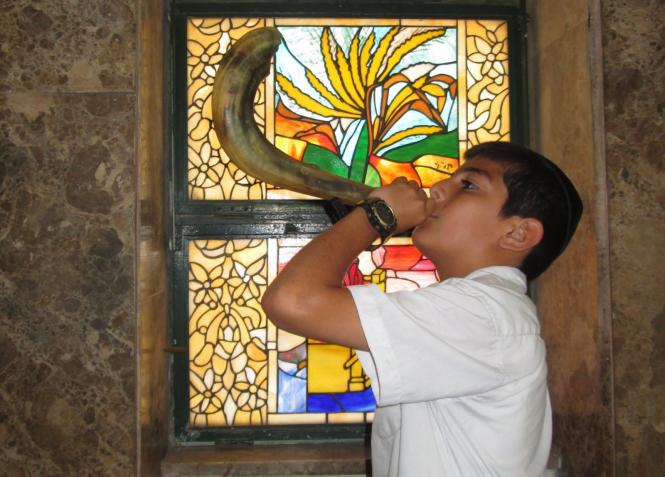 In less than three weeks will be the holiday of Rosh Hashanah. The custom is to blow the shofar 100 times on each of the two holidays. In the meantime, the sound of the shofer can be heard every morning in synagogues throughout the free world.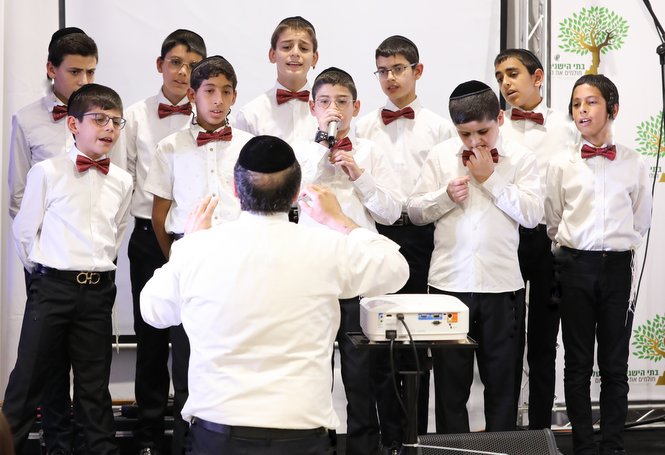 This week both the Zion Boys Choir (pictured) and the Zion Band performed before hundreds of people affiliated with the Israel Ministries of Welfare Education. In addition to playing many songs there was a question and answer session. The government departments wanted to better understand how the Zion boys were able to overcome their very challenging beginnings in life and gain the confidence to perform live before audiences.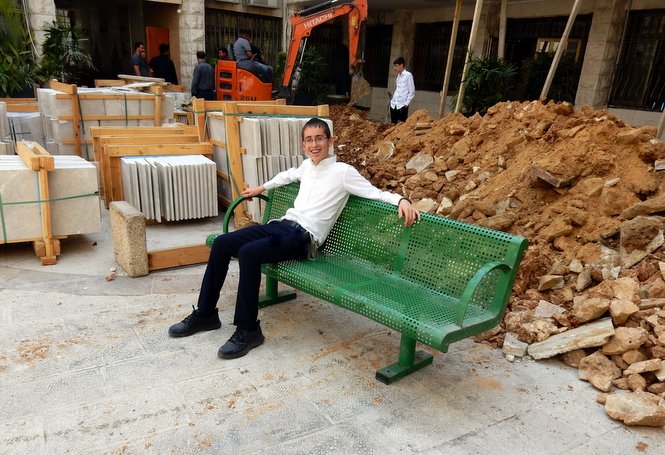 The Zion Orphanage campus is undergoing major construction and renovations. Pictured is the Zion campus courtyard presently being dug up and stacks of marble titles being used to completely renovate both five-floor staircases in the main building.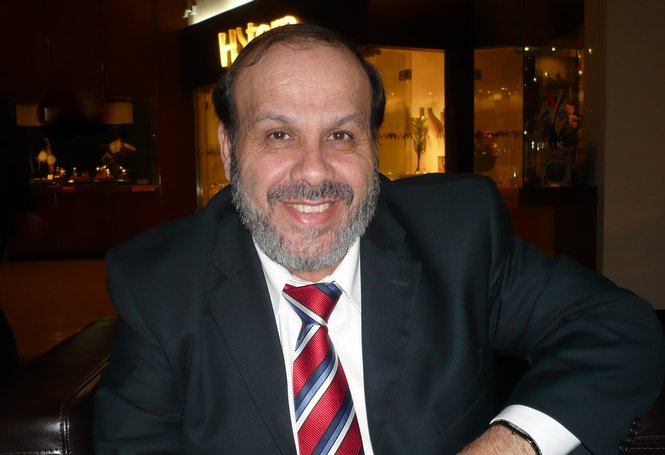 This past Tuesday, November 30th, Israeli Parliament (Knesset) minister David Azulay passed away. Born in Morocco, David Azulay came to Israel at age five in 1963 with his family. Two years later he entered his new home, the Zion Orphanage, where he remained for seven years. David later began a 20-year teaching career. With time he became the school's assistant principal and later the principle. Recognized and appreciated as being exceptionally gifted, he was asked to join the city's municipality and for years he worked in both education and in politics. In 1997 David became a member of the Knesset, serving for over 20 years representing the Sephardic political party. During his political career he focused primarily on social welfare issues, sitting on numerous committees involving education, public health, environment, security and finance. May his memory always be a source of inspiration.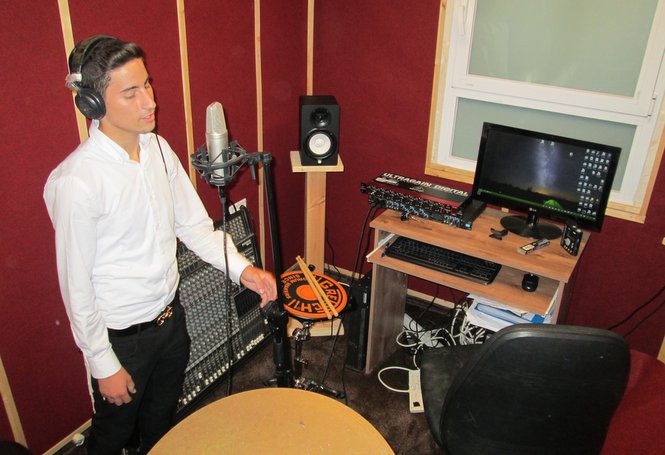 As the Zion boys reach the age when it is time to leave Zion Orphanage our music program repeatedly faces the challenge of finding new talent among the younger boys. Some of the boys are already known to have good voices and to be musically inclined so having them join the program is obvious. Occasionally though, our five music instructors which include teachers for guitar, drums, keyboards, voice and the choir, are quite pleasantly surprised. Pictured is one of the Zion singers in own on campus recording studio.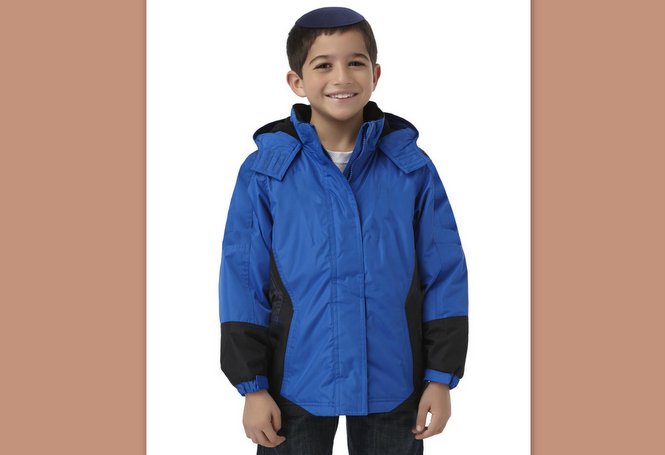 A cold spell has hit Jerusalem and a number of Zion boys lack warm winter coats. Each coat costs $86 (USD) and 40 boys are in need. Help with this urgent 24-hour campaign to bring physical and emotional warmth to these precious Zion boys who come from challenging backgrounds. Give the "gift of warmth" today!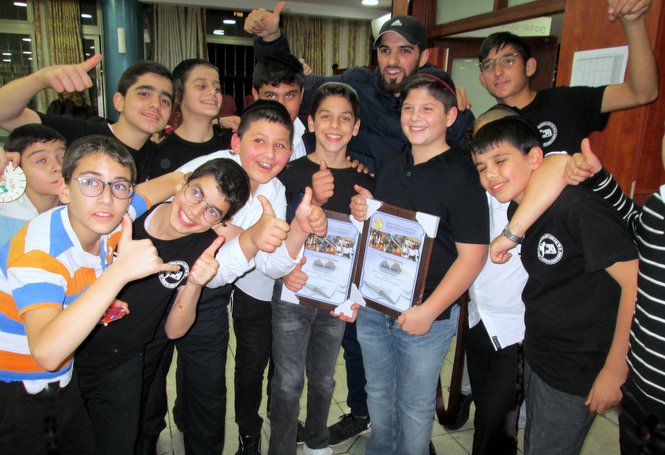 This past Saturday evening generous supporters from Brooklyn, New York, treated the Zion kids to an evening of fun. They were in Israel to celebrate the Bar Mitzvah of two of their boys and wanted to share the joyous occasion. The activities included a Krav Maga demonstration, a Chanukah arts and crafts project and lots of dancing.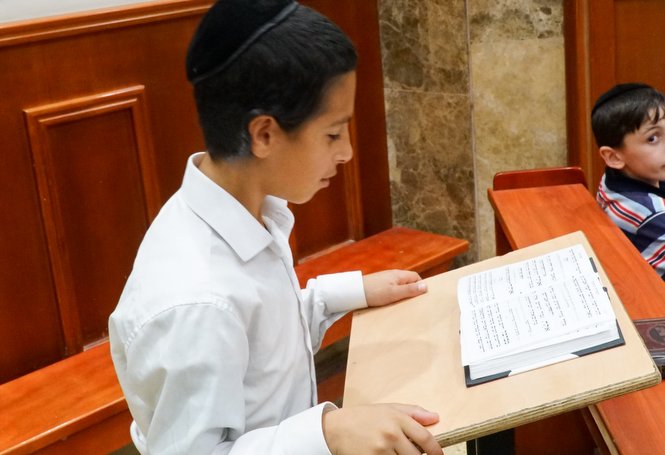 All of the children and staff at Zion Orphanage want to take this opportunity to thank you for your support and wish you an exceptionally sweet and successful New Year, all in good health and happiness.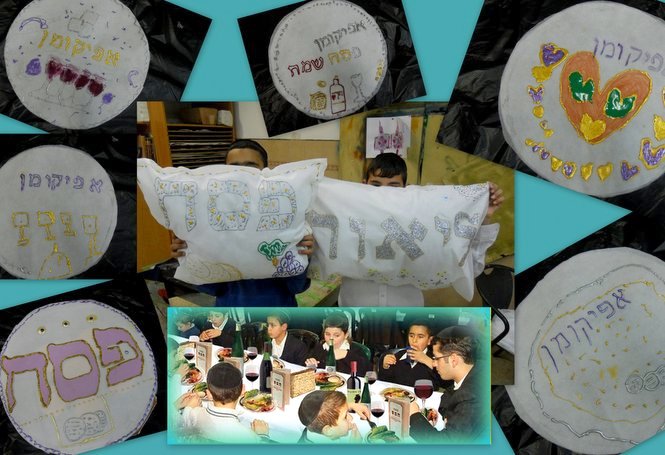 Pictured are the Zion boys enjoying a model Pesach seder in preparation of the exciting first night of Passover. Also shown are coverings for matzah, products of our arts and crafts program. The Zion Orphanage children wish you a happy and healthy festive Passover holiday!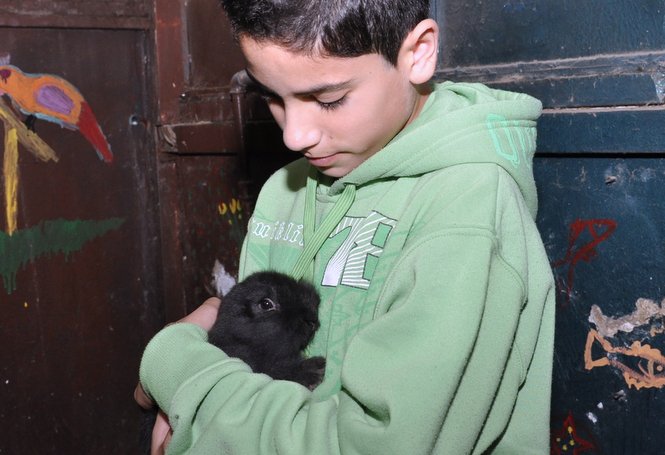 Zion Orphanage offers the boys numerous therapies including play therapy, occupational therapy, speech therapy and animal-assisted therapy. Similar to play therapy, animal therapy does an amazing job at getting each child to verbalize his closely guarded inner world. Among the furry animals in our mini-zoo are chinchillas and rabbits.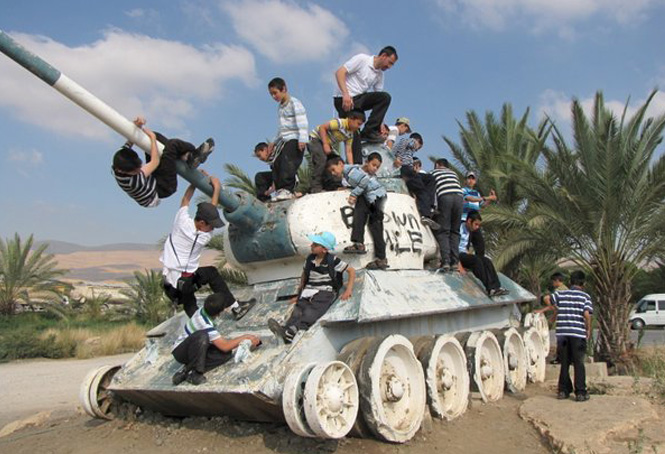 With war an unfortunate part of Israel's history, abandoned tanks, planes and halftracks dot the landscape. Here the Zion boys enjoy climbing on a tank turned into a jungle gym.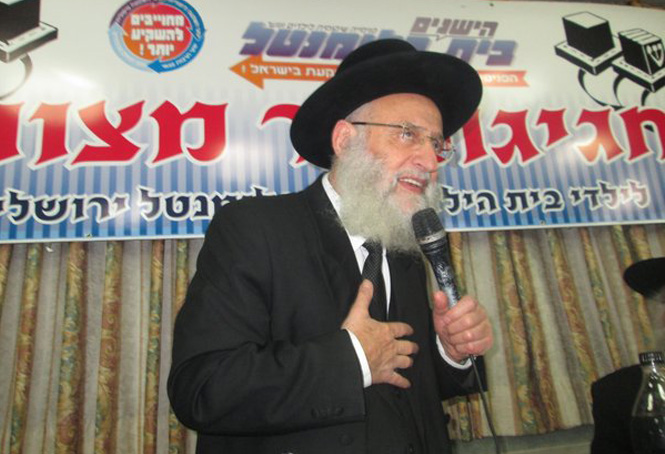 Rabbi Reuven Elbaz, a beloved leader of Sephardic Jewry, is a frequent visitor to Zion Orphanage. Here he speaks at a Zion boy's Bar Mitzvah celebration.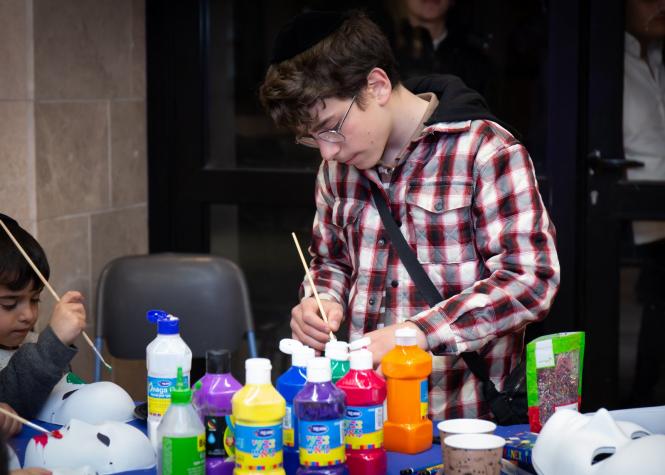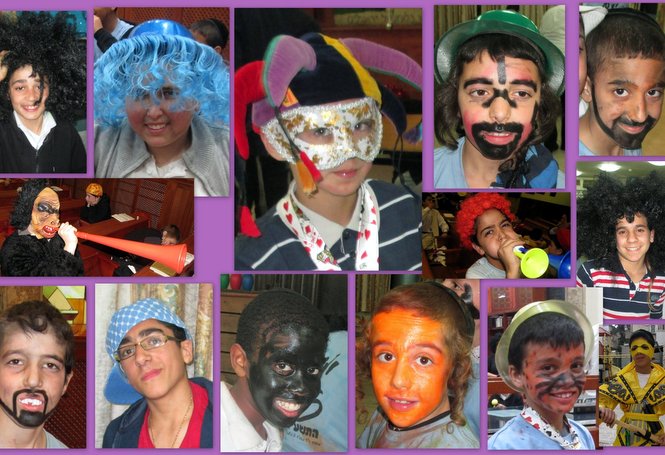 A Zion Orphanage tradition is to have numerous special activities the week of Purim, this year taking place the end of next week. The boys who did not choose to design their own masks are picking from an array of makeup to decorate their faces.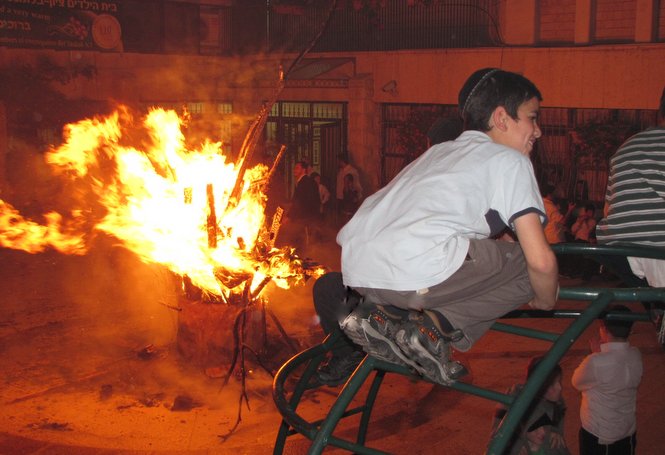 The Zion Orphanage kids enjoying "Lag B'Omer", the 33rd day of the counting of the Omer.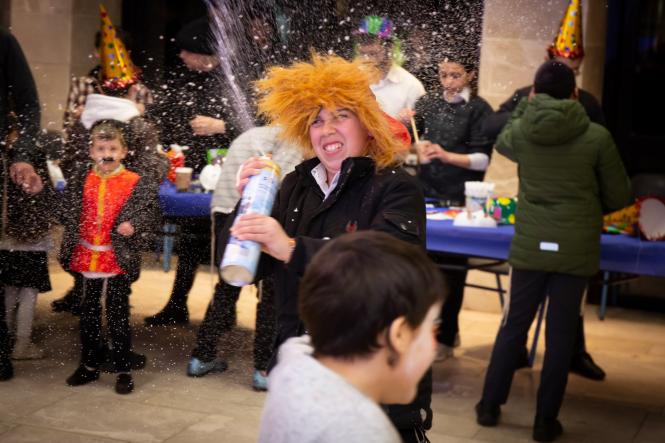 The Zion Orphanage kids are wishing you an amazingly uplifting, enlightening and pleasurable Purim holiday!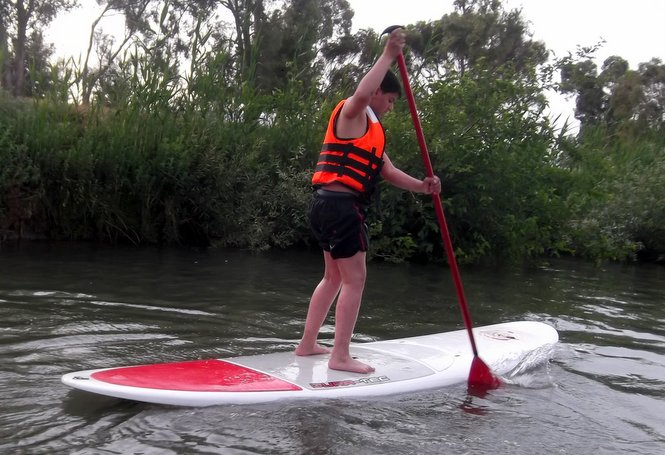 Resulting from quite a nice winter of rain in Israel, Northern Israel is a popular destination for many vacationers. Pictured is one of our Zion boys learning the art of paddleboarding on the Jordan River.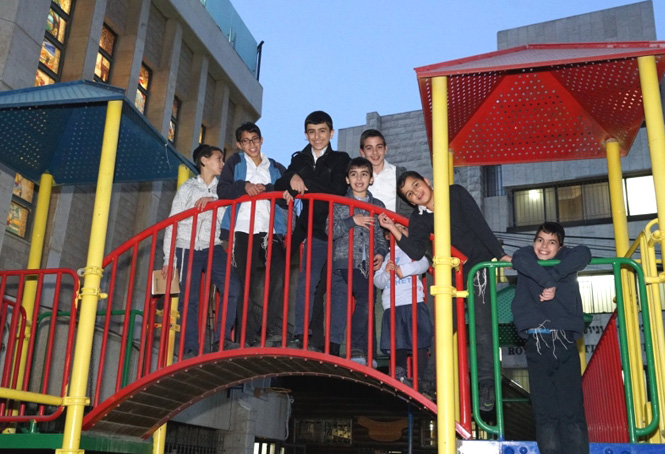 Zion Orphanage is located in downtown Jerusalem on one acre of land. In the central courtyard of our campus is a jungle gym that offers the Zion boys a healthy release of energy.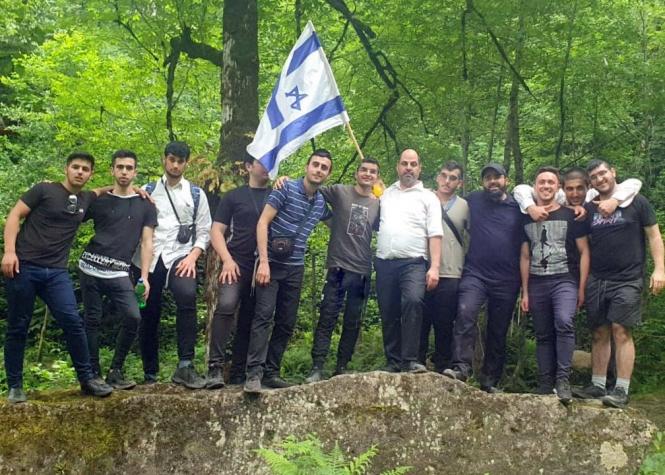 This week 50 of the Zion boys ages 18-22 are visiting Romania, returning on Friday. Besides providing our children and youth with a loving and nurturing home, we strive to help broaden their hopes and aspirations in life to achieve great things. Traveling abroad certainly helps achieve this.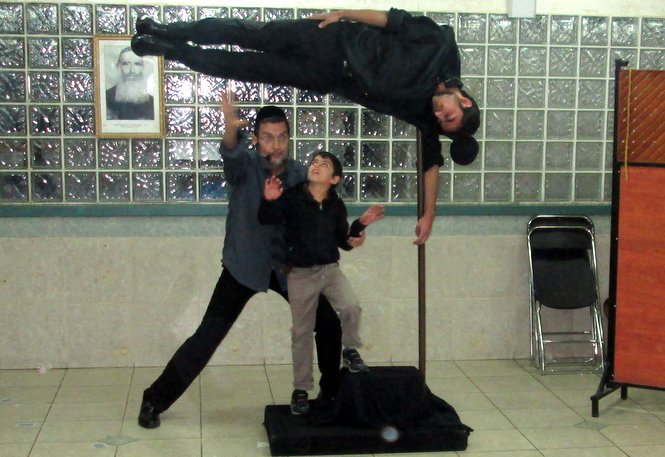 The Zion boys enjoyed the magic of the well known Israeli magician, Shimi Luzini.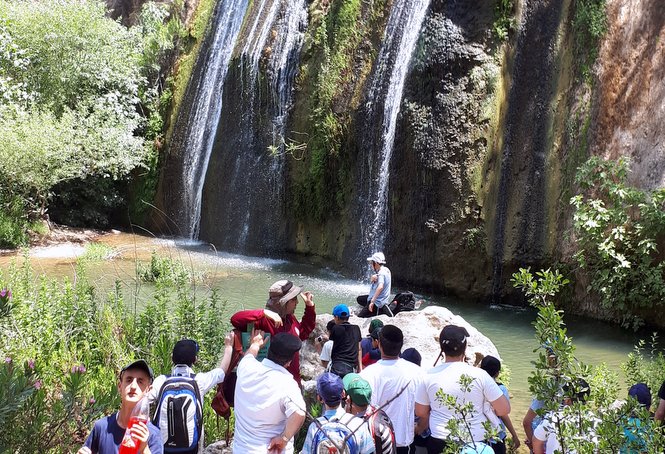 Following the festive holiday of Pesach there is a renewed feeling of summer is in the air. With a combination of warm weather and the ability to return to field trips throughout the beautiful land of Israel, an abundance of vacationers can be seen everywhere. The Zion boys just returned from hiking in Northern Israel following the plentiful winter rainy season we just enjoyed.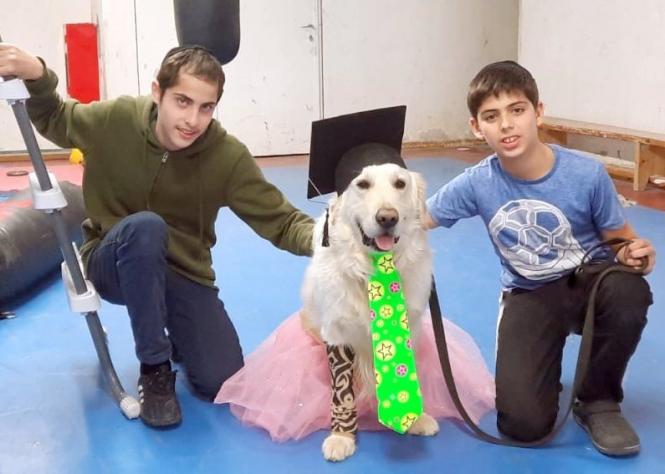 Once a week a select group of Zion boys enjoy some activities with a dog therapist and his three canines. Known to lower anxiety and distract children from negative thoughts, the kids tend to be more open to sharing their feelings following an interactive session with the hounds.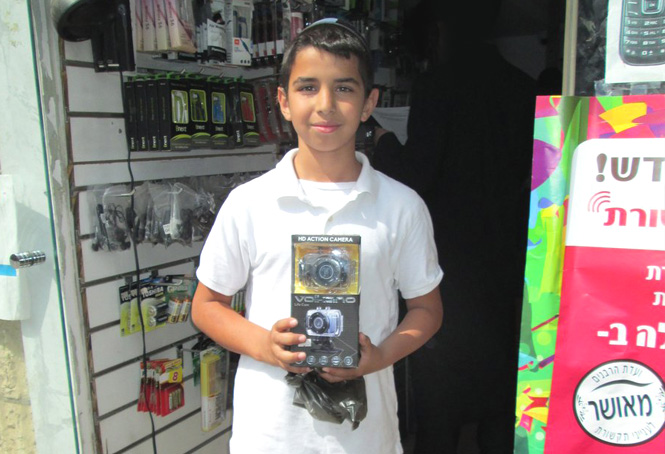 Every child loves birthday gifts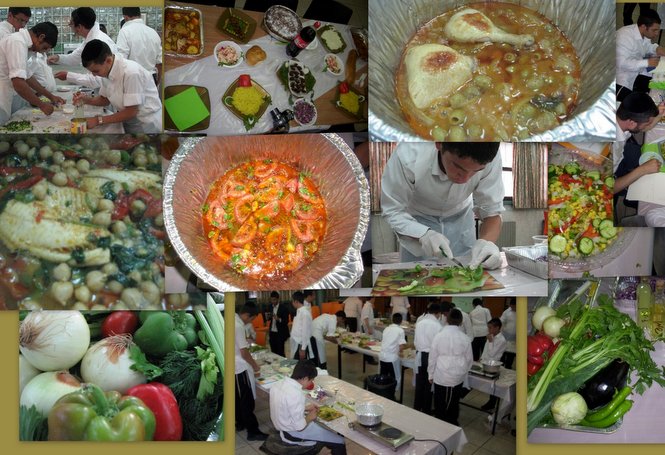 This weeks picture features a collage of the Zion boys preparing Middle Eastern dishes during their cooking course.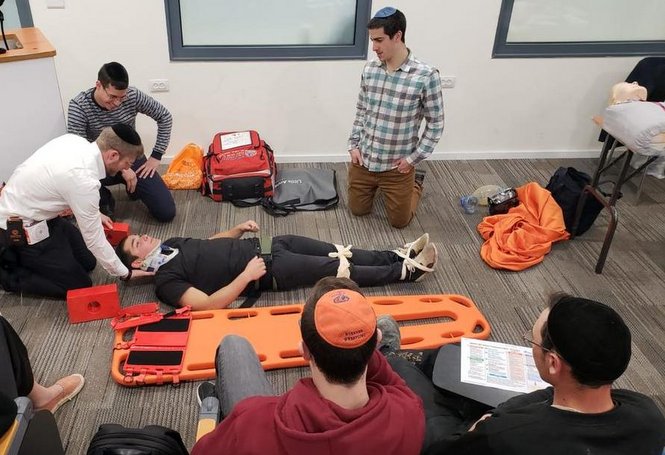 The Zion boys in our post high school age program are receiving courses on first-aid from United Hatzalah, known in Israel as Ichud Hatzalah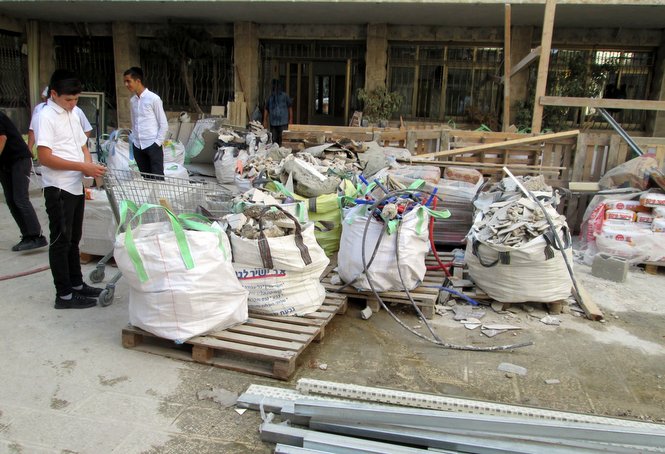 Over the past three months there has been some major building taking place on the Zion campus. The construction is to create more rooms and to provide each Zion boy with additional space. Although it has not been easy living through it, the construction company is working amazingly fast and hopes to complete all the renovations within a month.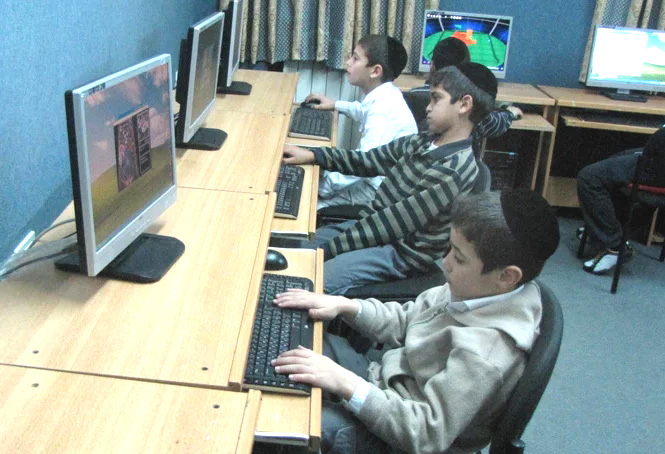 Computer skills are an essential part of today's education. Our dual-faceted course provides both the basic ability of working with computers, as well as entrance to a higher level proficiency. Computer graphics, combining creative and technical, is now part of the Zion boys' standard curriculum.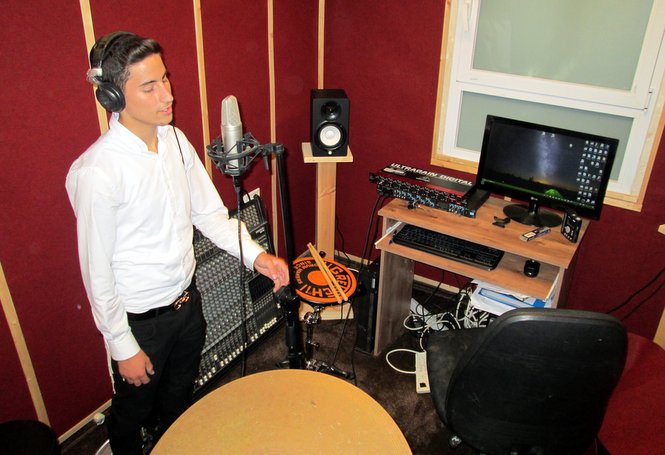 Featured this week is the newly-built on-campus Zion recording studio. The Zion boys in the music program are hard at work recording and performing for the newest Zion Orphanage clip which will be made available for your enjoyment in the coming weeks.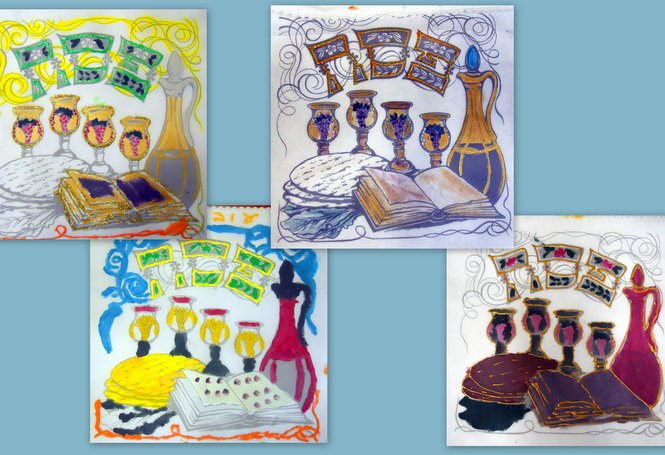 The Zion boys are completing their arts and crafts project in anticipation of the festive holiday of Pesach. Featured are some of their hand painted matzoh covers. Happy Pesach!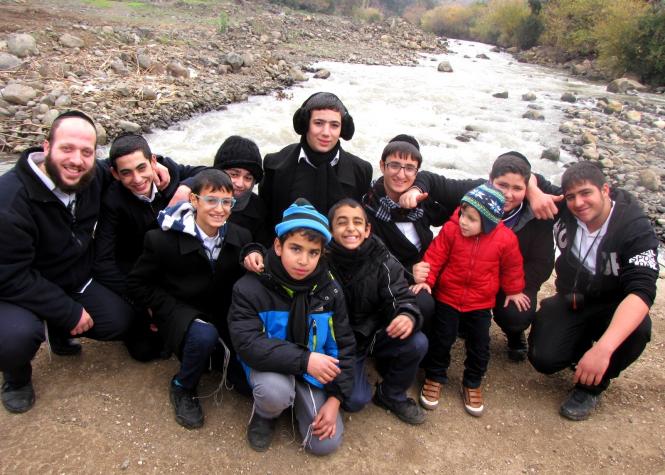 Zion Orphanage is known for the innovative "family unit," where a young, energetic couple lives with ten Zion boys. Here a family unit visits northern Israel to enjoy the cool weather and refreshing rain.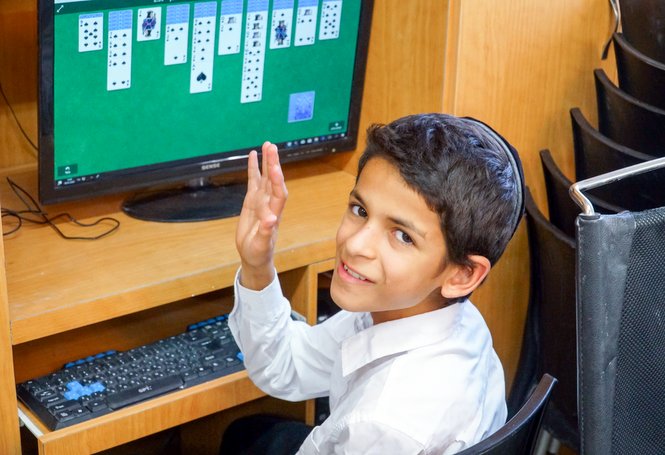 A Zion boy enjoying a card game on one of the tens of computers in use on campus.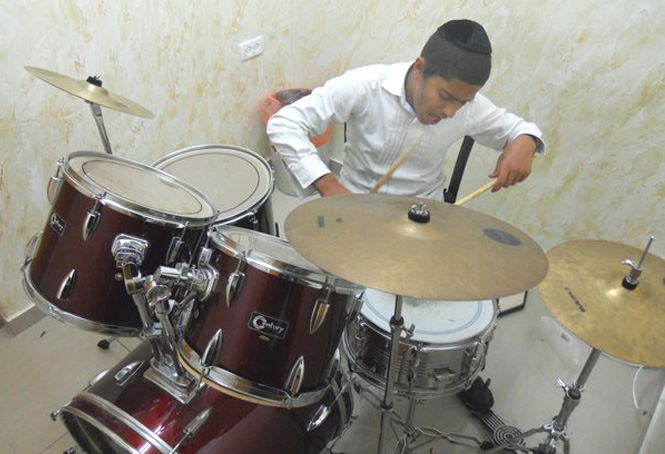 There is nothing like music to light up the soul. At ZO, musical instruments are a powerful form of self-expression and confidence builder. Pictured here is a Zion boy who has fallen in love with the drums.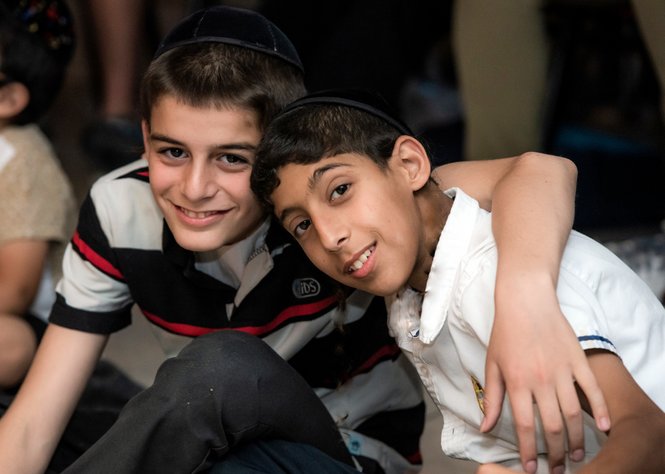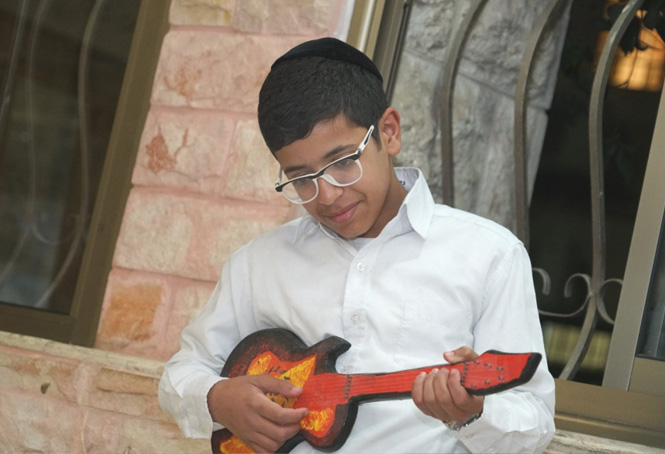 Over 100 years ago, our founder Rabbi A.Y. Blumenthal emphasized confidence-building activities that enhance creativity and imagination. Today, whether it's music, photography, computers or electronics, these activities stimulate the Zion boys' social, emotional, linguistic and cognitive capabilities.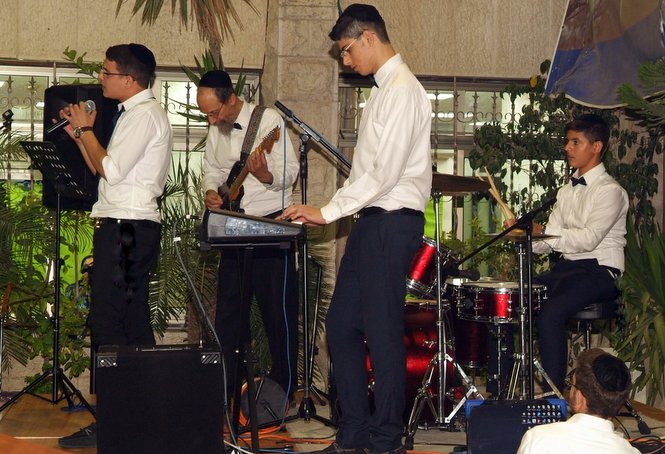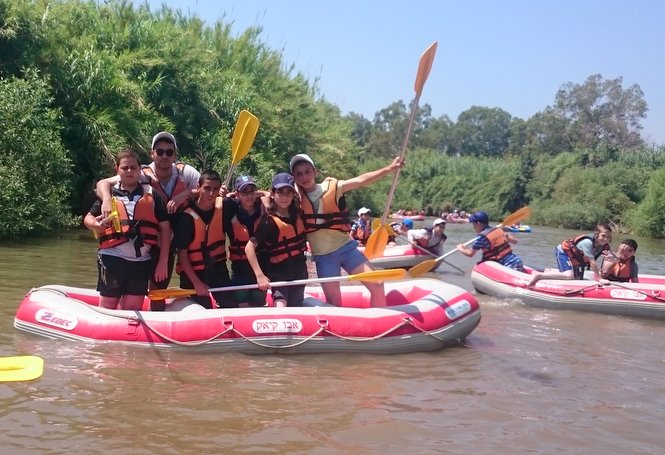 The Zion boys enjoyed a full day in the beautiful and quiet Northern beginning at 5:00 in the morning. The trip included rafting in the Jordon river and a color war. The weather could not have been better.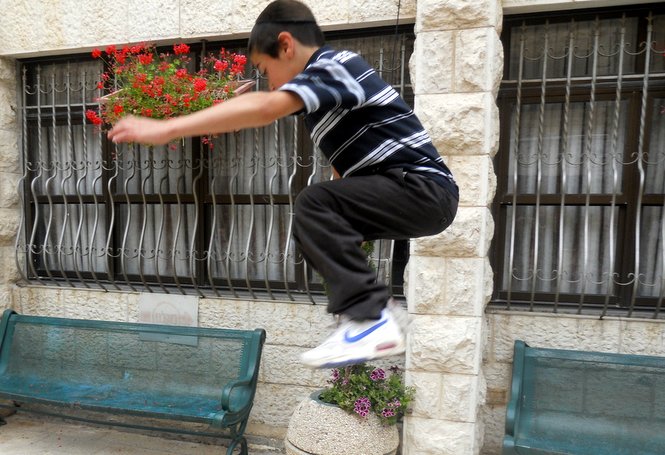 Close to two weeks ago the Zion boys returned to school outside of the campus during the morning and early afternoon hours. With a recent spike in coronavirus cases in Israel, hundreds of new cases here in Jerusalem alone, the kids are being extra careful to following the current guidelines issued by the Israel Health Ministry. Pictured is one of the Zion children demonstrating his jumping abilities.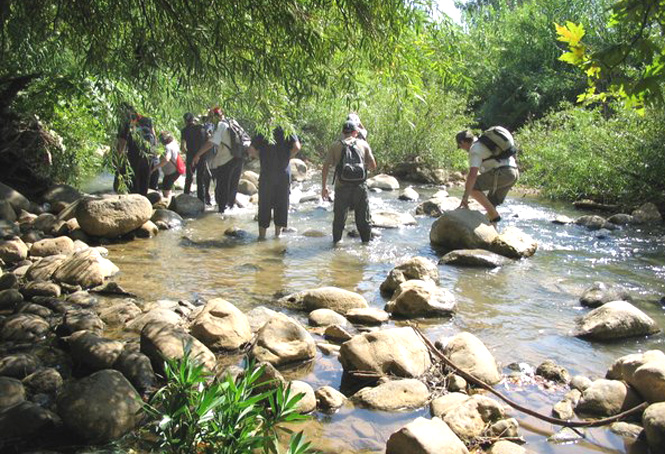 Our annual Summer Camp features hiking in the fresh-water streams of the Golan Heights. The boys get a change of scenery, fresh air, and an appreciation of the beauty of our natural world. After a full day of activities, the Zion boys pass out from exhaustion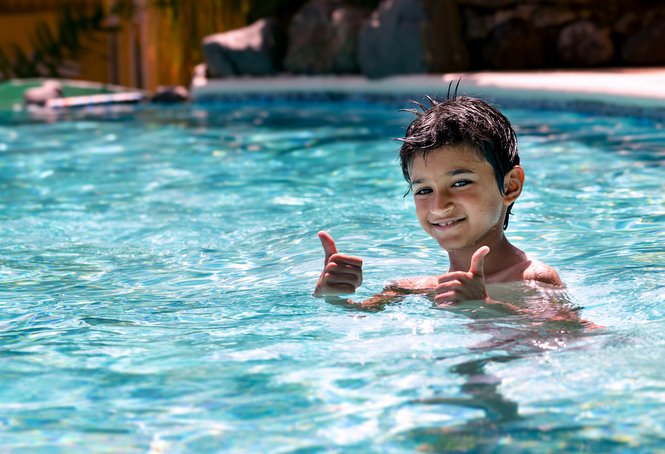 The Zion kids love swimming. Besides the great fun involved, learning how to manage in water is one of those essential skills everyone should know. Although there is no pool on campus, the boys are treated to regular swimming outings at one of the local public swimming pools in the city of Jerusalem.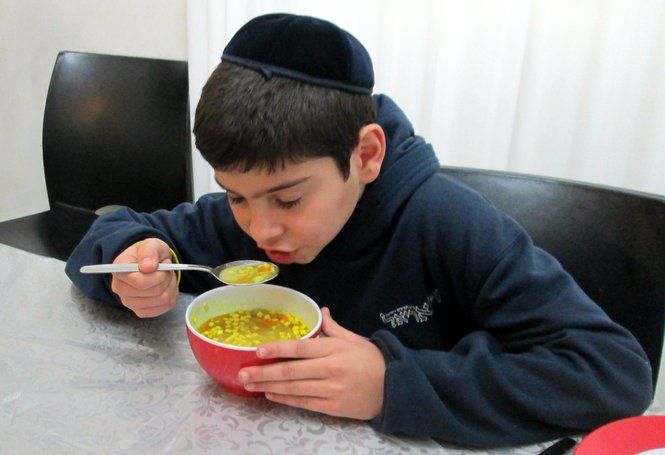 Winter has arrived here in Israel. Wednesday's dinner included a delicious hot bowl of vegetable soup.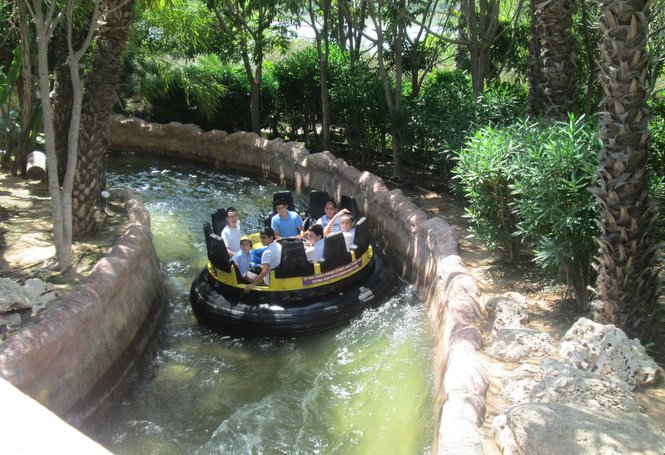 This week the Zion boys enjoyed an amazing day at Israels unique Yamit 2000 water park. Yamit is located in the city of Holon near Tel Aviv on 15 acres of land (60 dunams). There are 20 different kinds of slides and a variety of swimming pools including one that produces waves. There is also a spa were the boys were able to workout and relax in an array of jacuzzis.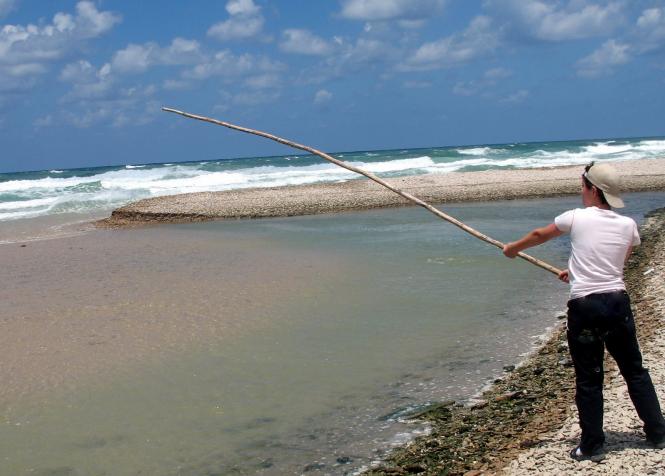 For many people it is a bit too cold here in the Israeli Mediterranean Sea for a good swim during the springtime when Peach always is celebrated, fishing is a nice way to relax during these intermediary days of the holiday referred to as Chol HaMoed. Besides the calming effect it has on the Zion boys' often inner turmoil, the excitement of feeling the nibble from a fish and then catching one is amazing!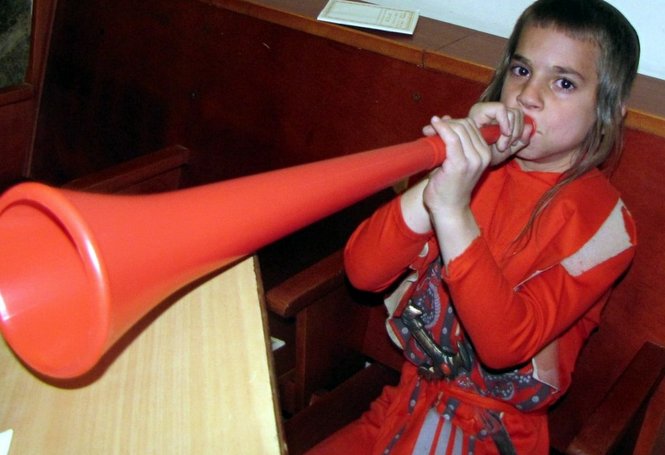 Purim is the holiday marking a complete reversal of a decree for annihilation to survival and prosperity which came about through unity. The Zion Orphanage boys wish you a joyous and uplifting Purim celebration.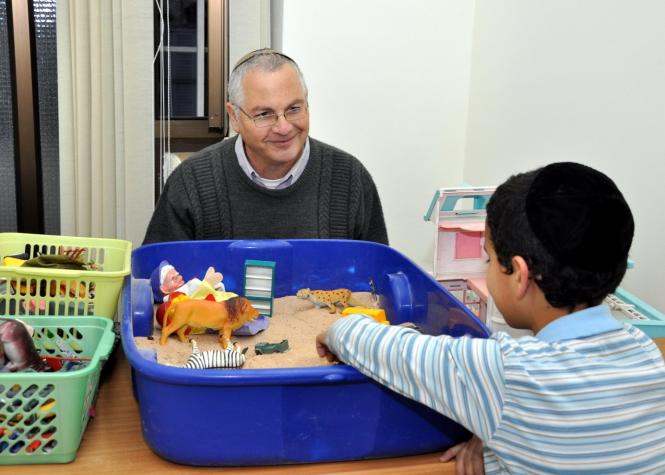 Play therapy helps identify unresolved emotional issues that could delay a child's self-development. Our therapist, Yaakov Shapiro, draws out this Zion boy's inner feelings by using dolls or animals that substitute for people in his life.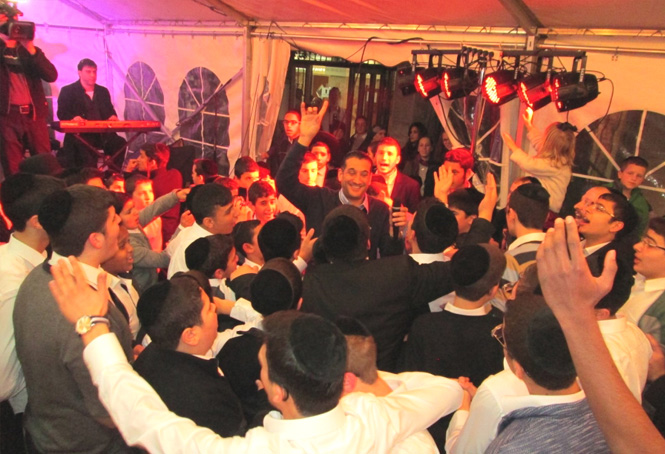 At a recent ZO Bar Mitzvah event, a popular Israeli singer stopped by to honor the Bar Mitzvah boy and give an impromptu performance. As one of Jerusalem's oldest and most respected institutions, Zion Orphanage is the beneficiary of frequent visits from leading Israeli rabbis, politicians, and performers.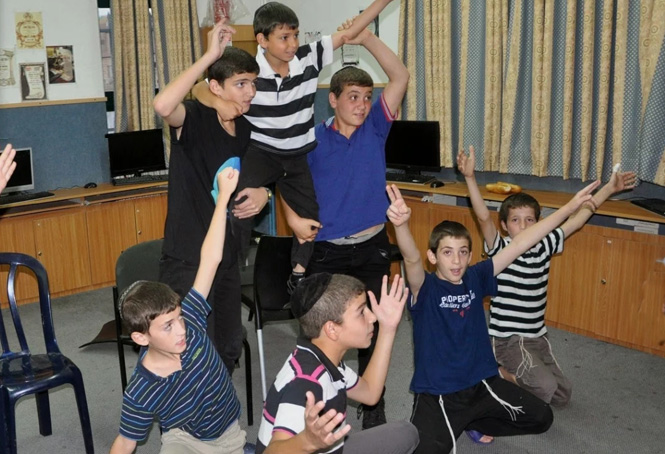 In anticipation of an upcoming performance, members of the Zion Choir practice their choreographic moves.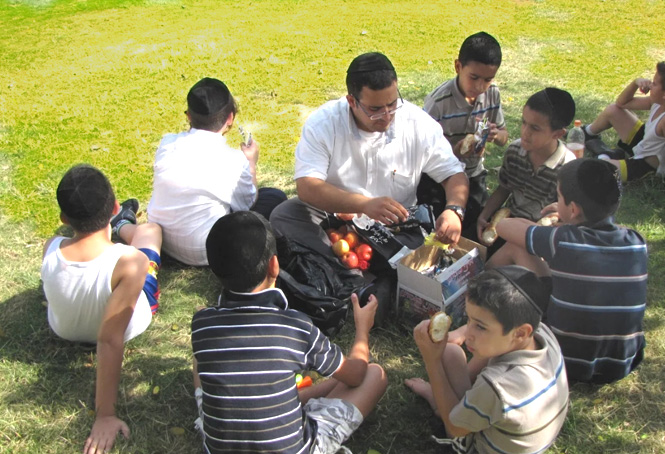 Every day the Zion boys return home from school at 4 p.m., in time for a hot meal and afternoon activities. Pictured are the boys enjoying a summer picnic with a staff counselor.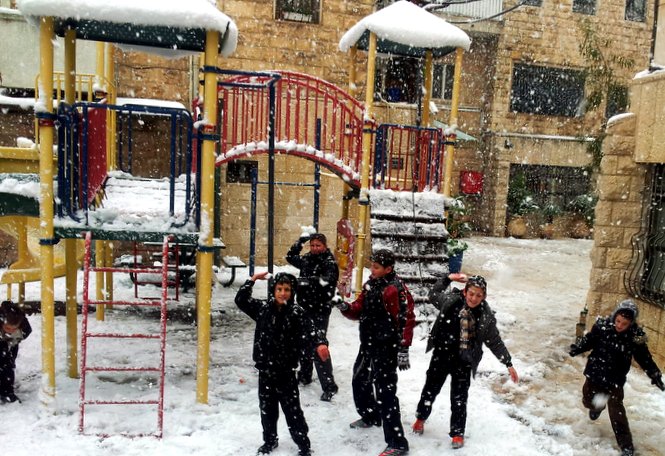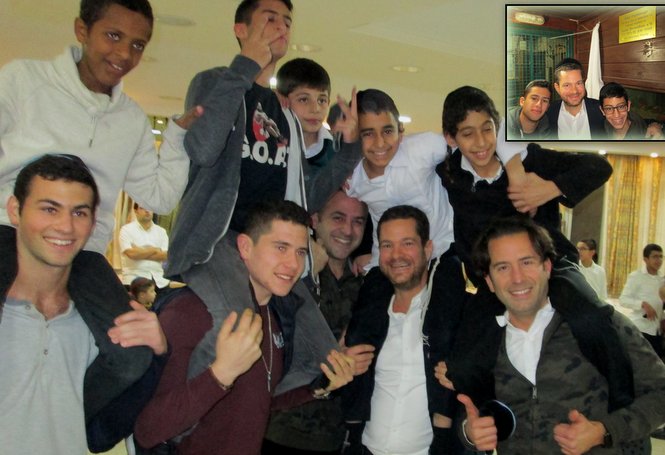 Yesterday evening the Zion Orphanage shared in celebrating the dedication of our campus mini-zoo, primarily used for animal-assisted therapy. Visiting from the USA was the dedicating family along with friends, featured in this weeks picture together with some Zion boys. Following delicious pizza, ice cream cones and drinks and some words about the dedication, the visiting group and Zion boys danced with lots of enthusiasm.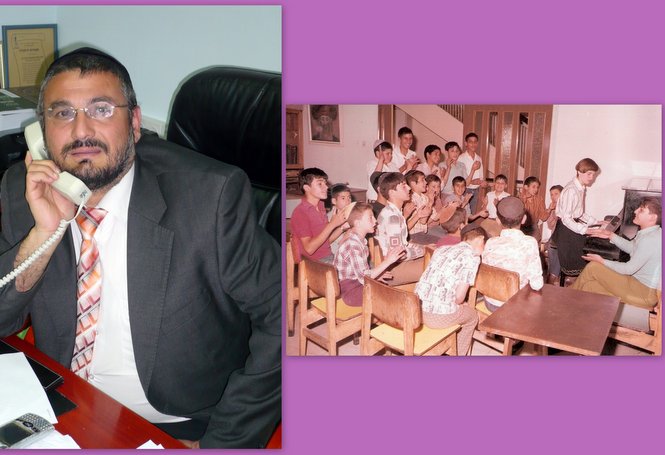 Last week's Bar Mitzvah celebration was graced by Moshe Abutbul who grew up in Zion Orphanage. Moshe, formally the mayor of Beit Shemesh for eight years, serves the county today as a member of the Israeli Knesset (Parliament). Pictured is Moshe in 1975 sitting on the right side at his birthday celebration on campus. The second picture is Moshe in his office.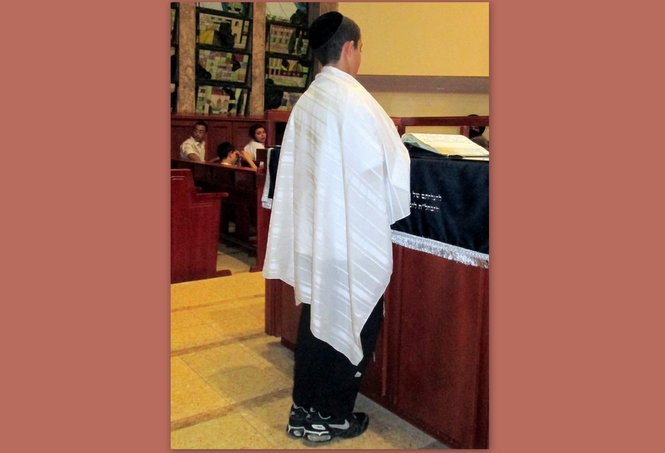 The Zion boys have been taught that Yom Kippur, along with the holiday's physical deprivation such as fasting and refraining from wearing comfortable leather shoes, is the most meaningful and impactful day of the year. It is the day in which we focus almost exclusively on peeling away our mundane layers of superficiality in order to reach our true selves. A time designed to ignite that part deep inside of us capable injecting eternity into the rest of our being.