Weekly dose of joy
Stay connected!
Subscribe to our "Picture of the Week".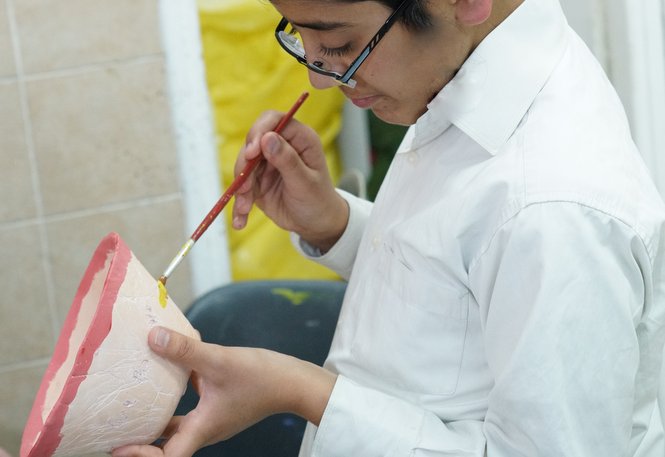 A Zion boy enjoying our arts and crafts program.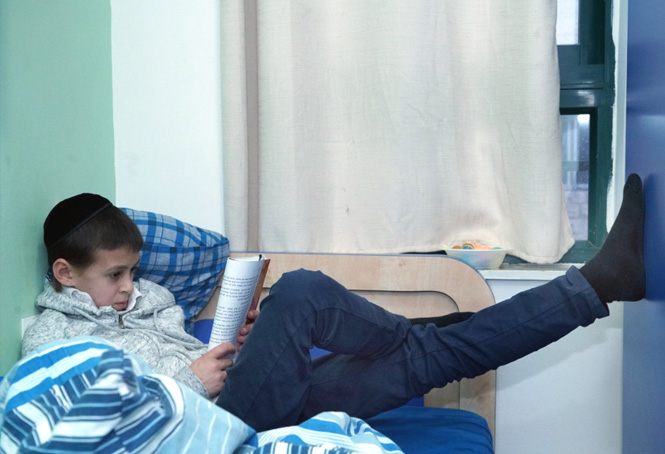 A century ago at Zion Orphanage, it was common to have 10 or more boys in one room. Today, with our highly-acclaimed "Mishpachtone" family units, each child has a maximum of three roommates. Pictured here is a Zion boy reading a book from our well-stocked Zion Library.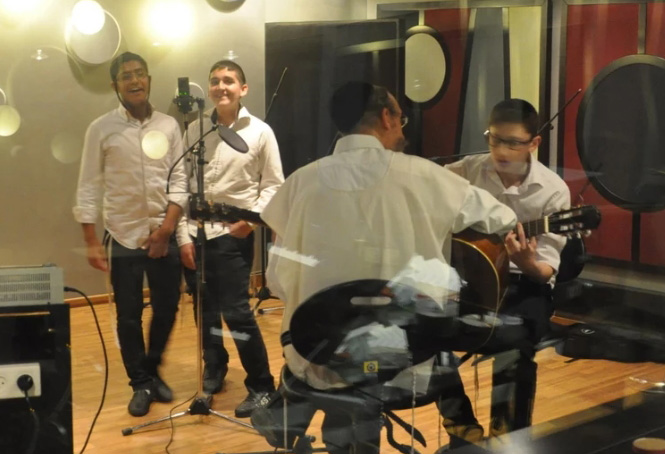 Boys from our Zion Band and Choir recently spent many hours in a professional recording studio in Jerusalem, producing a new CD. Pictured here, as viewed through the studio glass booth, Zion boys focus intently on their recording session.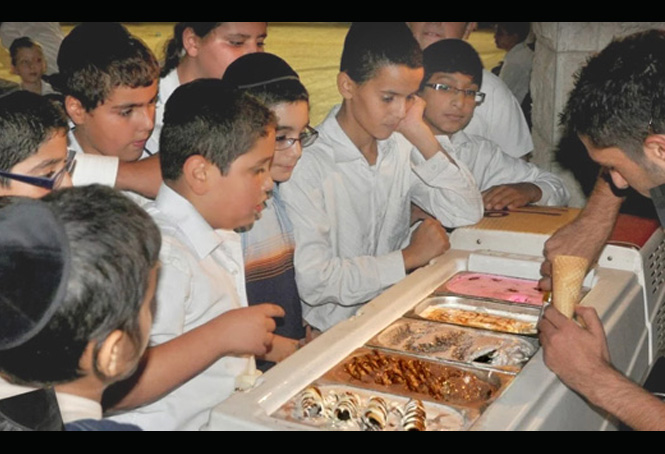 Through the generosity of a donor, the Zion boys were recently treated to an elaborate ice cream party, with various flavors and toppings. The sweet taste is a message to them of how much people care.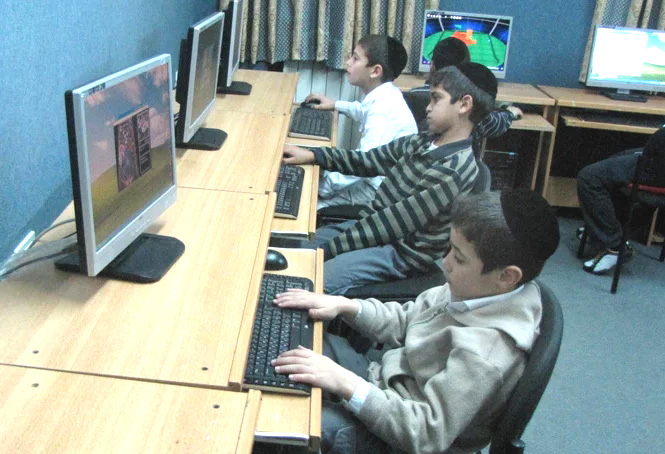 Computer skills are an essential part of today's education. Our dual-faceted course provides both the basic ability of working with computers, as well as entrance to a higher level proficiency. Computer graphics, combining creative and technical, is now part of the Zion boys' standard curriculum.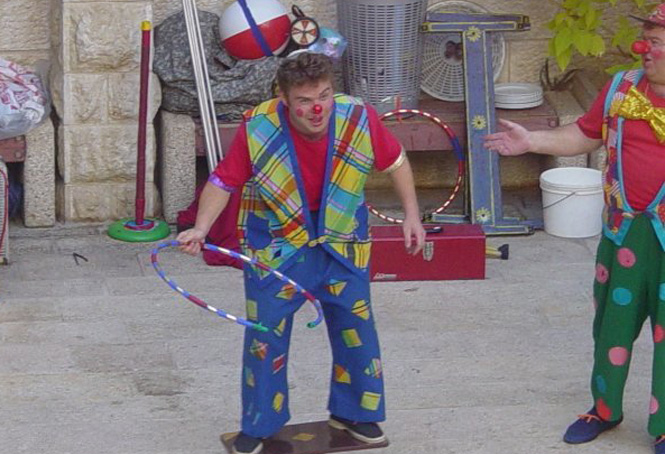 In honor of Zion boys' birthdays, we strive to provide a memorable experience that includes popular singers, jugglers and clowns.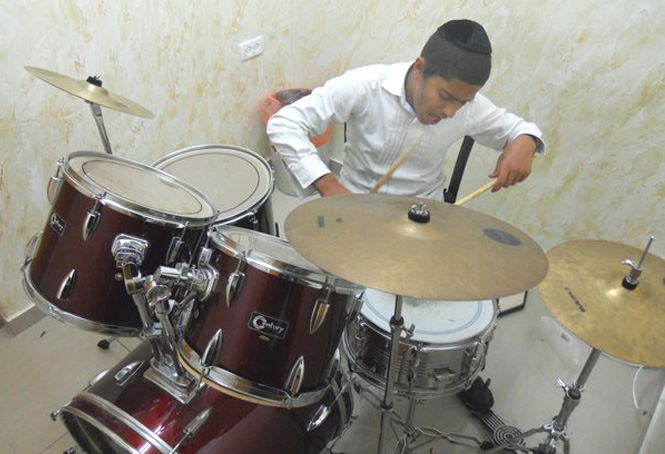 There is nothing like music to light up the soul. At ZO, musical instruments are a powerful form of self-expression and confidence builder. Pictured here is a Zion boy who has fallen in love with the drums.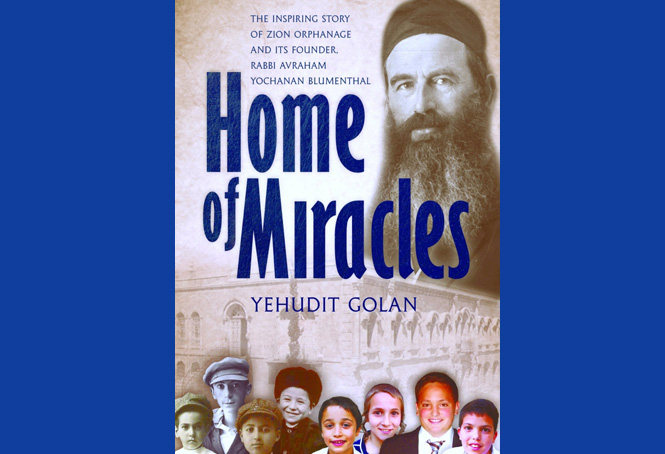 Zion Orphanage recently celebrated the publication of a stunning book that chronicles the century-plus history of the orphanage. Our founder, Rabbi A.Y. Blumenthal, pioneered the practice of providing not just a place of refuge, but the highest standards of a stable, healthy environment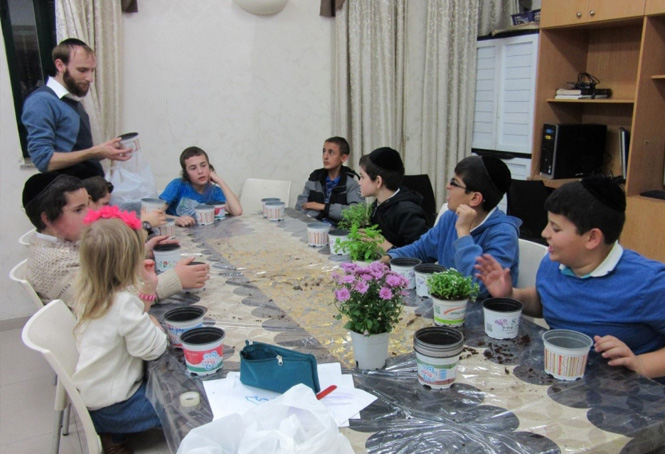 Springtime generates feelings of renewal and vitality as expressed by fresh, blossoming flowers. Working with plants can be a rewarding and therapeutic experience. Here a professional gardener teaches the Zion boys techniques for nurturing plants, along with a deeper appreciation of the wonders of creation.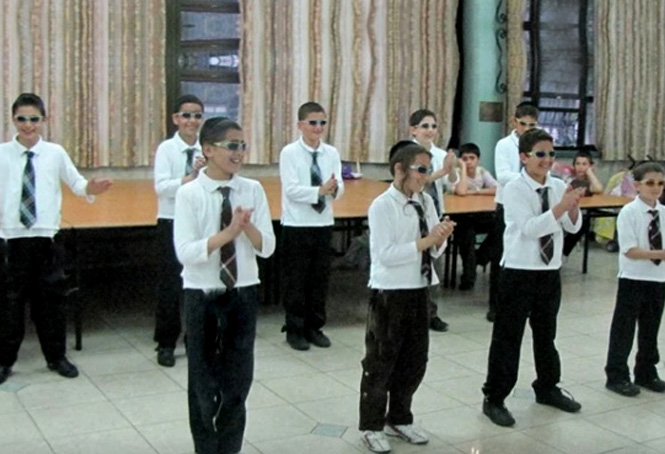 The Zion Choir performs at an event attended by guests and dignitaries. The choir, a source of great pride and esteem for the Zion boys, has produced a CD of four songs, as well as music videos.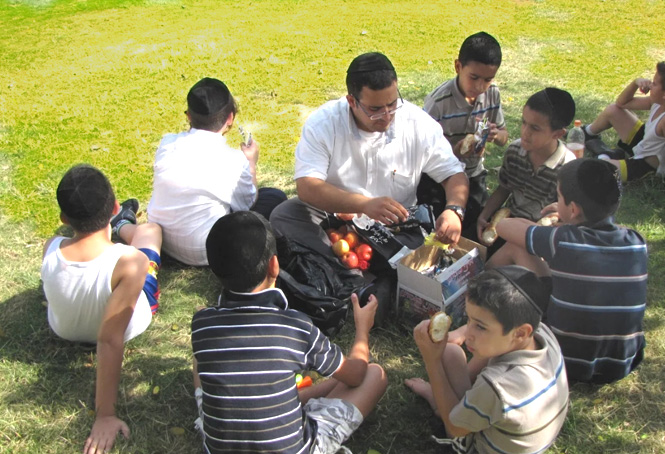 Every day the Zion boys return home from school at 4 p.m., in time for a hot meal and afternoon activities. Pictured are the boys enjoying a summer picnic with a staff counselor.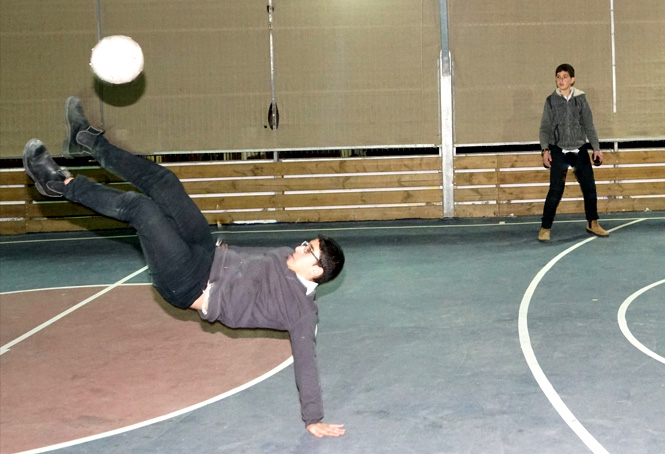 The Zion boys are full of healthy energy. Summer or winter, day or night, our new rooftop Sports Center provides protection from the elements and space for the boys to enjoy a variety of athletics including soccer, basketball, volleyball, gymnastics and more.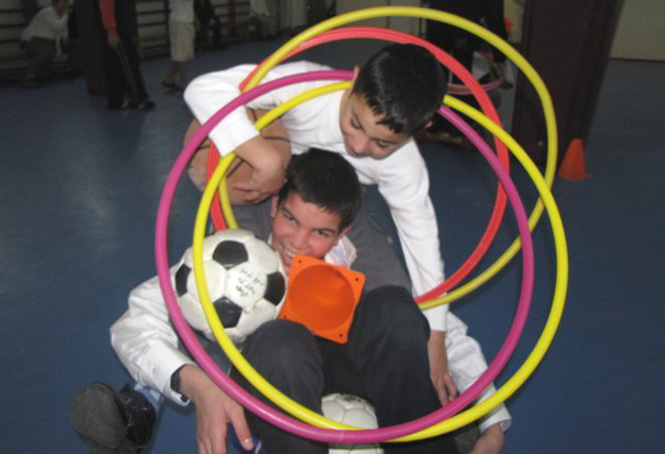 At Zion Orphanage, we encourage a balance of healthy body, mind and soul. Here, some Zion boys enjoy creative gymnastics in our indoor exercise facility.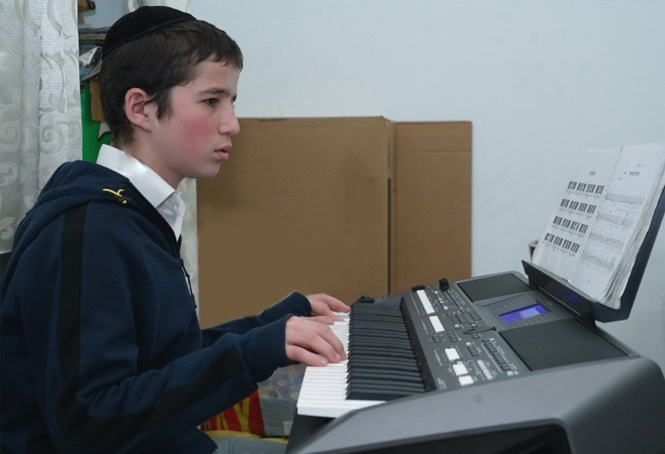 For those with talent and the opportunity to learn, there is nothing like producing your own music. Zion boys love their keyboard lessons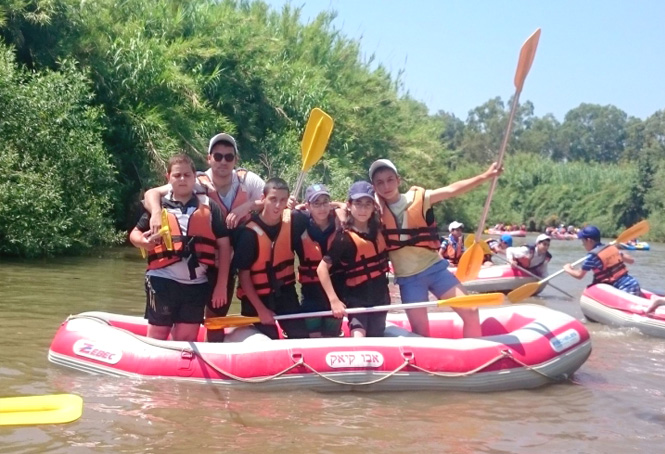 One highlight of ZO's annual Summer Camp is rafting down the Jordan River, north of the Sea of Galilee. Due to its rich biblical and spiritual importance, the Jordan River, provides inspiration for countless songs, stories, and fun for the Zion boys.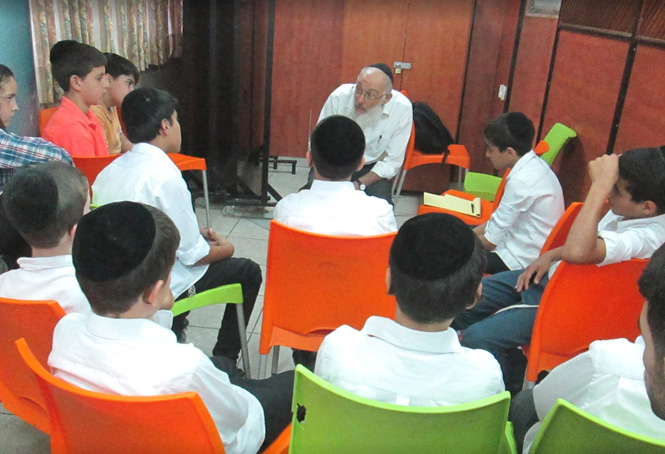 For most Zion boys, Hebrew is their only spoken language. Many visitors to our Jerusalem campus have inquired about the need for the boys to learn English, the universal language. Thanks to a recent donation, we hired Rabbi Chaim Gogek, a language teacher with an outstanding reputation and over 30 years of experience. The English classes are animated and fu, with the boys quickly acquiring their new language skills.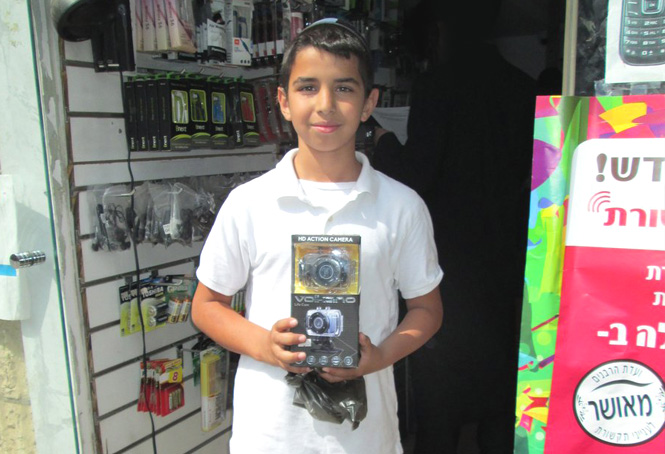 Every child loves birthday gifts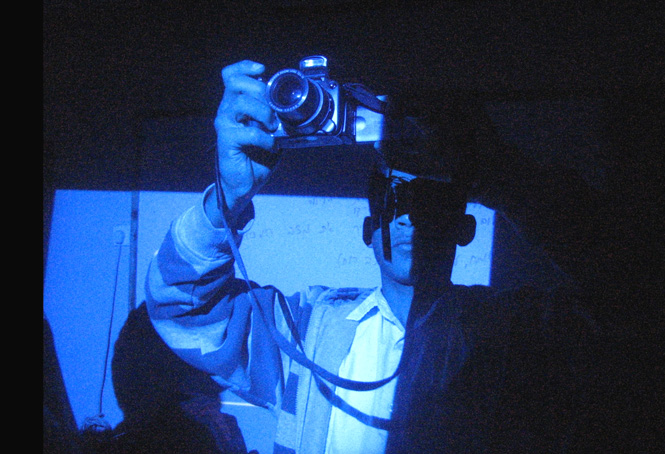 Our ZO photography course provides new perspectives and appreciation for the world around them. The blue affect in this photo, taken by one of the Zion boys, is the result of a black light used to light up the room.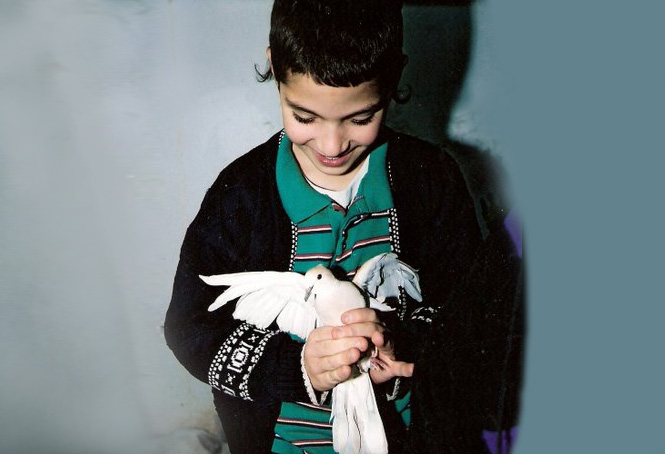 When you enter the courtyard of Zion Orphanage, you can hear sounds usually heard only in a zoo or the wilderness. Our on-campus "mini-zoo" houses raccoons, hamsters, rabbits, talking parrots, birds, a snake, flying squirrels, a tarantula, fish and more. These comprise the foundation of our acclaimed animal-assisted therapy program.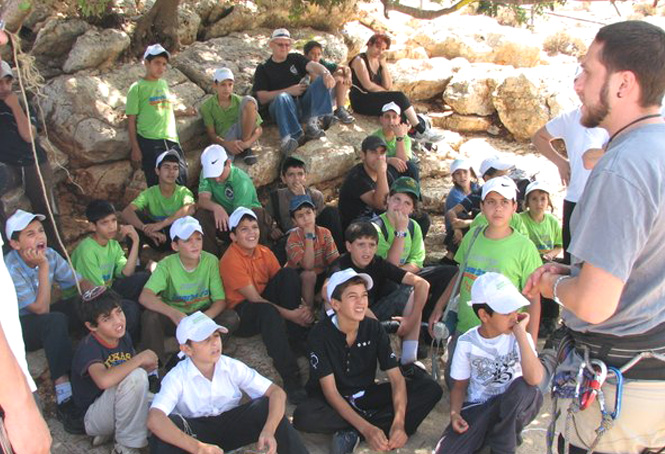 Our recent Summer Camp featured the exotic and exciting adventure of rappelling. Here, a professional instructor explains to the enthralled Zion boys the guidelines for a safe and successful activity.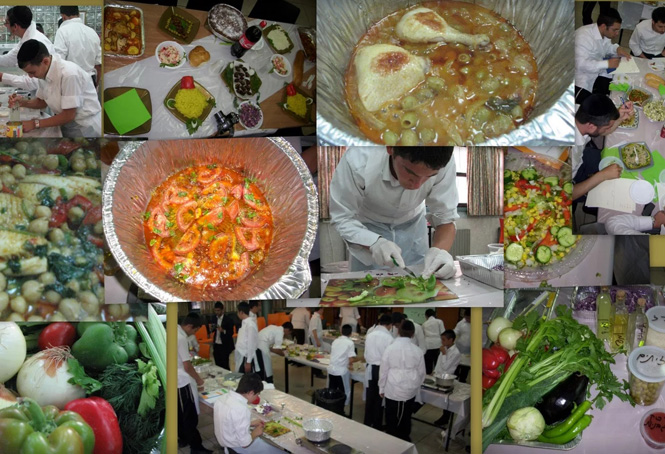 Teaching self-sufficiency is a constant objective in our work with the Zion boys. We recently held a cooking contest, where the boys divided into groups, each equipped with all the food and equipment needed to prepare a full-course meal. The results far exceeded exceptions, with all participants, including the judges, thoroughly enjoying the process and the delicious concoctions.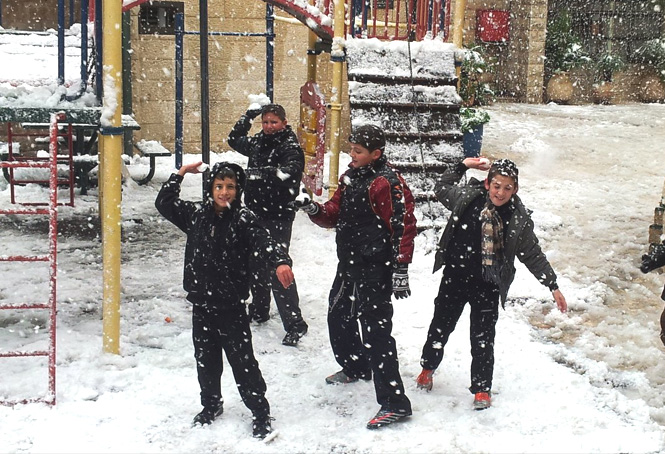 Snow falls in Jerusalem only once every few years. Here the Zion boys enjoy a good-natured snowball fight in the courtyard of our Jerusalem campus.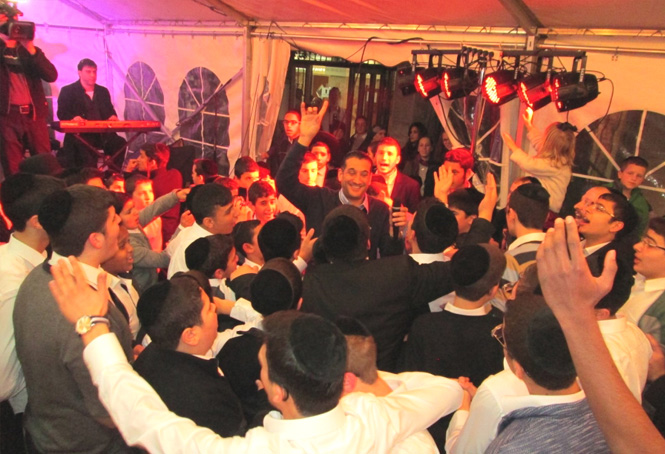 At a recent ZO Bar Mitzvah event, a popular Israeli singer stopped by to honor the Bar Mitzvah boy and give an impromptu performance. As one of Jerusalem's oldest and most respected institutions, Zion Orphanage is the beneficiary of frequent visits from leading Israeli rabbis, politicians, and performers.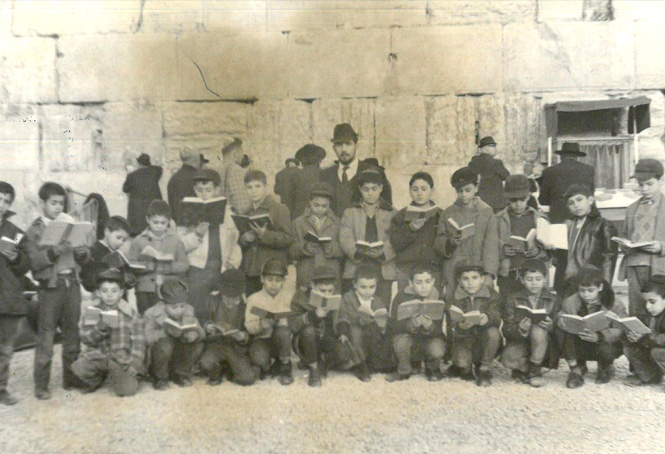 This historical photo from 1967 shows Zion boys at the newly-liberated Western Wall in Jerusalem.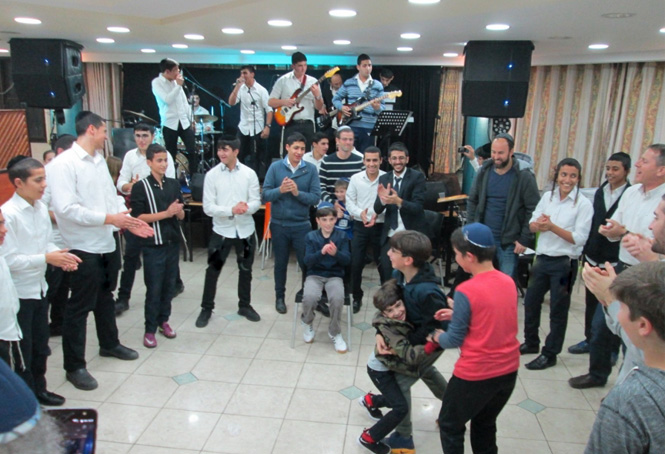 Zion Orphanage prides itself on creating a sense of family and caring among the boys. Pictured here is a festive Bar Mitzvah celebration, with music provided by the Zion Band and Choir.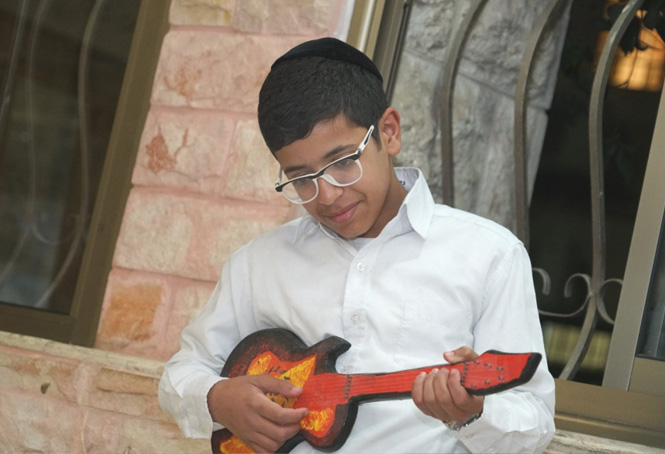 Over 100 years ago, our founder Rabbi A.Y. Blumenthal emphasized confidence-building activities that enhance creativity and imagination. Today, whether it's music, photography, computers or electronics, these activities stimulate the Zion boys' social, emotional, linguistic and cognitive capabilities.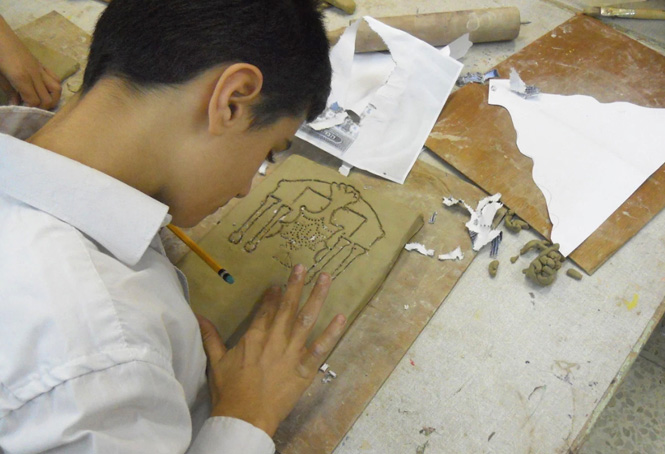 As Chanukah approaches, the Zion boys are hard at work designing their custom menorahs. A generous supporter recently donated the clay-baking oven which now enables the boys to produce hand-crafted earthenware gems, from start to finish.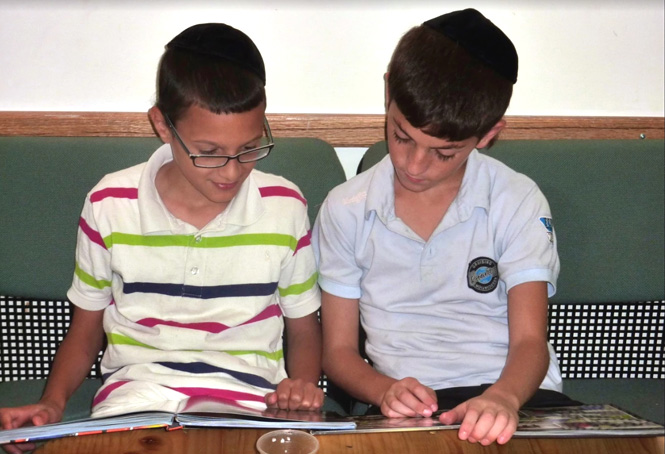 At Zion Orphanage, we emphasize our Jewish heritage as the "People of the Book." Our full-stocked reading library provides hours of enriching activity for the Zion boys.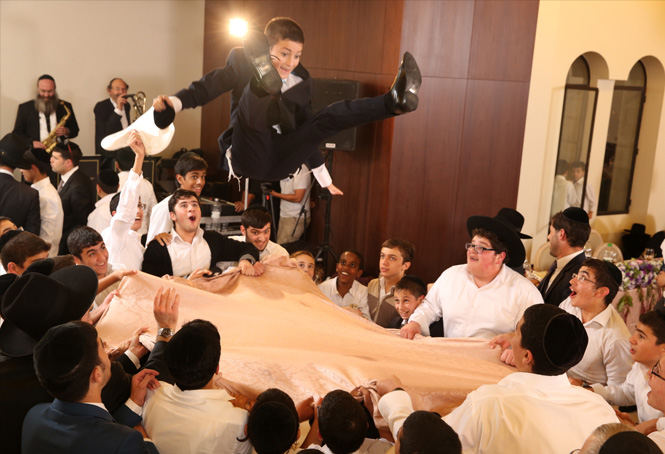 Every Jewish boy looks forward to his Bar Mitzvah. At Zion Orphanage, we strive to make the day extra-special, with live music, dignitaries, and a lavish meal. Pictured here is a recent Bar Mitzvah celebration held across from the Western Wall.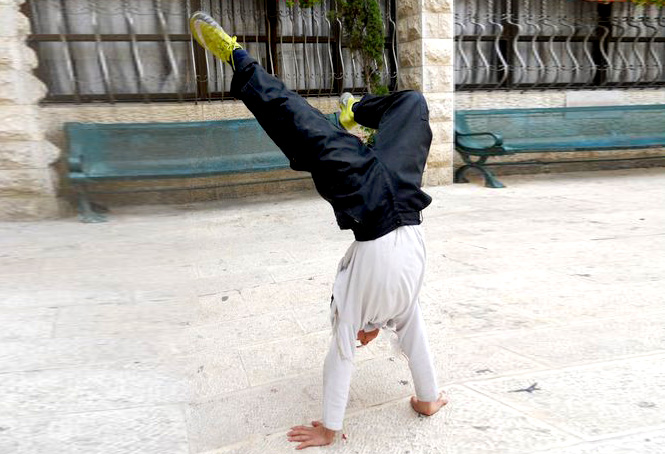 After a stimulating day at school, this Zion boy enjoys some gymnastics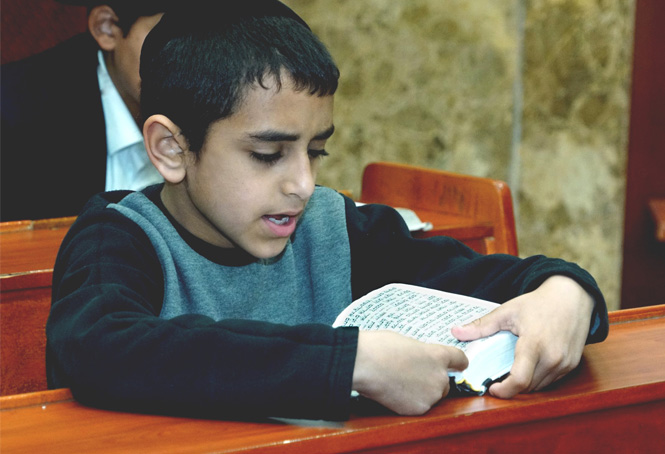 For the Zion boys, prayer is an opportunity to open their heart and develop their inner world. The Zion boys' prayers have a unique power, as King David states in Psalms, "God is the Father of all orphans."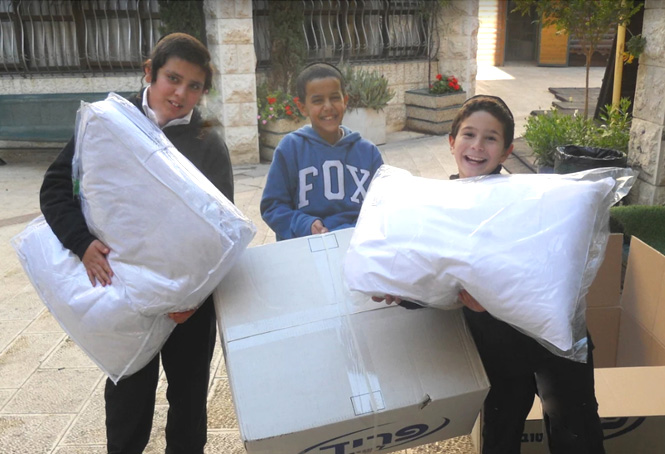 With the recent record-breaking cold in Israel, the Zion boys are grateful for their new pillows and blankets, donated by Rabbi and Mrs. Eli Mansour of the Bet Yaakob synagogue in Brooklyn, New York.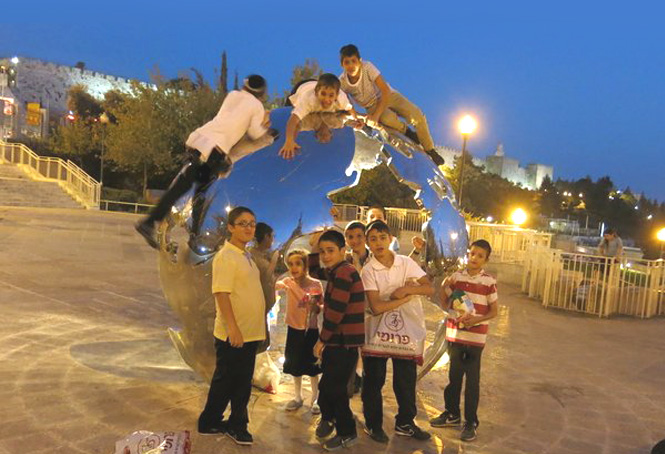 On an evening outing, Zion boys enjoy a sculpture located near Jaffa Gate in Jerusalem.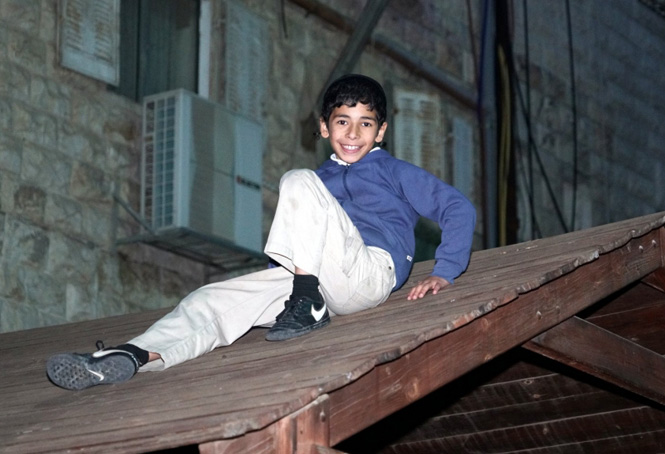 With seemingly boundless energy, Zion boys love to explore and play on our one-acre campus in the heart of Jerusalem.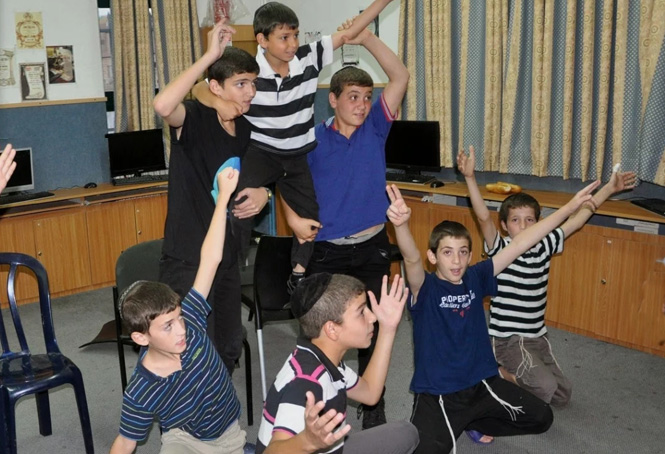 In anticipation of an upcoming performance, members of the Zion Choir practice their choreographic moves.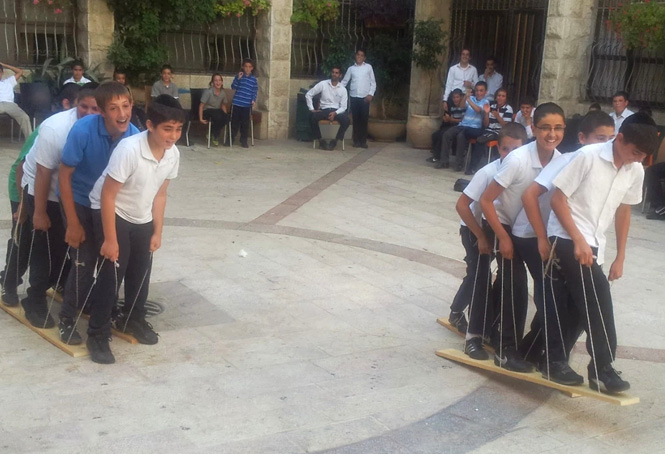 You could feel the energy in the air during a recent fun-filled evening of group competitions. Pictured here, in the courtyard of Zion Orphanage, the boys engage in a modified skateboard race.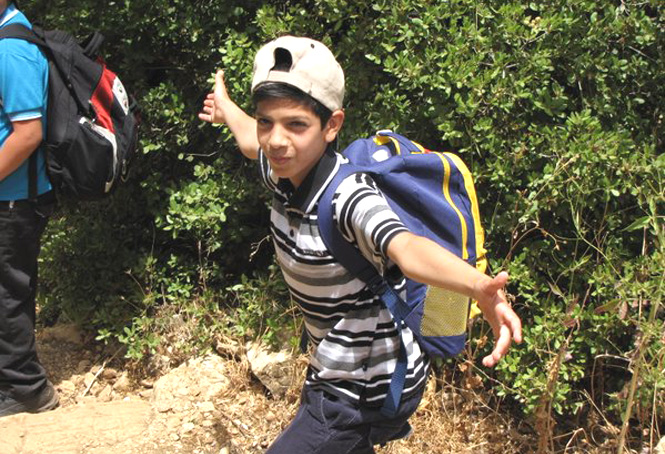 With the weather warming up in Israel, the Zion boys look forward to field trips throughout the beautiful and diverse Land of Israel. If you are visiting Israel during these summer months, please come by to meet the children and staff.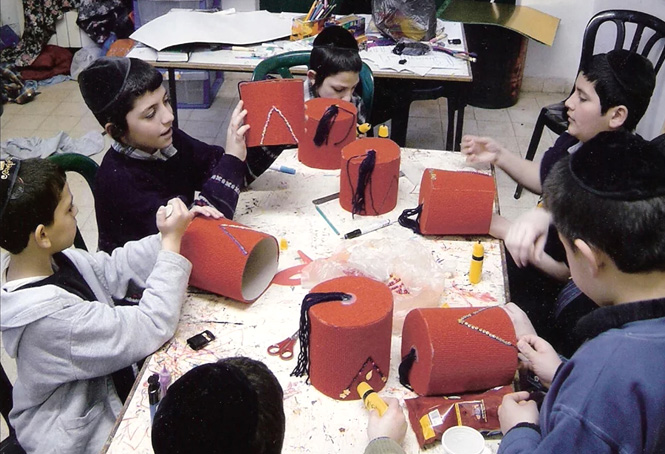 One of the most enjoyable activities for Zion boys is making their own Purim costumes. Nothing quite matches the pleasure of working hard on a project, then personally benefiting from it and sharing it with others.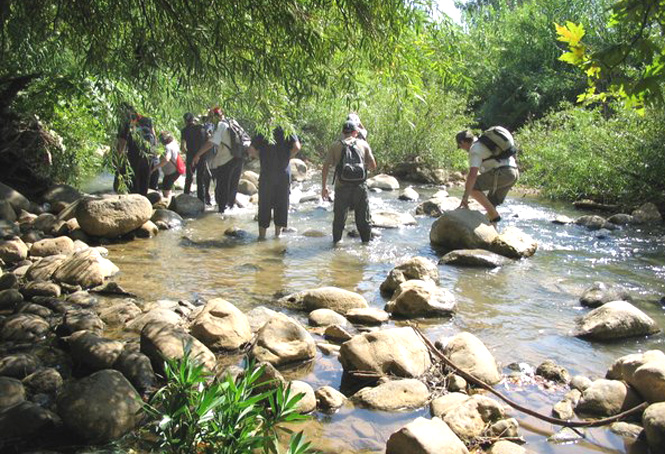 Our annual Summer Camp features hiking in the fresh-water streams of the Golan Heights. The boys get a change of scenery, fresh air, and an appreciation of the beauty of our natural world. After a full day of activities, the Zion boys pass out from exhaustion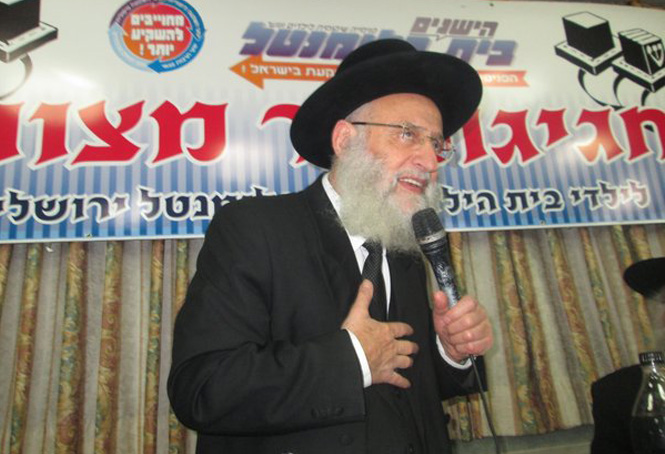 Rabbi Reuven Elbaz, a beloved leader of Sephardic Jewry, is a frequent visitor to Zion Orphanage. Here he speaks at a Zion boy's Bar Mitzvah celebration.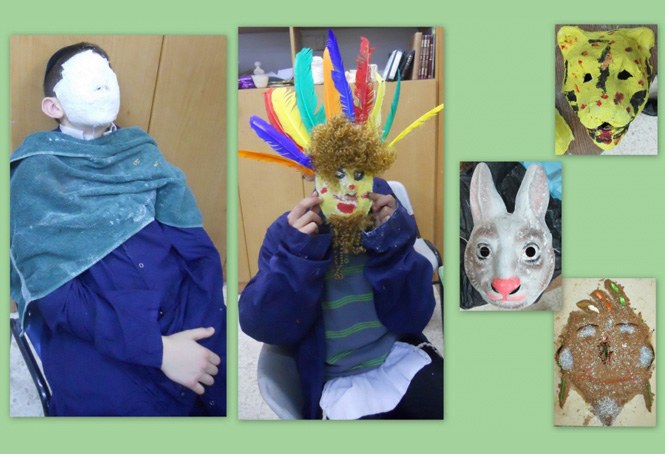 In the days leading up to Purim, the Zion boys enjoy making their own masks. The process begins with molding a custom-fit clay masks. Once the mask is dry, each boy paints something creative. Similar to the Talmudic insight that "Just as no two faces are alike, so too each person is unique," each of the Zion boys' masks ended up being distinct.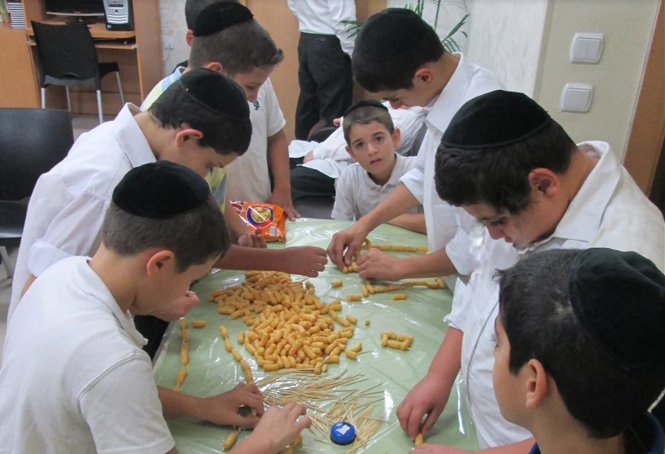 Bamba is an Israeli snack enjoyed by children throughout the world. Made from peanut butter-flavored puffed corn, Bamba contains no cholesterol, preservatives or food coloring and is enriched with vitamins. Recently, the Zion boys enjoyed competing to produce the most creative design by sticking the Bambas together with toothpicks.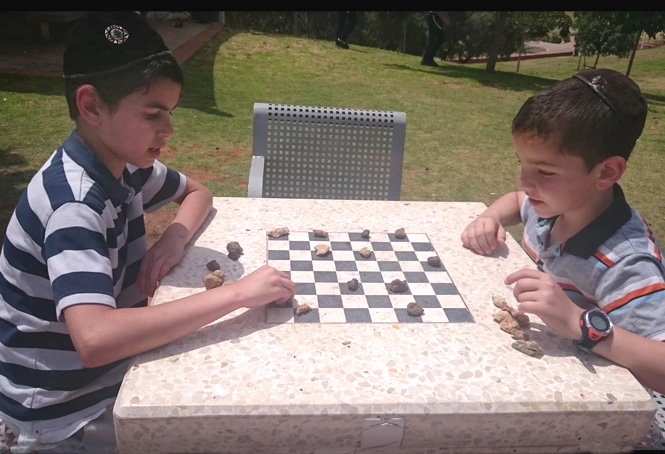 The Zion boys look forward to our annual chess and checkers tournament. Among the many benefits of this activity is teaching the boys patience, strategy, and to carefully consider consequences before "making the next move."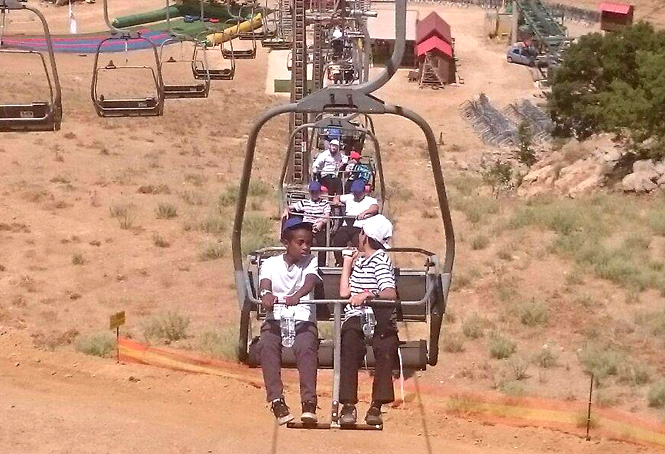 Zion boys enjoy a trip to northern Israel and Mount Hermon, the country's tallest peak. A cable car ride up the mountain offers fresh mountain air and panoramic vistas.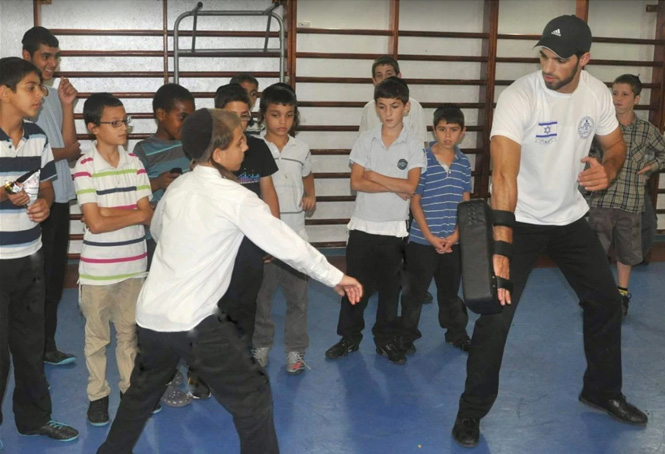 Along with skateboarding, ping pong, swimming and team sports, martial arts is one of the physical activities enjoyed by the Zion boys. In addition to the benefits of daily exercise, each participant gains confidence in his ability to defend himself and others when necessary. Here the Zion boys receive training in Krav Maga, the Israeli self-defense system.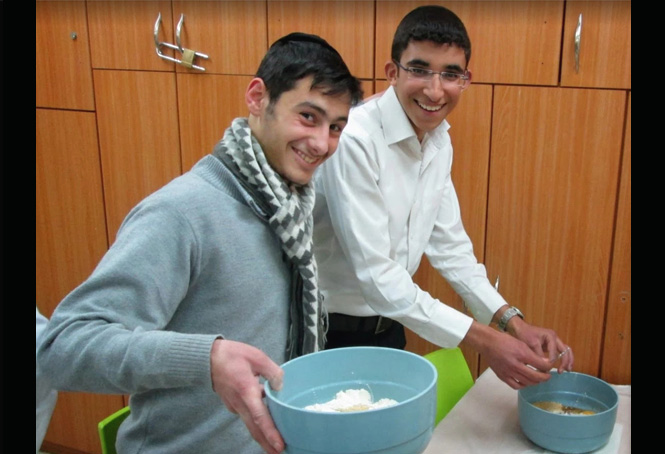 At ZO, one of the many fun, experiential activities is cooking and baking. An effective way to develop creativity and independence, the boys gain a firsthand sensory experience, both in preparing the food and enjoying the delicious results.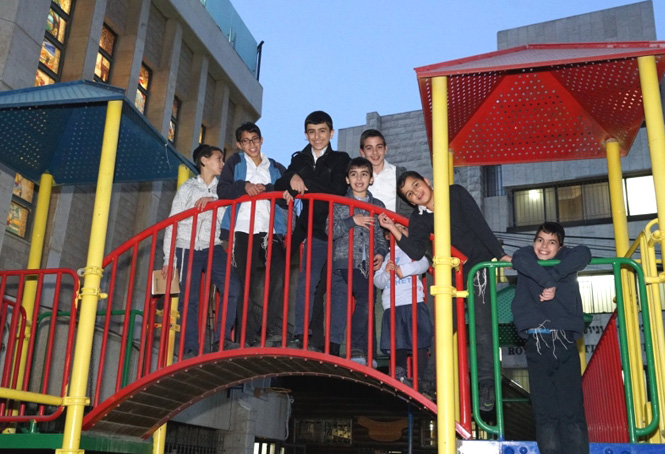 Zion Orphanage is located in downtown Jerusalem on one acre of land. In the central courtyard of our campus is a jungle gym that offers the Zion boys a healthy release of energy.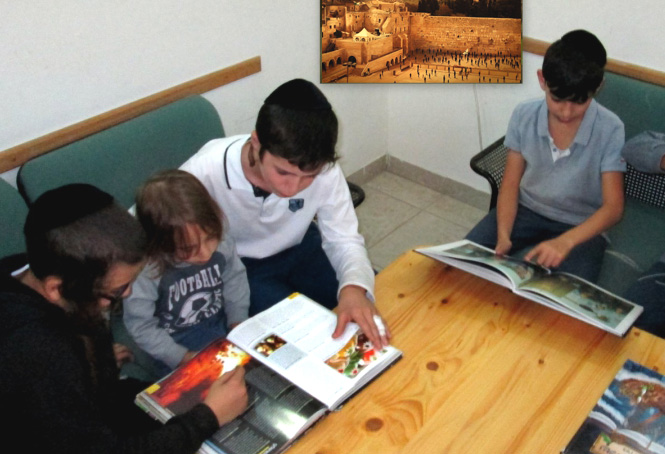 Our highly-successful "Mishpachtone" family units consist of an energetic young couple and a group of twelve Zion boys. This unique arrangement provides a genuine sense of caring family life. Here the boys share together some quiet reading time.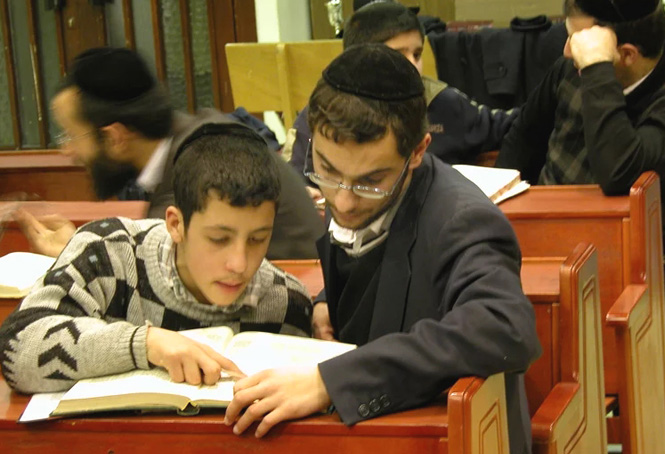 Our Big Brother program is a crucial component of the Zion boys' development. With all the caring and friendly teachers, house parents and therapists, none compares to the feeling of closeness and openness with a "big brother." Armed with great patience and outstanding listening skills, they walk together, go out for a bite together, study together and share life stories.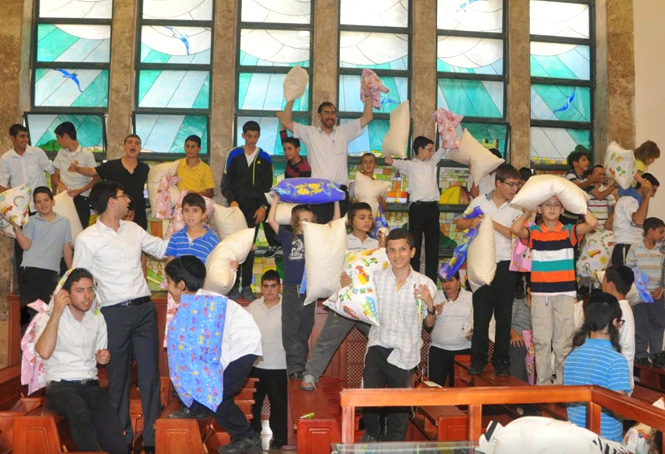 During the cold winter months, the Zion boys require quality blankets in order to sleep comfortably warm. A few years ago, a family of generous supporters from Brooklyn who sell comforters contacted us, insisting on providing the boys with natural goose-feather blankets. Now, to accommodate the increasing number of boys under our care, they purchased another 70 sets of comforters, down pillows and beautiful sheets.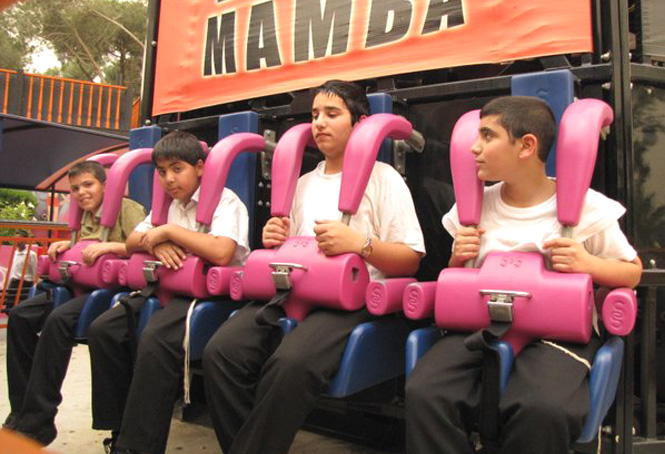 A special springtime treat is an outing to the local amusement park. Here, the Zion boys gain their composure before embarking on a thrilling ride.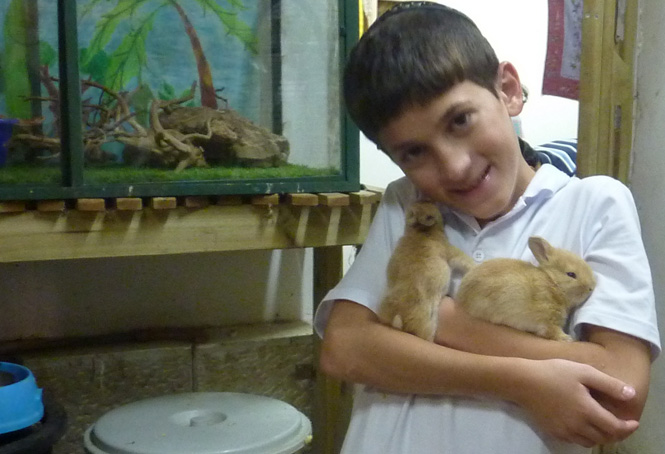 Often, a child arriving at Zion Orphanage is in survival mode. For many, the act of caring for animals, as part of our animal-assisted therapy, is an effective way to spark a turnaround in attitude. Here a Zion boy connects with animals at our popular on-campus mini-zoo.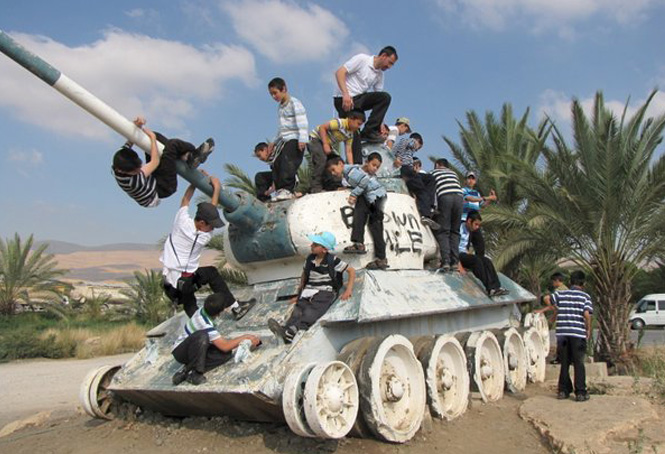 With war an unfortunate part of Israel's history, abandoned tanks, planes and halftracks dot the landscape. Here the Zion boys enjoy climbing on a tank turned into a jungle gym.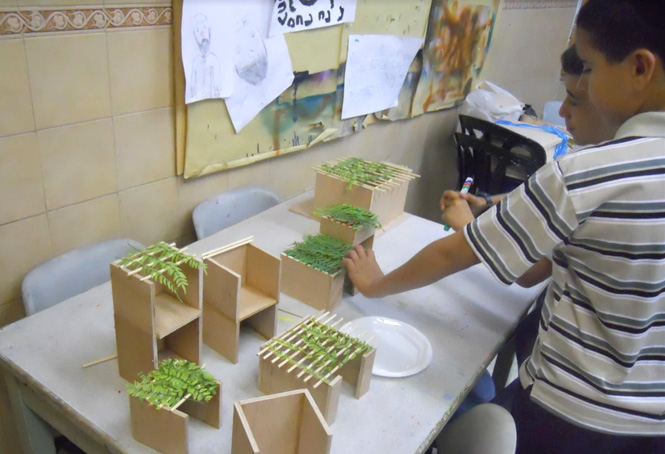 In anticipation of the festive holiday of Succot, the Zion boys are busy with an arts and crafts project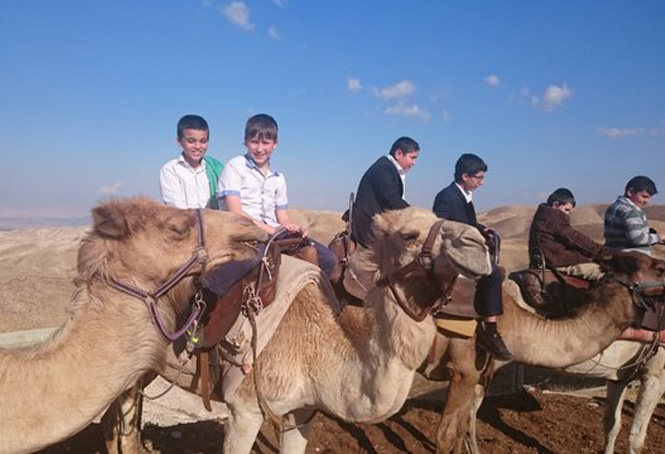 Zion boys enjoy a camel ride in the Negev desert.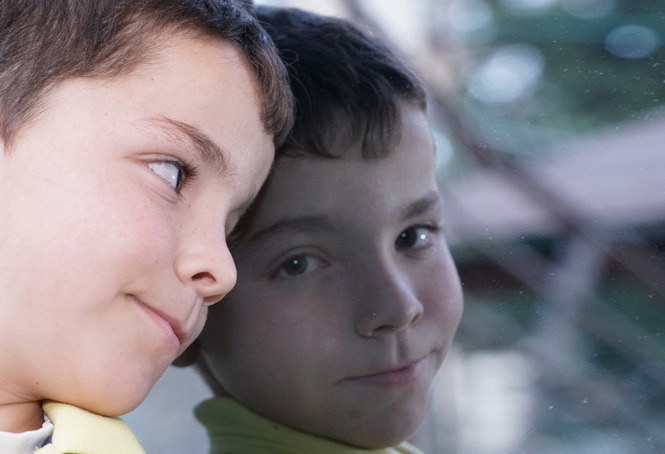 Photography is one of the most popular activities at Zion Orphanage. Here, one Zion boy takes a creative photo of another, reflected in the window of his bedroom.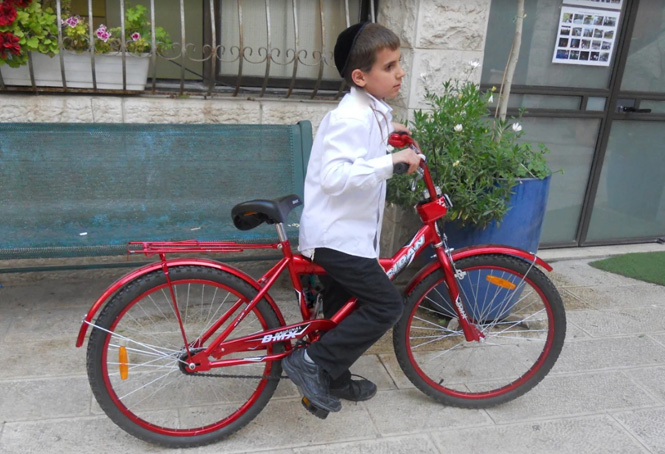 Every child cherishes the experience of riding a new bicycle, especially when it's "his own." A generous supporter from New York recently purchased beautiful new bikes for the Zion boys.